James Greenslit '06 named head coach at Roger Williams University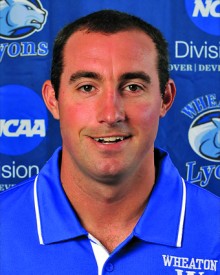 Former Wheaton men's soccer assistant coach and three-time All-American James Greenslit '06 has been hired as the head coach of the men's soccer program at Roger Williams University in Bristol, R.I.
"We are excited for James as he takes over the program at Roger Williams," said Wheaton men's soccer head coach Matt Cushing. "James is one of the great young coaches in our profession who is prepared to sit in the head coaching chair. I can't wait to see his teams in action."
Greenslit takes over the Roger Williams men's soccer program after spending the past three seasons, and five seasons total, at Wheaton. In 2014, Greenslit helped the Lyons to a 17–4–2 overall record and the team's second straight appearance in the NCAA tournament.
In Greenslit's five seasons as an assistant coach with Wheaton, the Lyons compiled a 72–27–10 record for a .706 winning percentage. The Lyons captured one New England Women's and Men's Athletic Conference (NEWMAC) regular season championship, one conference tournament championship, made two appearances in the NCAA tournament, and qualified for the NEWMAC playoffs in all five years.
Greenslit also served as an assistant coach at the College of the Holy Cross and Northeastern University. During his tenure at Northeastern, the Huskies posted 16 shutouts while advancing to the 2008 Colonial Athletic Association tournament championship game. In addition to his collegiate coaching experience, Greenslit has coached the F.C. Greater Boston Bolts U17 team, and worked as the director of coaching and facilities director of the organization.
Greenslit graduated from Wheaton in 2006 with a degree in economics. He is the only three-time All-American in men's soccer program history, as the standout who landed a spot on three consecutive All-America teams from 2003–05. During that stretch, Greenslit also claimed NEWMAC All-Conference first-team accolades and All-Region recognition as well.
As a junior and senior, Greenslit was named NEWMAC Player of the Year and served as a captain during his senior season.
After graduating from Wheaton, Greenslit played for the New England Revolution's reserve squad in 2006 before suiting up for the New Hampshire Phantoms and the Western Mass. Pioneers of the United Soccer League's Second Division in 2007 and 2008, respectively.
Greenslit is scheduled to begin his post at Roger Williams on August 1.
—Shawn Medeiros
Jenna Rocha '14 finishes first year coaching field hockey, softball at Regis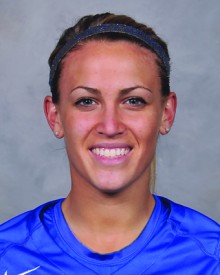 Jenna Rocha '14 is wrapping up her first year as assistant coach for the field hockey and softball programs at Regis College.
As a member of Wheaton's softball team, Rocha is ranked first all-time in program history with 101 walks and 10th all-time in runs scored (125), RBI (94) and on-base percentage (.468). She also stands in fifth place all-time with 20 home runs and 43 doubles.
The Lyons appeared in the NEWMAC tournament all four years during Rocha's career, and last season earned their first bid into the NCAA tournament since 2004.
In 71 career games on the field hockey team, Rocha scored 31 goals (fourth all-time) and tallied 13 assists (ninth all-time), for a total of 75 points, which ranks fifth overall in the program record books. She was also named to the National Field Hockey Coaches Association's academic team in three consecutive seasons (2011–13). As a team, the Lyons also made appearances in the NEWMAC tournament and the ECAC tournament during her playing career.
"Jenna was a consistent threat at the plate, hitting in any count. She had smooth, quick glove skills that put her in a top tier as a shortstop in New England," said Wheaton softball head coach Rachael Powers '03. "She has great game awareness on the field and at the plate, and has a great passion to win."
Rocha is working under former Wheaton field hockey interim head coach/assistant coach Nicole Panciocco, while simultaneously pursuing her master's degree in health care administration.
So far, Rocha said she loves serving as a role model to student-athletes. "I like passing along what I've learned at Wheaton from my coaches. And I love working with the students."
—Shawn Medeiros
For the latest
Follow Wheaton College athletics via social media on Facebook, Instagram, Twitter and YouTube.