Task force examines health and wellness on campus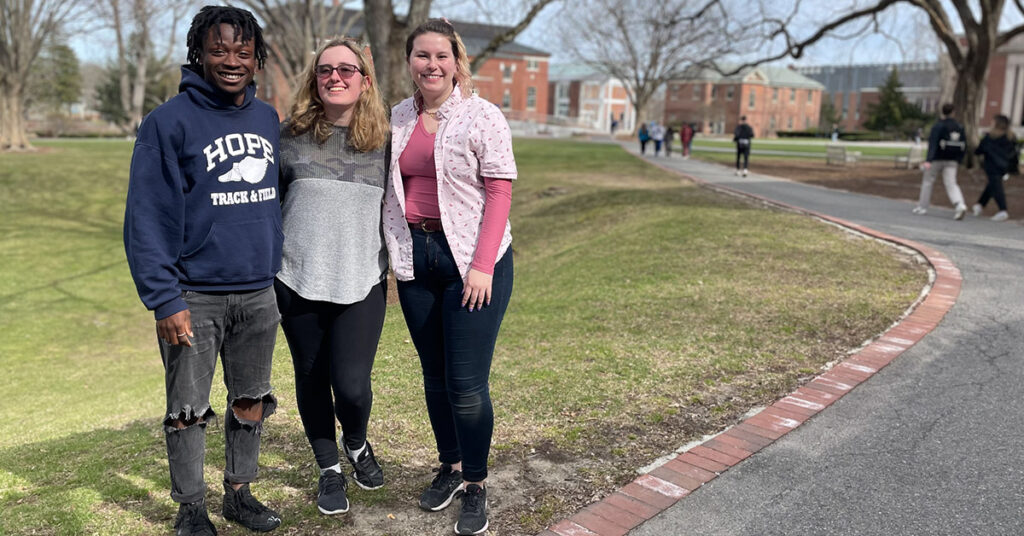 Recommendations will propose ways to improve well-being at Wheaton
To promote well-being for all members of the campus community, Wheaton College has established a Health and Wellness Task Force to explore ways to improve physical, mental and emotional health.
Using an equity lens, the task force is specifically investigating what changes and additions to programs, facilities, curriculum, systems and policies are needed to strengthen the college's focus on the health and wellness of students, staff and faculty. The task force is scheduled to report its preliminary findings by the end of the spring semester.
Associate Provost and Professor of Anthropology M. Gabriela Torres, who is serving as the task force co-chair, said Wheaton's spotlight on health and wellness is particularly important due to the mental health concerns and challenges that have arisen during the ongoing global pandemic.
"It's about keeping people healthy and well in this community, and creating a community where belonging exists. We're really being intentional about understanding what the needs of the community are and the ways we can meet them—whether making small changes or bigger changes," said Torres, who is serving alongside co-chair Laura Strauss Shea, associate director for student support and case manager.
To ensure the consideration of all perspectives, the task force includes students, staff, faculty and a trustee:
Elijah Akindolie '22, Liz Eaton '22 and Rachel Hickey '24
Judy Franciosi, assistant director of athletics for campus recreation
Lyndsey Aguilar, associate director of residential life
Autumn Grant, former associate director for accessibility services
Nick Dorzweiler, visiting assistant professor of political science and women's and gender studies
Lawrence Mutty, interim director of counseling
Montserrat Pérez-Toribio, associate professor of Hispanic studies
Wheaton Board of Trustees member Chris Paquet, assistant commissioner of the Office of Emergency Preparedness and Response for the New York Department of Health and Mental Hygiene
These members have put together focus groups and a campus-wide online survey to gauge views among all constituencies as well as conducted in-person and virtual interviews. So far, task force members have spoken with more than 310 students, faculty and staff directly and have received 740 responses to the survey.
The student representatives on the task force are playing a key role in collecting data needed through research and student interviews.
Akindolie—who is majoring in psychology and public health—said he is thrilled to participate on the task force, as it aligns with his passion for health and mental health issues.
"I feel like it's a good opportunity for me to take advantage of my position, to hopefully help people on campus feel more included and part of the community," said Akindolie, who also is a student-athlete on Wheaton's track and field team and a musician with the campus band Jibberish Garden.
His idea for student-to-student interviews came to fruition through multiple listening sessions recently held in Emerson Dining Hall, where he directly engaged with students.
"We are acknowledging what Wheaton is doing well, and what Wheaton is not doing well, and what we can do to improve," he said.
Hickey, who serves as treasurer of Wheaton's Student Government Association, said she joined to provide her perspective as a student who was remote last year due to the pandemic. She said she understands the challenge of adapting to the return to in-person learning.
"I felt like I could get a good perspective on the Class of 2024 and, hopefully, support us because we were the class that missed out on a lot, senior year [in high school] and freshman year. A lot of us were able to adapt, but there were some of us who struggled. I think it's important that every class has someone to advocate for them," said Hickey, who is majoring in chemistry.
Eaton, who is studying psychology and public health, serves on the task force. She previously conducted independent research with Torres. Her focus is on benchmarking and best practices and looking at other institutions for what they do to promote health and wellness.
"I'm big on mental health and I want to leave Wheaton better than I found it. I want to contribute in any way that I can," said Eaton.
Torres lauded the students for their work. "It's amazing seeing these students take leadership on behalf of their community."
The task force's preliminary findings will be shared with the campus community later this spring. A final report and full set of recommendations are expected by August.