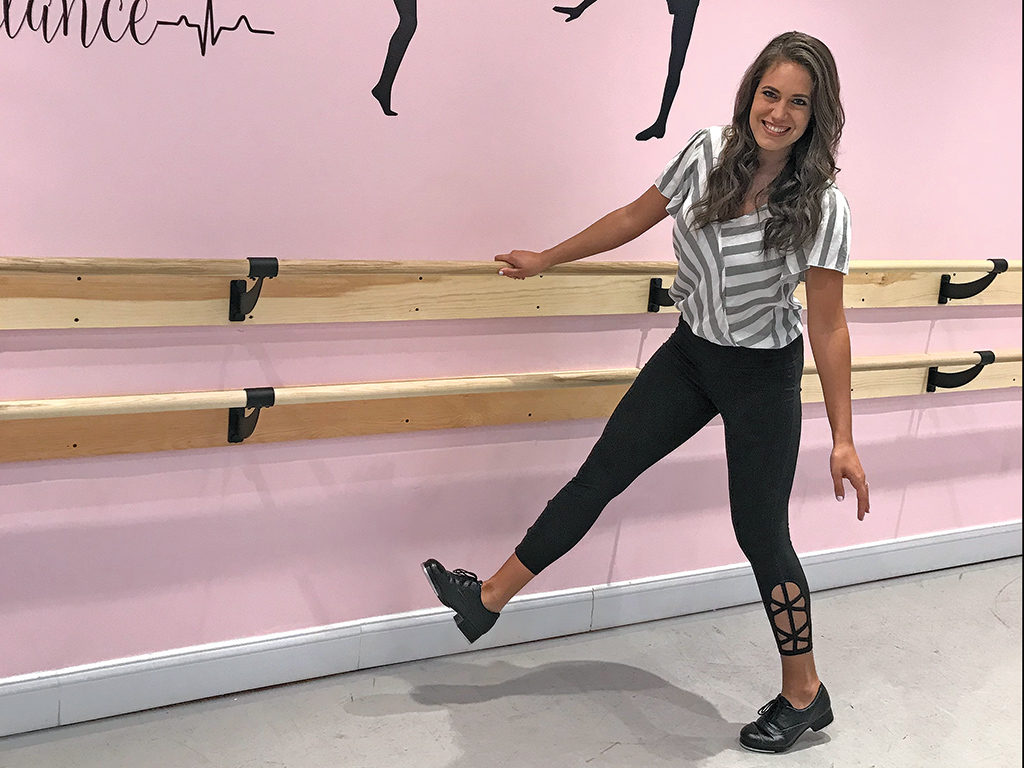 For Christie Cali-Osgood '13, the act of dancing—which she describes as using one's whole body and soul to communicate emotion—is empowering and confidence-building.
Over the years, the alumna has tapped into that energy to realize her ambitions. Her latest accomplishment fulfills a dream she has held since childhood: opening and running her own dance studio.
Her business, Christie Cali Dance Connection, in Milford, Mass, offers classes in ballet, jazz, tap, hip-hop and musical theater for students ages 3 to 18.
"I have always loved to teach and direct, inspired by my own dance teachers who played a fundamental role in my life and helped foster my passion for dance," she said. "When the studio I was teaching at relocated last year, I saw it as my opportunity to start my own business."
Cali-Osgood, who double majored in English and dance and theatre studies, has been taking dance lessons since age 4 and learned to tap dance when she was 14 years old.
At Wheaton, when she saw that there was no outlet for tap dancing enthusiasts, she and classmate Ashleigh Cali-Osgood '13 established Tap Out Loud (TOL). (The two married last summer.)
"With almost no budget, costumes or experience putting on a main stage production, we poured our hearts and souls into TOL's success," Christie Cali-Osgood said.
For her senior project, she produced and led the choreography of the piece, "Farewell Crescendo," which was performed by TOL.
"This piece was the most meaningful for me at Wheaton because it showcased the success of TOL through my own artistic creation," she said. "It was an amalgamation of sounds and dance styles that built up throughout the piece as the layers of music, rhythm and dance grew in complexity; I brought elements of ballet and hip-hop dance into the tap performance."
Cali-Osgood said her experiences managing TOL prepared her for running her studio—both as a dance instructor and entrepreneur.
"Co-directing TOL helped me to better understand the dynamics of teaching dance to a group of students, and it gave me the confidence and self-assurance to manage and run the logistical side of my business," she said. "I learned a lot about budgeting, planning and organizing through TOL."
Ten years later, TOL remains a vibrant group on campus, in part because of the initial energy of the co-directors, said Instructor of Music Julie Searles, an early supporter and advisor to TOL.
"They brought commitment and dedication to the dance and to their peers with personal support and enthusiasm, and without interpersonal drama," Searles said. "I know Christie is bringing the same encouragement and support to her young students at Dance Connection, inspiring them for years of dance to come."