Talking about healthy masculinity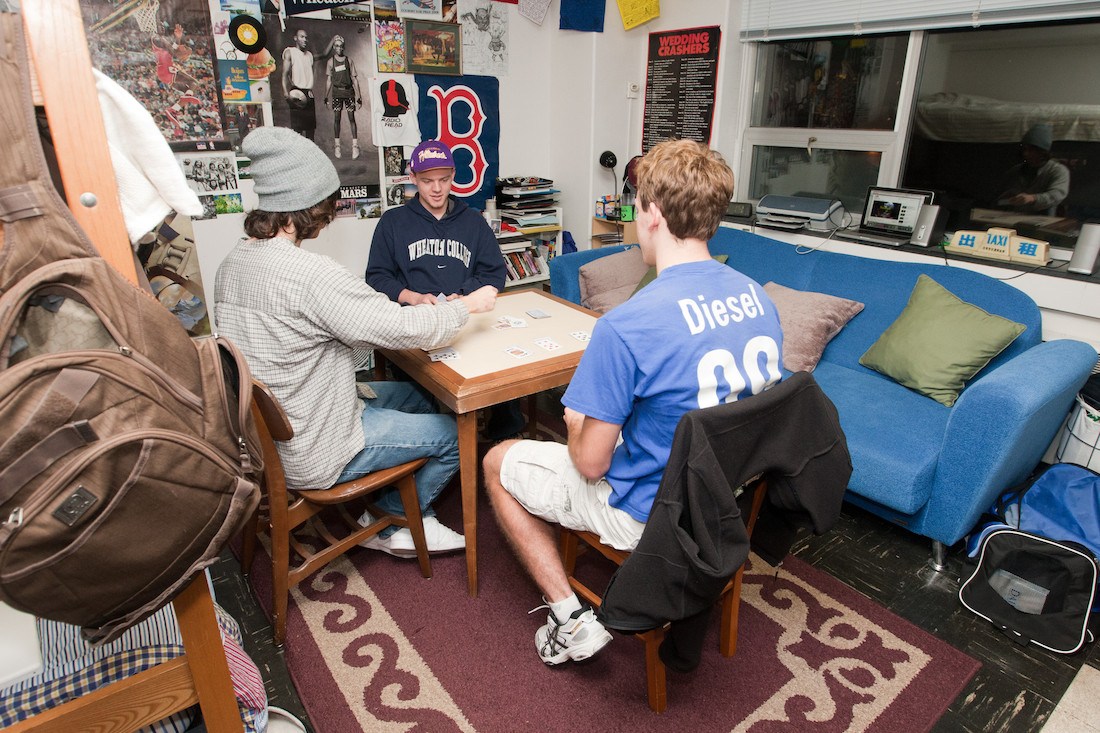 Wheaton students join nationwide effort to improve campus communities
What does it mean to be a man, and how does that definition impact the way men interact with women, and with one another? A growing number of Wheaton men are considering those questions, through discussions, workshops and other activities, as part of a nationwide movement to make campuses and other spaces safer and more welcoming to all.
The most recent of these discussions occurred on Tuesday, January 23, during a workshop day for the Healthy Masculinity Campus Athletics Project (HMCAP), a national initiative that Wheaton was selected to participate in last spring. Facilitated by an off-campus organization called Men Can Stop Rape, the workshop drew about 50 men, including students, faculty and staff.
"The day started with a workshop on how to understand and identify different traits of healthy and toxic masculinity, and included discussions of how to communicate about these issues, how to expand the definition of masculinity, and how to model healthy masculinity," said Pauri Pandian, who coaches tennis at Wheaton and is co-coordinator of the HMCAP student group. "We were thrilled with the turnout and engagement throughout the day. There were a lot of different voices, and people were able to speak about topics that are often challenging to know how to tackle."
The program included a dinner, sponsored by the offices of the President, Dean of Students and Title IX Compliance, and a session called "Campus Conversations," in which participants shared personal stories to launch a larger discussion.
Wheaton's involvement with the Healthy Masculinity Campus Athletics Project began in fall 2016, when the college received a continuation grant from the U.S. Department of Justice Office on Violence Against Women, covering a total of six years of programming. The grant made Wheaton eligible to compete for a limited spot on the Healthy Masculinity Project roster of participating colleges.  
"We applied for the HMCAP opportunity because we felt we were poised to take a next step in fostering and growing a healthy masculinity program on campus," said Courtney Ruggles, coordinator of Wheaton's Sexual Misconduct and Assault Resource Team (SMART). "At the same time, Athletics began work around 'locker room talk,' focusing on how teams represent views through conversation, music choice and other actions inside and outside of the locker rooms, playing fields and other athletic spaces. The Healthy Masculinity Campus Athletics Project was a great opportunity to bring these efforts together."
Pandian and swimming and diving coach Barrett Roberts '07 attended a HMCAP conference last summer receiving training as co-coordinators of the project at Wheaton. This past fall, they began inviting male athletes to join the effort. The group of about a dozen student athletes has met several times this academic year, and many of the students attended the workshop day.
At their first meeting, Roberts and Pandian asked the students to define the phrase "be a man."
"Boys and men are raised under a certain dominant theme of what being a man means, and it's the traditional male stereotype of toughness but also 'not emotional' and 'not feminine.' So we're trying to recognize that those qualities—strength and toughness, whether it's physical, mental, emotional or whatever—are great qualities to have in any person, regardless of their gender. But we want to ask, why are we not also embracing empathy and love and honesty and those things that 20-year-old men don't necessarily identify as in a social setting?," Roberts said.
Pandian said the Healthy Masculinity Campus Athletics Project will provide tools to student athletes to identify areas where they can improve in their personal development, while also reinforcing the great things they are already doing.
"The reality is that, as a country, we need to do a better job of addressing issues around toxic masculinity," Pandian said. "These students will be managing and teaching others over the course of their lives, be that in the workforce, in their home life, or both, and we want to ensure that they are doing so with great values."
The athletics project is just one part of Wheaton's efforts in this area. For the past two-and-a-half years, Associate Dean of Students Brandon White has been working with male students to create a student organization that can tackle some of these questions, focusing on social issues from a male perspective.
Steven Flowers '20 is one of the students involved in that group, which he said is working to raise awareness among individuals, facilitate campus dialogue and bring in outside speakers. He also participated in the HMCAP workshop day.
"I thought the program was a great opportunity for the campus, giving administration, coaches and student leaders a space to discuss their personal views so that we can grow collectively," Flowers said.
Kevin Silva '19 is a member of the swimming and diving team and said he got involved in the HMCAP group because he feels unhealthy masculinity is a problem on campuses across the U.S., including Wheaton. He attended the workshop day.
"It was refreshing to see other men on campus, whether it be student, faculty or staff, upset and aware of a very prevalent issue," Silva said.
Lex Radulovic '18 is also involved in the student group, though he was unable to attend the workshop day.
"It's a subject that I feel isn't looked at enough," Radulovic said of healthy masculinity. "I think this movement can be an amazing bridge between different groups. There are so many progressive movements on campus right now that deserve more support, and my hope is to collaborate with other groups to help create a better community."