Alumnus returns to give talk on chocolate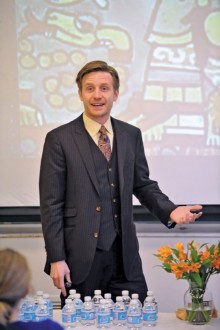 Before bringing his lecture, "Heureux Chocolat: The History of Chocolate in France," to Wheaton this spring, Skye Paine '00 rehearsed the talk at home in front of his two children, ages 6 and 8. Impressively, they listened attentively to the hourlong lecture.
Then again, there was a bar of chocolate sitting in front of them the whole time.
Preparing to give the same talk to a room full of adults at Knapton Hall, Paine nodded to a table in the front piled with French chocolate bars and told his audience, "I think you will enjoy it at least as much as they did."
It was a safe assumption.
Paine, who studied art history and French at Wheaton and now works as an assistant professor of French at SUNY–Brockport, was invited to speak at his alma mater by Professor of French Studies Kirk Anderson—the same man who convinced him as a freshman to major in French.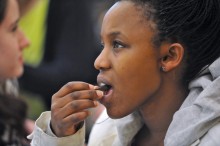 Paine spent a semester of his junior year at Wheaton studying in Paris and wrote his senior honors thesis on French rap group IAM. He won a Fulbright Scholarship to teach English at a French secondary school after college and went on to earn a Ph.D. in French literature from the University of California, Santa Barbara. He has been teaching at the State University of New York's Brockport campus since 2010.
"I love it," Paine said of teaching. "Sometimes people have professions and sometimes they have vocations; a vocation is what you're called to do. I didn't really think I'd find a vocation, but when I teach French it feels that way, like I'm genuinely trying to spread the good word of French."
And one way of spreading that good word is to talk about chocolate.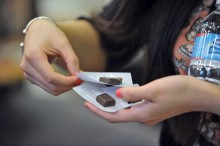 The idea for the lecture came from a shop owner in Paine's current hometown of Pittsford, N.Y., who asked Paine if he could come give a talk on French chocolate. "I just said, 'Of course,'" he recalled. "She told me the date was maybe five weeks away, and then I went home and said, 'Well, I'd better learn a lot about French chocolate.'"
During his research, Paine discovered three "tastemakers" who helped bring chocolate to fashion in French society: aristocrat Madame de Sévigné, author Jean Anthelme Brillat-Savarin and chocolatier Robert Linxe. He also learned that the word chocolate comes from the Aztec term "xocolatl," meaning "bitter water," and that in its early days chocolate was taken as a strong, hot drink in French salons. He also uncovered chocolate's less savory ties to colonialism and slavery—lessons he imparted during his talk at Wheaton.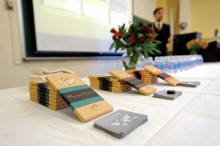 His lecture concluded with a tasting of three chocolate bars, each made from a different cacao bean grown in a different part of the world—Indonesia, Cuba and São Tomé. Paine asked audience members to follow three steps in the tasting: First, to consider the scent of the chocolate, particularly at its breaking point; second, to place the chocolate on their tongues and allow it to reach body temperature; and third, to observe more than just the taste—for example, whether the texture was smooth or grainy.
The experiment was undoubtedly a success.
Anderson said he was proud to have Paine back to speak at Wheaton. "When I asked him to come speak, he passingly mentioned he had a talk on chocolate. I thought, we'll never have a more appealing topic for a lecture," Anderson said. "If we can't get people to come to a lecture on chocolate, I don't know what we would do."