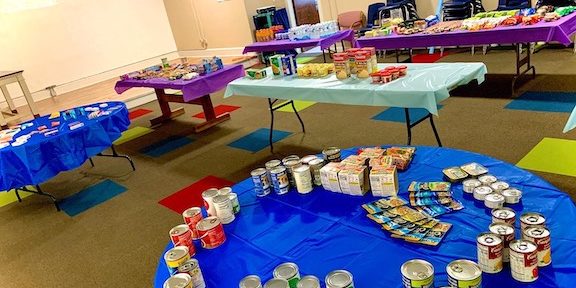 Campus food pantry supports students
When it became clear that some students would be unable to return home for the foreseeable future following COVID-19-related shutdowns, Wheaton staff and students stepped up to ensure that those who remained on campus, as well as those dealing with uncertainty at home, would have more than enough food and supplies.
Led by the First-Gen and Low-Income Task Force and the Center for Social Justice and Community Impact (SJCI), the Wheaton community established a food pantry the week of March 23 in the basement of Cole Memorial Chapel, which remains available to the 60-plus students staying—socially distant—on campus.
Students still have access to Emerson Dining, where they can pick up food to go during daily limited hours using Lyons Bucks or their meal plans, but task force members wanted to provide additional opportunities for them to get food within the safety of the campus environment.
"We wanted to make the transition for students whoneeded to remain on campus as smooth as possible," said Cassie Peltola '14, assistant director for community service and civic engagement in the Center for SJCI. "Also, we wanted to make sure we had something to offer students who were leaving campus and may have been returning to  food-insecure homes or neighborhoods."
This latest project is part of Wheaton's ongoing work to address the needs of low-income students, Peltola said. First-Gen and Low-Income VISTA Tatiana Havens has been spearheading these conversations and helped manage Wheaton's first living-learning community for first-generation college students this year.
When it first opened, the pantry offered more than $1,500 worth of non-perishable food items, toiletries, hygiene products and packing items, purchased by the Center for SJCI in collaboration with the Marshall Center for Intercultural Learning. It has continued to be stocked through the generosity of Wheaton staff, faculty and students, Peltola said.
Student Government Association president Sophia Hatzikos '20 is among those who have supported the pantry, donating unopened items she had before she returned home following spring break.
"It is another way that Wheaton has done a great job providing support for students during a difficult transition off or even still at campus," Hatzikos said. "Having the ability to access snacks and staple foods at an easily accessible location is comforting. It's great that our dining provider is still providing food to the students and, with the addition of the food pantry, the students have options."
Avi Chaudhary '20, who serves as chair of the Intercultural Board, is staying on campus for the time being and said the food pantry has helped him avoid having to go off-campus to shop.
"I was delighted to know that SJCI set up the pantry and I feel like it has reduced a lot of the pressure students feel about whether we will run out of food and other essential items and how we would get them," Chaudhary said.
The food pantry is open for students on Wednesdays from noon to 2 p.m. and is managed by Caleigh Grogan '18, interfaith engagement coordinator, in SJCI. Donations are also being accepted during that time. Campus Safety at 508-286-8213 to arrange drop-off at the chapel.
Anyone interested in making a monetary donation to the pantry can use the online giving page, give.evertrue.com/wheatoncollege/give-today, designating the gift to "Student Charitable Causes 860250," Grogan said.