Supporting first-gen college students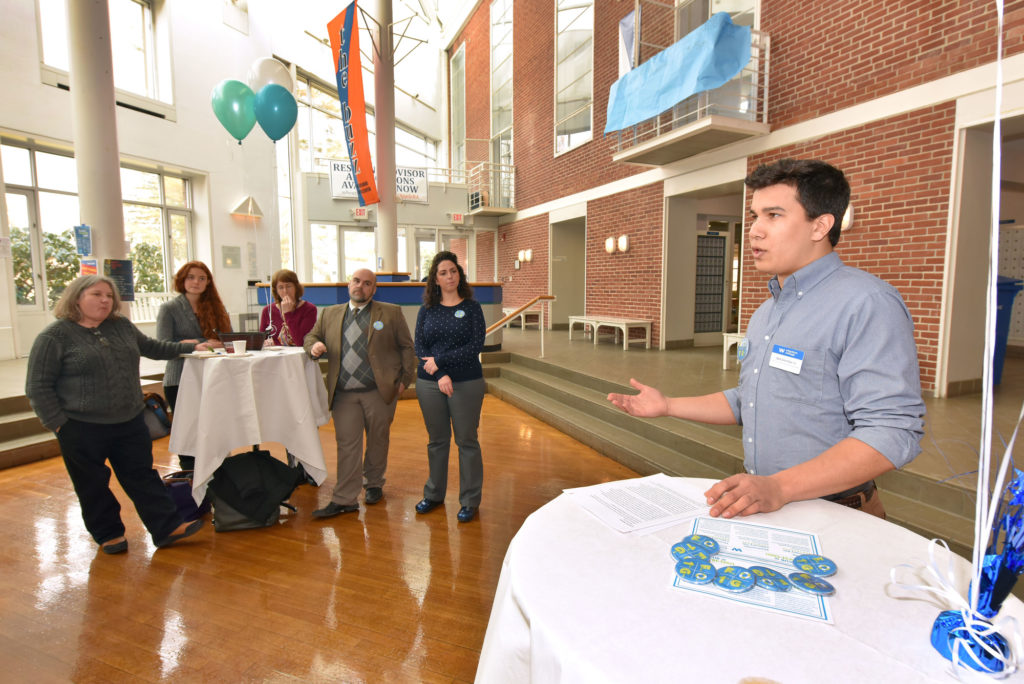 Focus On First-Gen Week kicks off new initiative
For students who are the first in their families to attend college, there are no parental footsteps in which to follow, which can be challenging.
To keep the path to success clear, Wheaton has begun exploring ways to support the college experience for first-generation students. A new First-Generation Task Force comprised of faculty, staff and students has been developing plans to provide guidance, programming and networking opportunities, community-building service trips, and eventually a peer mentoring program.
The first round of programming began with an event on Tuesday, February 6, with Focus on First-Gen Week, spearheaded by Alexander Gim-Fain '17, Wheaton's First-Gen Program Development VISTA, an AmeriCorps position funded through a grant from Campus Compact of Southern New England.
The event, held in Balfour-Hood atrium, kicked off a series of activities that included a Wednesday night panel of alumni discussing their challenges and successes in navigating Wheaton as first-generation students.
Tonight, Thursday, February 8, at 5:30 p.m., first-generation alumna and spoken word poet Roxy Azari '10 is scheduled to perform her original work on identity and lead a workshop, followed by an open mic session for student performers in the Lyons Den.
Since August 2017, Gim-Fain has been collaborating with the task force and campus partners, including Alumni Relations, the Office of Academic Affairs, the Office of the Provost and the Center for Social Justice and Community Impact, where his office is located.
Meg Kirkpatrick, associate provost and associate professor of psychology and neuroscience, and Cassandra "Cassie" Peltola '14, assistant director of community service and engagement, originally initiated the work on first-generation awareness at Wheaton.
Kirkpatrick started the First-Generation Task Force and, along with Peltola, is advising Gim-Fain on the continuing efforts. Peltola, who is a first-generation alumna, wrote the application to secure the grant for Gim-Fain's position.
"As a community that strives to make sure that students of all identities are equally heard and supported through their struggles, as well as acknowledged for their successes, we're excited to be working to support our first-generation community, which is almost 20 percent of all [1,600] Wheaton students," Gim-Fain told attendees at the kickoff event on Tuesday afternoon.
A first-generation student is one whose parents or guardians haven't completed a two- or four-year college degree, but there are many nuances to each individual's experiences, struggles and triumphs, said Gim-Fain, who majored in political science.
Adjusting to the rigors of the college academic workload, navigating social circles, even completing complicated financial paperwork can be challenging for all students. However, the process can be more difficult when you are the first in the family going through the experience, Gim-Fain pointed out.
At the Tuesday gathering, he invited several members of the Wheaton community to talk about what it means to be a first-generation college student.
Task force members Valerie Tobia '07, director of counseling and health services, and Steven Viveiros, dean of advising and academic success; and Chisomo Billy '18, an economics and Hispanic studies double major and resident advisor from Lilongwe, Malawi, spoke. They shared similar experiences that demonstrate the independence, creative thinking and resilience required of first-generation students.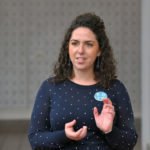 "My dad never graduated high school, my mom is a hairdresser. They had no idea what I was going through when I was looking to apply to colleges," said Tobia, who majored in psychology with a double minor in women's and gender studies and English literature (with a focus on race and ethnicity). "So I felt almost completely on my own. But there is so much power in that, because first-gen students find resilience, ask questions and identify the people who will help shepherd them through the process… My suggestion for any students who are first-gen is to find those people you are not afraid to ask questions of; don't feel like you are a burden, and always go out of your comfort zone."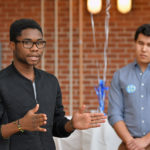 Billy has done just that, making the most of his journey through Wheaton. Last summer he was a social work intern with the Minjeni Women's Group, through World Unite Intercultural Experience, in Moshi, Tanzania.
"My parents are very supportive. They've always told me I can be whatever I want to be if I work hard and focus," he said. "Interacting with people from the Filene Center has been very helpful.''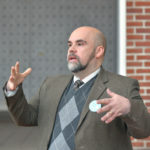 Viveiros, whose Portuguese parents immigrated from the Azores, stressed the importance of the new initiative in bringing to light the varied paths to and through Wheaton and "this hidden identity that many of our students have."
To highlight the first-generation experience, the task force has launched a photo campaign on Instagram at (@wheatonmasjci) featuring first-generation college students and graduates saying something about the experience. A movie screening and discussion, service trip and a student dinner are also in the works for the spring semester.
"We also want to have faculty and staff self-identify as first-gen themselves, so that first-gen students can connect with them and know that there are lots of people here at Wheaton with common experiences," said Gim-Fain.