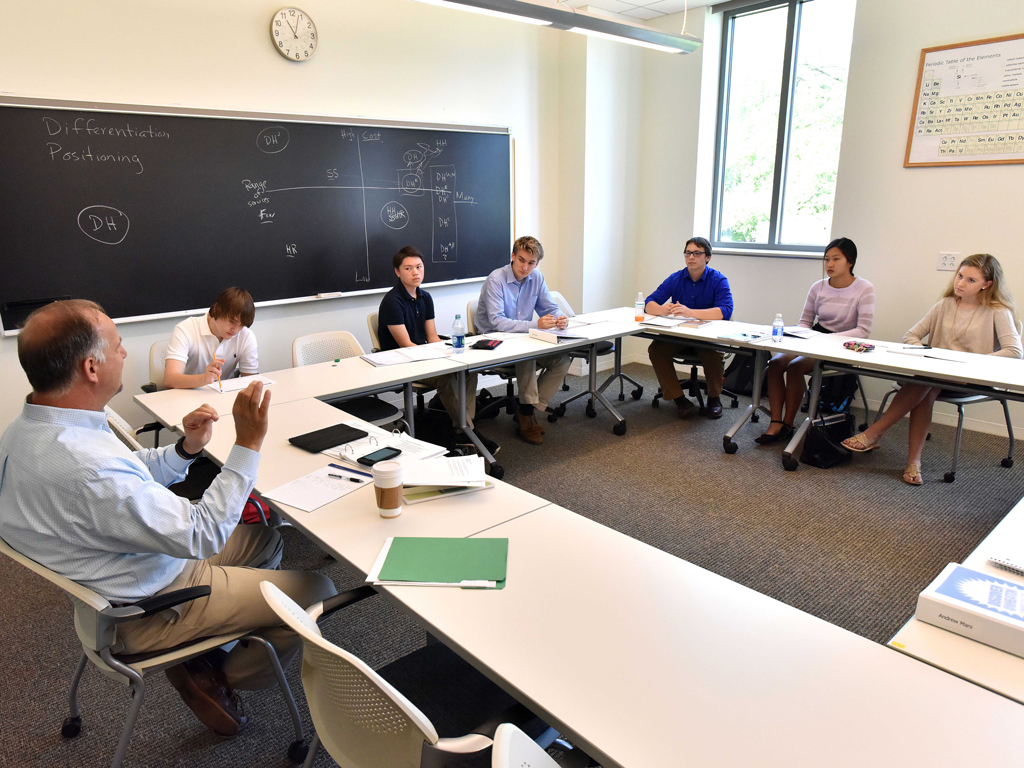 It's a warm, sunny morning in mid-July—peak summer vacation time—and Ethan Farrell, a high school senior from Cleveland, Ohio, is standing at the front of a classroom in the Mars Center for Science and Technology, pitching a business idea.
Farrell is the last of six teens in Discover@Wheaton's "Innovation and Social Change" class to deliver a rocket pitch—a three-minute presentation aimed at potential investors (played by President Dennis M. Hanno, Associate Professor Kim Miller, and student mentors Leslie Gould '15, Andrew Mani '16 and Jackson Towle '16).
"Rivers, streams, fish, birds … they're everywhere, but what if they weren't?" Farrell begins. His idea is to design a system to catch salt and sediment from roads and prevent harmful buildup in watersheds. He plans to market the system to parks and cities.
After his presentation, Farrell receives feedback from the class. Then the "investors"  head out into the hallway to decide which two projects will move on. From here, the high schoolers will split into two groups and spend the last two weeks of the inaugural Discover@Wheaton Summer College for High School Students developing their ideas into real businesses—all while attending class for four hours a day and daily workshops on subjects such as PowerPoint and LinkedIn, working their way through three textbooks and several articles and films, and participating in academic and social activities outside of class.
Summer vacation? Not exactly. This is the new summer at Wheaton—a wider-reaching, more broadly defined type of liberal arts education—and things are heating up.
Time to explore
Shortly after final exams end in mid-May and students and faculty head off on their respective summer adventures, colorful petal-shaped directional flags start sprouting up like flowers around campus.
Explo is coming.
Now in its third year at Wheaton after two decades at St. Mark's School in Southborough, Mass., Exploration Summer Programs, or Explo, delivers nearly 800 people to the campus, including 90 staff members and children from second grade through high school. Explo camps range from one to three weeks and offer an array of programs to educate and excite kids—everything from painting to computer programming to paleontology (the latter of which involves unearthing life-size dinosaur bones buried on campus).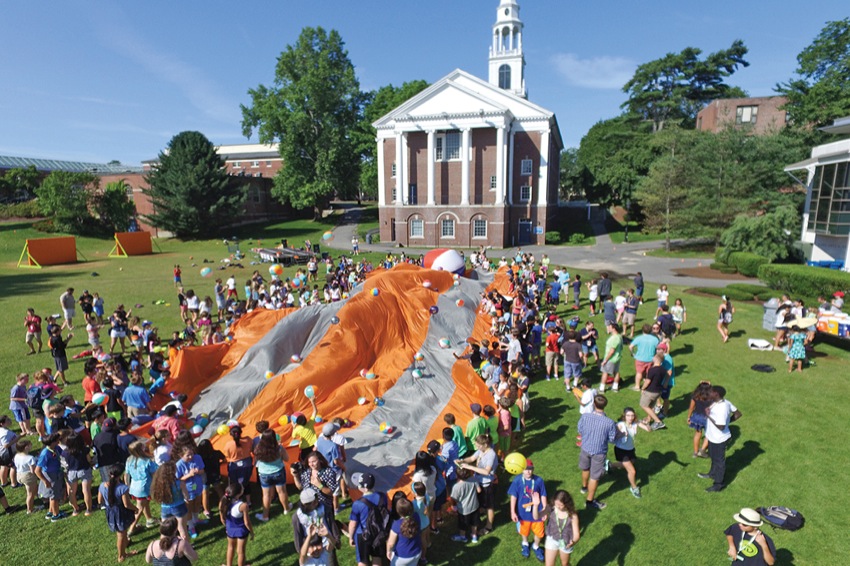 "The campus essentially forms a small, intimate village for these young kids," says David Torcoletti, head of programs for Explo at Wheaton. "Even though it's much larger than the place we came from, it feels more intimate. The facilities are lovely and well-maintained. You feel like you're a part of something vibrant."
Explo also benefits from the college's human resources—every year a handful of Wheaton students or recent graduates work as counselors, and Wheaton employees are often available to share their expertise. One afternoon this summer, Assistant Professor of Astronomy Dipankar Maitra led a group up to Mars Center's rooftop observatory to look at Saturn.
"He was great, and he was able to explain complicated science topics to all ages, even our second graders," Torcoletti says.
Having hundreds of kids on campus has definitely changed the dynamic of summers at Wheaton, says Kristen Turcotte '99, director of conference and event services.
"Up until last summer I could say it was very quiet on campus, and even though we had a bunch of programming, many people would have said they didn't notice whatever was going on," Turcotte says. "Last summer, with bringing in Explo, it became really lively. You could hear the music all the time. Now, with adding the Discover@Wheaton program, there's just a real energy on campus."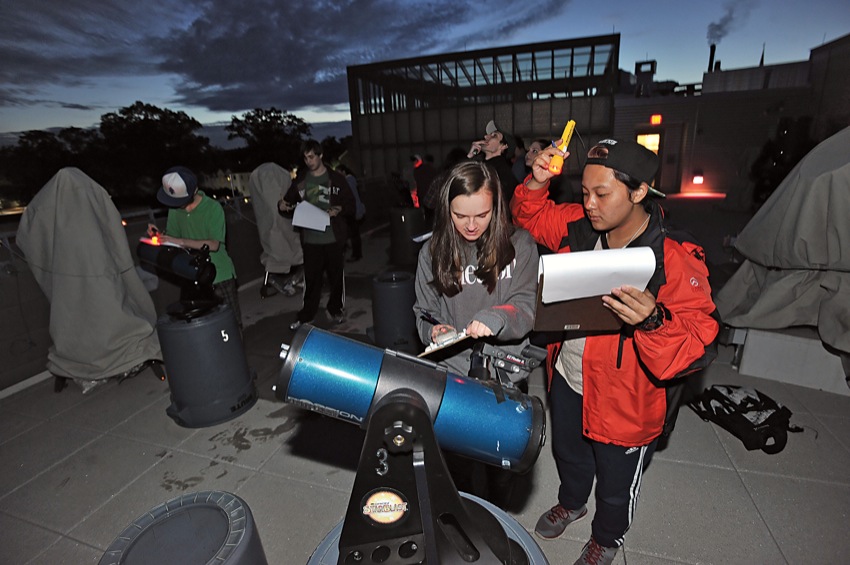 Quick courses
While younger students benefit from Explo and Discover@Wheaton, college students also have the chance to get a leg up over the summer. In its third year, the four-week Summer Session featured courses in human anatomy, astronomy, U.S. military history, logic and world religions.
Choening Dorji '18, a film and new media studies major from Bhutan, was already on campus to help with CORE June, Wheaton's summer orientation for new students, and decided to use the time before orientation to enroll in "The Universe," an astronomy course taught by Professor Maitra.
"I enjoyed the intensity of the course and its condensed curriculum. This also made things challenging, as we had to work harder and use our limited time more efficiently," Dorji says. "The course was taught in a very hands-on way. We got to dismantle and build the telescopes that we used to stargaze at night. We learned the theory and then applied it in real life."
David Nega '17, a biology major from Washington, D.C., enrolled in "Human Anatomy" this summer on a recommendation from his advisor.
"I liked the small class size, which really epitomized the Wheaton College experience," Nega says. "Taking a class for my major requirements in such a condensed manner was intimidating, but in practice it was not unmanageable."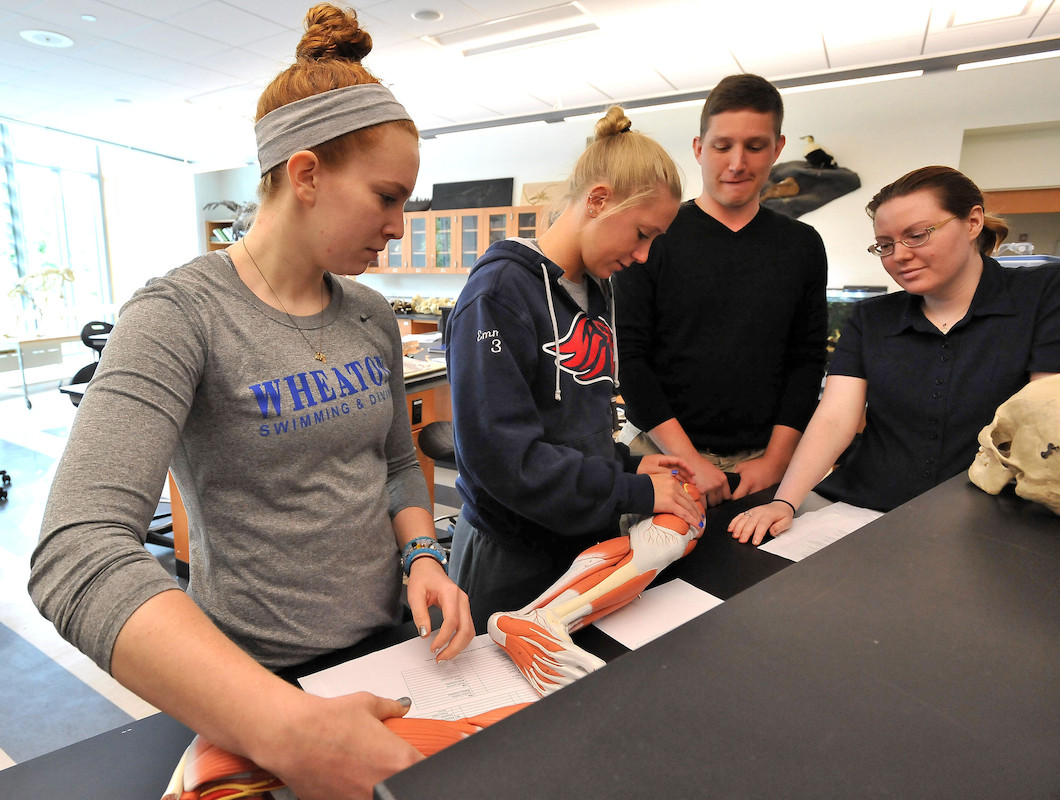 Along with allowing students to focus on a single subject, Summer Session provides faculty with the chance to try new teaching approaches. For two summers, Professor of Religion Jonathan Brumberg-Kraus has collaborated with colleagues to teach "Introduction to Studying World Religions."
"We could conduct it more like a seminar, with field trips during class time that didn't conflict with students' other classes, such as an outing to see the movie Noah, working and learning at the Crystal Spring Earth Learning Center, Shabbat dinner at my home, hiking in Wheaton Woods, and independent site visits to local places of worship," he says.
This year, Summer Session included a meal plan option and more social activities, such as ice cream socials and field trips to Boston and Providence, to engage students outside of class.
"We're trying to offer more consistency for students, so their experience in the summer is close to what their experience would be in the fall and spring," says Ed Burnett, director of residential life.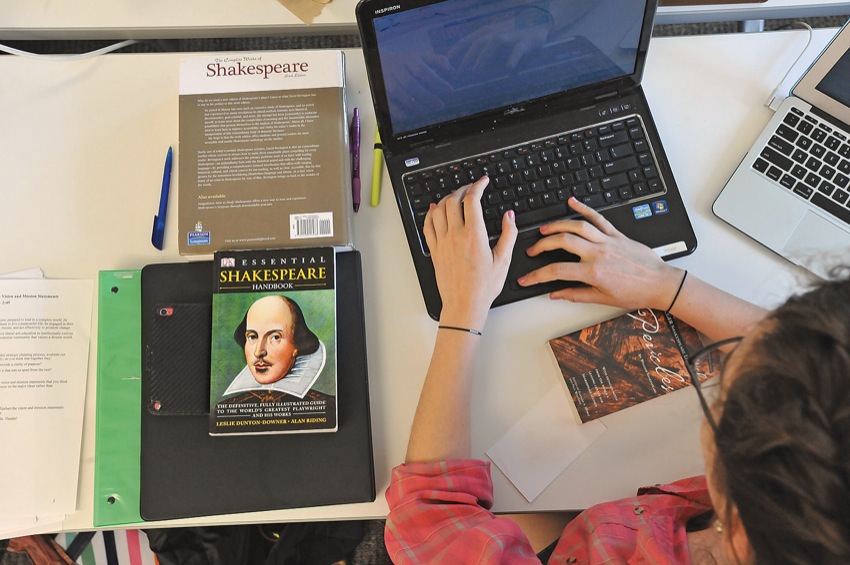 Under the microscope
For other Wheaton students, summer education takes the form of research, as they work with faculty members to develop computer software, track the history of a Wheaton art collection, study fin regeneration in zebra fish, build a public art project or explore any number of topics.
Jessica Barros '17, a chemistry major from New Bedford, Mass., helped Professor of Chemistry Jani Benoit study how methylmercury is transferred from vernal pools into the forest by insects. Barros, who last spring was undecided about her major, took on the project in an effort to explore one of the fields that interests her.
"I collected and identified insect samples from the vernal pool behind Haas Athletic Center, and checked mercury levels in the leaves around and in the vernal pool," she says. "I gained more technical lab skills. I loved being able to see chemistry applied in the real world."
Lauren Robinson '16, of Hadley, Mass., a double major in English and American history, worked for professor Leah Niederstadt, continuing research she began last summer with a Balfour Scholar internship stipend. She is tracking the history of the Shippee Rental Collection, a Wheaton art collection established in memory of Elizabeth Wright Shippee '37 that made prints available to students, faculty and staff to rent and hang in their rooms and offices.
"At the end of this previous spring semester, I had the chance to spend a good five hours in the college archives, looking through a collection of Elizabeth Shippee's own correspondence, which I scanned and am working on transcribing, and it has really been fascinating," Robinson says. "It has been such a great experience, and I really feel like we're coming closer to piecing together the history of this collection."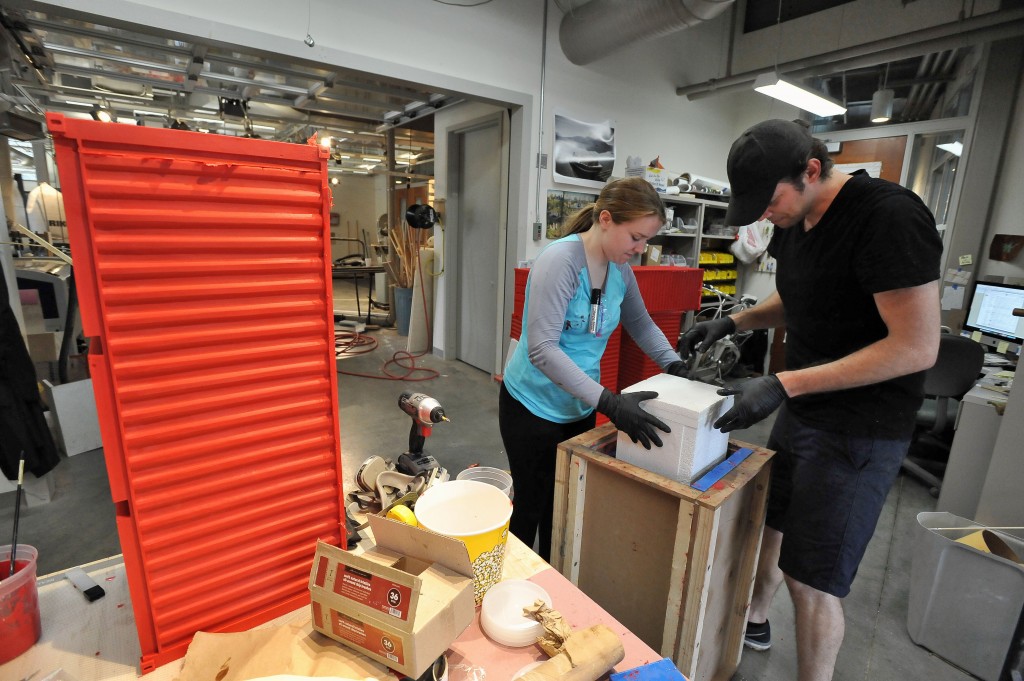 Studio art majors Charlotte Hall '17 and Jack Brotherton '17 spent several weeks at the beginning of the summer assisting art professor Kelly Goff with a public art installation he created for the D Street ArtLAB's "WonderLAND" exhibition in Boston. To create the installation, titled "Lawn Containers," they poured urethane foam into a wooden mold lined with silicone rubber to create 30 replicas of shipping containers ranging in size up to five feet in length. Goff, who made a smaller version of the project for the "P3SF" faculty art show last fall, has been intrigued by shipping containers for many years, having grown up on the island of Curaçao, near one of the largest dry docks in the Caribbean.
The project definitely came with its challenges—from dealing with the effects of humidity to physically moving the large, heavy molds.
"This was an incredible chance for me to learn as much as possible about the large-scale mold-making process for any future endeavors I may have as an aspiring sculptor," Brotherton says. "It was also great to work this closely with a professional artist and another aspiring artist, Charlotte Hall, and to see how much self-discipline it takes to be a working artist today."
Hall enjoyed the rhythm of the work, spending eight or more hours in the sculpture studio daily.
"For a few weeks we worked into the weekends, and I absolutely loved it," she says. "Working with Kelly was the first job I ever had in the art world. I was on such a learning curve every single day, and I found it extremely satisfying."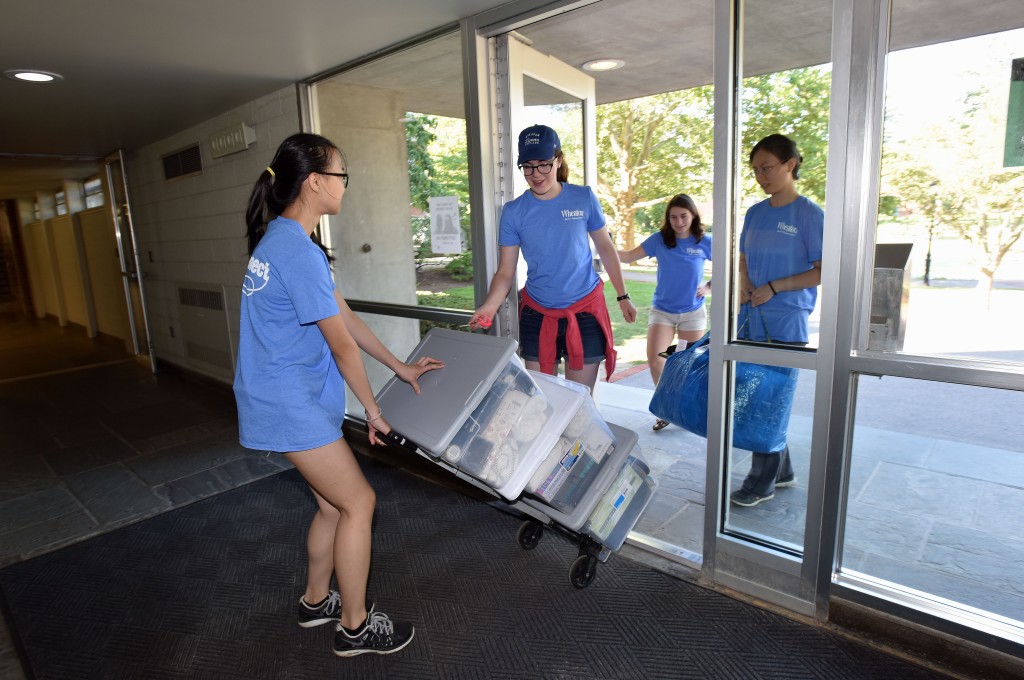 Getting to know you
These days, students new to Wheaton don't have to wait until fall to see what college is all about. For five years now, Wheaton has hosted the Campus Orientation and Registration Experience in June (known as CORE June). Offered in three sessions, the two-day overnight program features workshops on academic and campus life, Q&A sessions and social activities. It's staffed by paid student mentors, and one of its biggest draws is the chance for first-year Wheaties to create their fall course schedules. As of last summer, every class currently at Wheaton had been through the program.
"CORE June is about getting to know some of the members of your class, about getting acclimated to the campus, learning about campus resources, and walking away with a schedule," says Andrea Holden, director of the Office of Student Activities, Involvement and Leadership.
CORE June also offers a chance for staff to start addressing important issues, such as alcohol and drug use, with students before the rush and excitement of move-in day. This education continues with CORE August, where students go through bystander intervention training designed to educate them on how they can take action to prevent sexual violence. Both programs also offer opportunities to connect with parents.
"We knew this was a time when we could engage parents—in August, they are so focused on their fears, on packing. They're wrapped up in the drama of what's going on," Holden says. "In June, they're ready to talk about some of the tough subjects."
Herbalists and athletes
Every other June for more than 20 years, Wheaton has hosted the International Herb Symposium, a gathering of between 600 and 850 people interested in the study and various uses of natural herbs.
"The International Herb Symposium is about growing our herbal community internationally so that we can create a healing network and an opportunity to learn from different traditions," says symposium founder Rosemary Gladstar, a resident of Orange, Vt. Organized by Sage Mountain Herbal Education Center, the event brings together many approaches to herbalism, from the scientific and medical side of things to the shamanic and spiritual.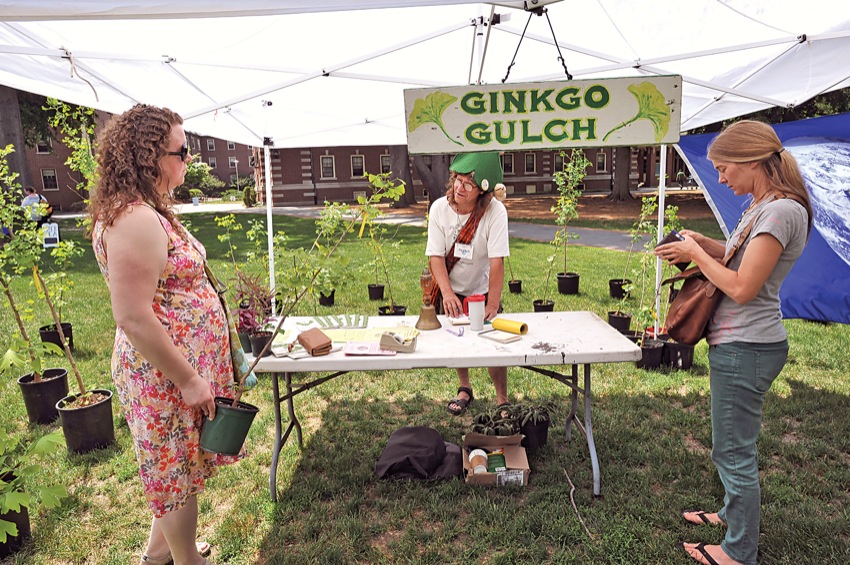 The three-day event draws people from around the United States and about a dozen other countries, and features a full schedule of workshops on topics such as medicinal mushrooms, herbal antibiotics and cancer treatment. The symposium includes opportunities for attendees to socialize, relax and enjoy the nature of the Wheaton campus, with yoga sessions, a free tea truck, nature walks, drum circles, a plant sale, a vendor area and a plant labyrinth set up on the Dimple. This year, participants also worked on a special gift for the college—a botanical "sanctuary garden" containing native medicinal plants in the woods on campus.
Its first year, the International Herb Symposium was held at a summer camp in western Massachusetts. But organizers wanted to give the event a more professional feeling.
"The main reason I chose Wheaton was I liked the old nature of the college—the beautiful, grand old trees that are inclusive of the work we do," Gladstar says. "The staff has been so amazing here. The herbalists feel like they come home every two years."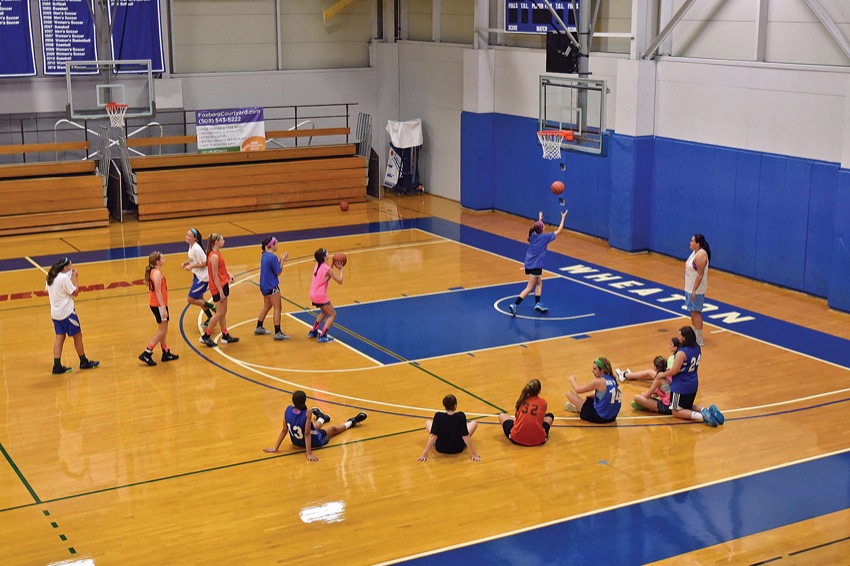 Throughout the summer, Wheaton welcomes another group of special guests: athletes of all ages participating in sports camps. Among these programs is Wheaton men's soccer coach Luis Reis's Soccer's Future Academy, which has been offered on the Wheaton campus for 18 years. The two-week program serves boys and girls from first through eighth grade, from 28 different cities and towns.
"The purpose of the camp is to expose the local youth community to the college, and to provide high quality instruction to youth soccer players," Reis says. "We have a great student-to-coach ratio—an average of eight to one—and we work on technical skills and introduce tactical concepts."
Wheaton women's basketball coach Melissa Hodgdon and members of her team have run the four-day Hoop Mountain basketball camp for girls every summer for 10 years.
"It is an extension of the mentoring and support we give local community youth girls during the academic year through our sports clinics," Hodgdon says.
Wheaton men's soccer coach Matt Cushing has been running Elite 8 Soccer Academies for five years, and this summer brought the program to campus. The two-week camp helps high school soccer teams prepare for the upcoming season.
"We have 12 former campers on the current Wheaton [men's soccer] roster," Cushing says. "It's a great recruiting venue, with 280 prospective student-athletes on campus annually. It also gives current Wheaton student-athletes a chance to work the camp."
College for high schoolers
While others on campus were running, swimming, dribbling and kicking, a group of six high schoolers from around the country spent the month of July dressed up in business casual attire, learning about entrepreneurship and social justice and developing their business ideas into real-world projects through Discover@Wheaton Summer College for High School Students. Wheaton alumna Colby Ornell '15 served as 2015 coordinator of Discover@Wheaton, helping to get it off the ground in its inaugural year.
For Jonathan Schuette, a high school senior from Houston, Texas, the program was a chance to explore a subject he wants to study in college.
"My school doesn't offer many entrepreneurship classes. They offer one class, 'Economics,' which I took as a junior," says Schuette, whose mother is a Wheaton alumna. "I thought the best way to continue that study would be to do a class outside my school, because I'm probably going to become a business major when I go to college."
---
Discover@Wheaton is a vibrant program that brings students to campus for a personal and in-depth pre-college experience. Watch our website for details about registering for next summer at wheatoncollege.edu/summer-college.
---
Noah Schultz, a high school junior from Winchendon, Mass., is considering a career in engineering. But he already sees the benefit of a background in business.
"Business is really a big part of anything, and starting your own business is something you should know how to do," he says.
The two winning business ideas, selected by President Hanno, Professor Miller and the Wheaton student mentors, were Farrell's salt and sediment catchers and an idea proposed by Caroline Sharpless, a high school junior from Tampa, Fla. Sharpless had recently become aware of the problem of elephant poaching, and she wanted to help raise awareness of the issue. She proposed starting a business that created unique jewelry inspired by elephants, with a portion of the proceeds going to existing nonprofits.
"I had two Wheaton alums in my family, so they encouraged me to go for this program. I was looking for something productive to do with my summer," Sharpless says of why she enrolled in Discover@Wheaton. "It definitely has been inspiring.I've been exposed to social issues that I didn't know existed."
In the final two weeks of the program, the two winning teams worked tirelessly to turn their ideas into real businesses. On the last day, they presented their projects to a room full of Wheaton staff and faculty.
Sharpless's group, consisting of her, Schuette and Schultz, developed her original idea into a company called Tantori. They designed a series of metal bracelets featuring seven unique traits, such as strength, patience and intelligence, based on the Adinkra symbols of West Africa, and have already raised more than $1,000 of a $3,000 goal on GoFundMe.com to start the business. The team picked the nonprofit 96 Elephants to receive a portion of their proceeds.
The second team, consisting of Farrell, junior Julie Hahn of La Habra, Calif., and junior Ben Lague of San Francisco, developed Farrell's idea into a company called Consalting that works with colleges and universities to establish more efficient, environmentally friendly de-icing methods. They discovered an organic de-icer made from sugar beets and other materials produced by a farmer in New England, and planned to suggest it as an alternative to salt.
Miller says the students and their projects exceeded her expectations, and that they have "set the bar very high" for future Discover@Wheaton participants.
"Because our course focused dually, and equally, on entrepreneurship and on social change, during the first part of the course we worked hard to teach them about social issues that people face globally—and then we challenged them to develop ideas and proposals that might solve specific problems," Miller says. "The students' ideas, and then their willingness and ability to work together on teams to turn the ideas into reality, were creative and I believe will have a real impact on the world."
The Discover@Wheaton students weren't the only teens attending class on campus this summer. At the end of June, 11 young men from the United Arab Emirates (UAE) spent two weeks getting an intensive introduction to the liberal arts. This first-time program at Wheaton was funded by an anonymous donor, and it may be repeated in future summers, says Professor of Psychology Gail Sahar, who recently changed positions from associate provost to special assistant to the president, to help with programs like this.
"Most young men in the UAE tend to go on to big universities, often for applied topics such as engineering or finance. They come to the West often to go to school, but they tend not to pick liberal arts colleges," Sahar says. "The organization that's sending them is interested in having them consider the possibility of a liberal arts college, and feels that it's just as good preparation to go on for a career in finance or engineering."
This "liberal arts immersion" program consisted of seven mini-courses taught by Wheaton professors—six-hour classes in art history, biology, economics, literature, mathematics and psychology, with an overview of the liberal arts by President Hanno. In between, the UAE students attended skill sessions on topics such as using PowerPoint and applying to college. They also took trips to the Cape and Fenway Park, visited with MassChallenge businesses, and engaged in other social and educational activities.
"They each picked some kind of social issue that they're interested in, and were asked to think about how you can apply some of these disciplines to solving the problem," Sahar says. "It's really a way of looking at how you can apply the liberal arts in the real world."
Sahar, who helped start Summer Session three years ago, says she's pleased to see how summers at Wheaton are changing.
"Summer at Wheaton is completely different than it used to be. I've been here 21 years, and the first 15 of those you'd come to campus and you could hear a pin drop on the Dimple. It was so quiet," she says. "Now, between Explo and our summer programs, you would almost think it's the school year."