Jordan Tiberi '23 studied insects as ecologist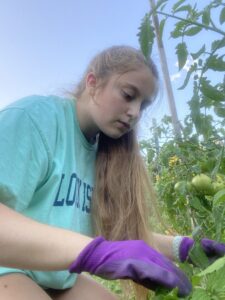 Junior Jordan Tiberi explored her fascination with pollinators and the role they play in maintaining healthy ecosystems, as a summer intern with Barrington Farm School in Rhode Island.
"I studied pollinators in my environmental science course with Professor Scott Shumway and I really wanted to learn more. I figured this internship would be perfect for that. Many insects are overlooked and seen as 'pests' or 'annoying' when in reality they are helping the world in so many ways," said Tiberi, who is majoring in environmental science with a concentration in biology.
At the community farm and learning center, Tiberi served as an interpretive ecologist who took inventory of the variety of insects and determined which ones are beneficial to the local environment. She wrote weekly online articles for the farm showcasing insects, including monarch butterflies, paper wasps, crickets and others. She also assisted volunteers with composting, planting, transplanting, harvesting and other tasks.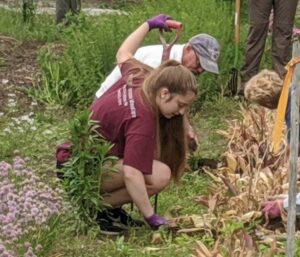 Tiberi's biggest challenge was learning how to identify insects when there often are strong similarities between two different types. Often she would take notes down in the field to help her confirm identities.
"My favorite moments were when volunteers would find a strange bug or a nest and call me over to come look because I was 'the bug girl,'" she said.
Learning about nature and why it works the way it does is extremely important when studying environmental science, Tiberi said.
"Through my research and relaying information to the community, I felt like I was making a difference. In the long term, my goals are to learn as much about the natural world as possible and to help as much as I can. I feel like through my education at Wheaton and what I have learned from my internship, I have a great start at this goal," she said.
Jordan Tiberi '23 serves as the communications chair of the Sustainability Board and lives in ECCO House (Environmentally Conscious Community Oriented), a theme residence.