Study abroad takes off again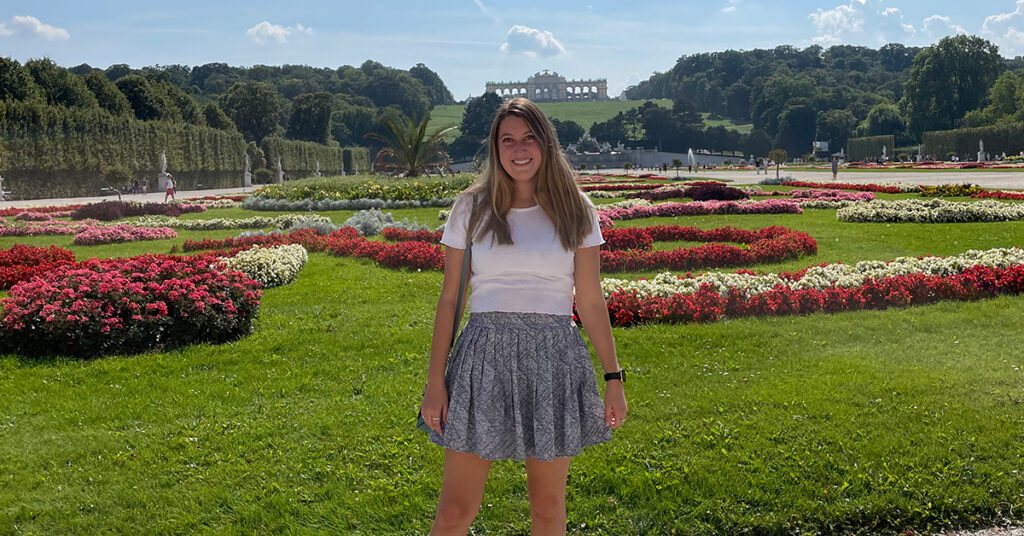 Students engage in opportunities to travel and learn as some pandemic restrictions lift
Studying abroad at Wheaton has always been an important priority for music and business and management double major Jadyn Ruzzano '22, who is from Carver, Mass., and had never traveled outside of the U.S.
"It was important to me to experience another culture and environment; there is so much more in this world and I'd love to see it all. I've always heard that students' study abroad experiences are some of the best memories of their life," she said.
When the pandemic thwarted her plans to study abroad during her junior year, Ruzzano was devastated and disappointed. "I knew I had to do everything I could to try to make study abroad work."
Ruzzano is one of many seniors, as well as other students, who are taking advantage of study abroad opportunities after pandemic-related restrictions led to canceled programs. Traditionally, students in their junior year study abroad, but now seniors are ensuring they benefit from these programs prior to graduation.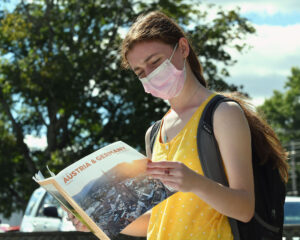 As some COVID-19 pandemic restrictions were lifted, Ruzzano was able to spend the fall 2021 semester studying music in Vienna, Austria, through the Institute for the International Education of Students (IES Abroad).
"It is the most beautiful city I have ever seen in my life. It is my personal paradise, especially because I am a music major and have always loved music, and Vienna has had many famous musicians study and perform here. My favorite part has to be the abundance of art everywhere you go, and the deep appreciation that Vienna has for the arts," she said.
For many students, the study abroad experience is a cornerstone of their college education. When the pandemic hit in March 2020, many of Wheaton's study abroad programs—which encompasses more than 100 programs in Africa, Asia, Europe, Latin America and beyond—were put on hold.
"After a few tough semesters, study abroad is definitely making its comeback," said Alida Gomez, associate director of Wheaton's Center for Global Education.
Twenty-one students spent their fall 2021 semester abroad, including in Austria, Czech Republic, Denmark, France, Greece, South Korea, Spain and the United Kingdom.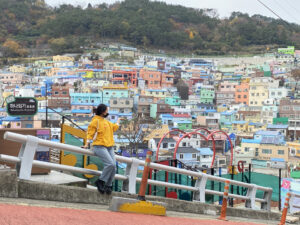 One student, biology major Nathan Ruel '22, also spent the semester on a large ship cruising around the Caribbean as part of the Sea Education Association program.
In general, only one or two seniors study abroad each semester. However, 10 seniors studied overseas during the fall semester, according to Gomez.
Senior Dolma Tsering Lama, who is one of those students, said she chose Wheaton in part for its study abroad opportunities. But her plan to study abroad during her junior year was canceled.
She finally got the experience she hoped for in fall 2021 in a program in Seoul, South Korea, through CIEE Yonsei's Seoulmate program.
"There is always something happening. If I leave my dorm, I see buskers, dance performances and concerts. There are so many activities to do with your friends. You could go to a cafe, norebang [karaoke], go to palaces and museums or take a dance class," said Lama, an international student from Nepal.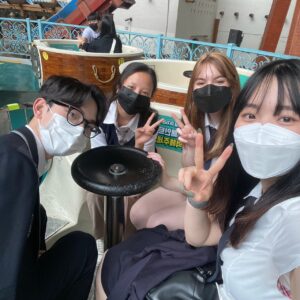 She also developed language skills she will carry with her post-graduation.
"I took film classes along with my two daily hours of intensive Korean language classes. I am now able to add Korean to other languages I speak and I'm so proud of that," said Lama, who is majoring in film and new media studies.
Lama added that there was a silver lining to the postponement of her program. "Our cohort was smaller than usual so I was able to make the most out of the program. We all had assigned local friends who showed us around South Korea. We became very close friends," she said.