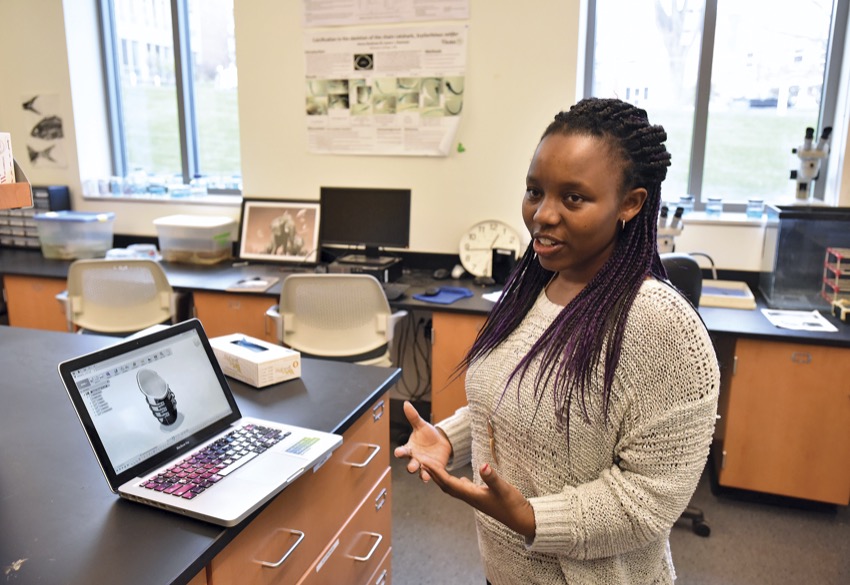 Senior Claudine Humure has endured much during her short life: She lost both parents during the Rwanda genocide in the 1990s and survived cancer at age 13. This same cancer required her to undergo an amputation of her right leg.
A bright, warm student with a resilient spirit, Humure aspires to help others with disabilities. Her goal: opening a clinic specializing in affordable prosthetic limbs in her home country of Rwanda.
Already, she is well on her way.
In partnership with Assistant Professor of Biology Laura Ekstrom—and with some help with the 3D printers in the WHALE Lab—Humure has designed an above-the-knee prosthetic socket that she hopes will someday improve the lives of people with physical disabilities.
Unlike current prosthetic sockets, Humure's design is adjustable to account for growth and other daily changes in the body.
"Many prostheses in Rwanda are made from rigid materials that don't give you room to adjust and breathe. We need good-working prosthetic sockets that people will feel really happy wearing," said Humure, who is majoring in biology with a minor in business management.
Humure's prosthetic socket, which she is developing as her senior project, incorporates skills she has gained through coursework and internships during her time at Wheaton—combining knowledge in the fields of biology, physics and design.
"When I first came to Wheaton, I wasn't sure what I wanted to do. I knew I wanted to do something clinical or in medicine, so I did an internship at Boston Medical Center in the pediatric department. I liked it, but it wasn't really fulfilling," she said.
In 2015, Humure landed a summer internship in the MIT Media Lab's biomechanics group. "My mind really opened up during this internship. I had done research in a biology lab, but nothing on prosthetics—and I found that enjoyable," she said.
There, she learned more about designing prosthetics using software by Autodesk, a San Francisco-based company. She secured an internship the following summer at Autodesk, improving upon her work.
On campus, she took courses with Ekstrom on physiology, and eventually partnered with her on furthering her prosthetic research.
"Claudine is a student who incorporates the knowledge she gets from the classroom into her own life. She learns with a purpose—that is something you hope to see in all of your students," Ekstrom said.
Humure created her prosthetic socket using the design software, and produced it using the 3D printer in the WHALE Lab, Wheaton's making/fabrication space in the Mars Center for Science and Technology. The 3D printed socket, which fits into her palm, is a not-to-scale prototype that took four hours to print.
She and Ekstrom presented their research, and the 3D prototype, at the Society for Integrative and Comparative Biology's northeast divisional meeting of vertebrate morphology in November 2016 at Tufts University. "It was well received and elicited some interesting feedback," Ekstrom said.
After college, Humure plans to work for a couple of years before pursuing graduate-level education.
But she knows where she'll ultimately end up. "I'm definitely going back to Rwanda. Some way, some how, my life will lead me back there," she said.
In her home country, she plans to open a nonprofit prosthetic clinic that takes advantage of the technology she now is developing at Wheaton. The better-fitting, affordable prosthetic limbs will empower workers by improving their ability to get around, minimizing pain that could make holding down a job difficult.
"That's the big thing for people in developing countries. If we can digitally design a prosthetic socket that fits well, it will give them some control, and give them some power," she said. "I will be my happiest when this prosthetic clinic opens."