Stage set for Wheaton's production of "Rent"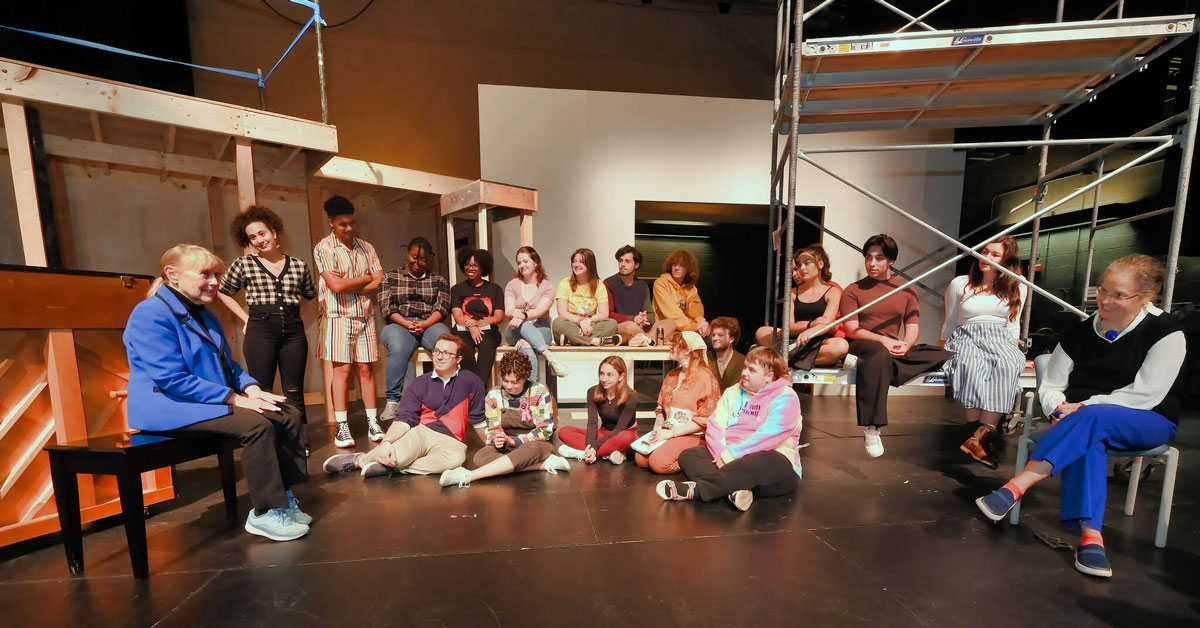 Musical shines spotlight on power of love, offers large cast and crew experiential learning
In Weber Theatre on a Friday afternoon, the cast of "Rent" was gathered around a piano belting out the rock musical's signature song "Seasons of Love." Opening night was weeks away but their passionate delivery already was heartfelt enough to inspire tears—even hearing it from the back of the room.
"In five hundred, twenty five thousand, six hundred minutes/ How do you measure a year in a life?/ How about love?"
Wheaton's Theatre and Dance and Music departments only present a musical every four years, and the enthusiasm for the opportunity comes across loud and clear. The production, made possible by the Debra Glidden '68 Music and Theatre Endowed Fund, opens on Thursday, Nov. 9, at 7:30 p.m., and runs through Nov. 18, 2023.
Loosely based on the opera "La bohème" by Giacomo Puccini, "Rent" follows a year in the life of a group of impoverished young artists and musicians struggling to survive and create in New York's Lower East Side during the HIV/AIDS epidemic. It premiered on Broadway in 1996, gained international acclaim and won several awards, including the Pulitzer Prize for Drama and the Tony Award for Best Musical.
"Jonathan Larson, who wrote the lyrics, book and music, died the night the play went into previews. So, it was this huge, huge thing," said Professor of Theatre and Dance Stephanie Burlington Daniels, who is directing the rock musical. "He finally had made it. He had been a starving, struggling actor, director and writer, and then he finally got this major musical produced and he died of a heart condition that could have been course-corrected if he had had health insurance. …The musical is really about love and friendship conquering all of these challenges that the play puts forward—AIDS, income inequality, drug addiction."
Participation in "Rent" is part of the 300-level course "Rehearsal and Production," which provides students with course credit, counts as a Sophomore Experience, and gives them all a chance to participate in a variety of roles on and off stage.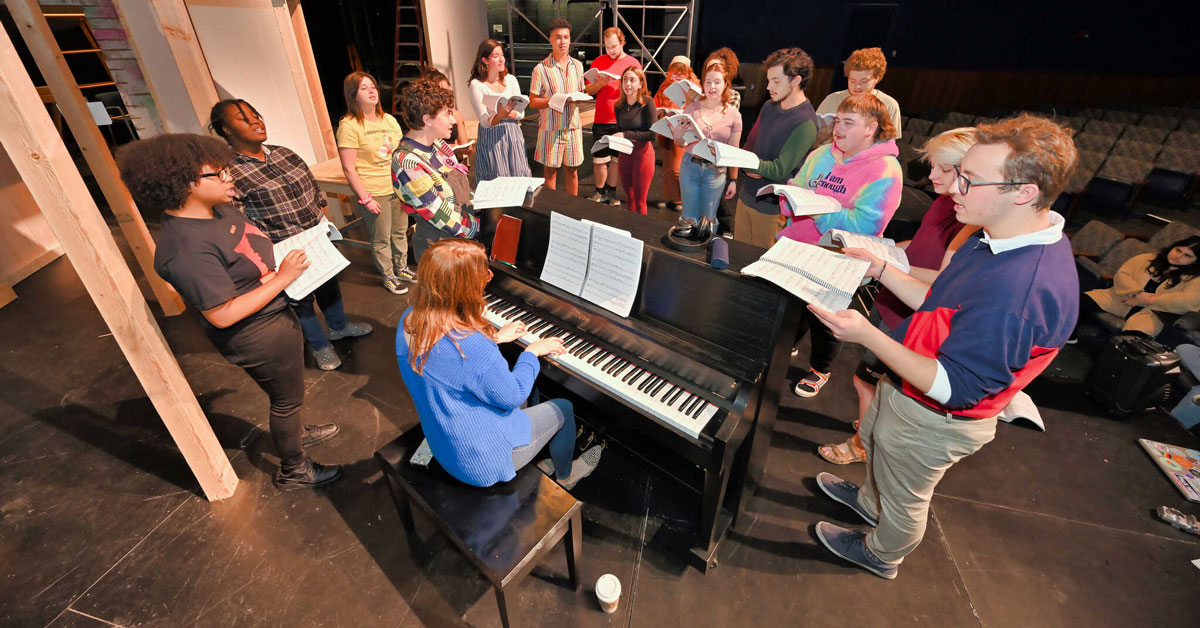 The cast is made up of 20 students and the production and design team consists of 13—all from a range of class years and majors meeting every week during the fall semester to prepare for the show. Students are in roles that include being assistant musical director; dance captains working with choreographer Izzi King '22; and dramaturgs. One student is serving as a lighting designer as part of his honors thesis capstone project; another is doing the stage makeup and designing a film that is part of the production.
Kyra Conover '24, a chemistry major, is part of the ensemble and loves every minute.
"I'm really enjoying the chance to explore my passion for music and dance at the same time as pursuing a degree in the sciences. It's not something that a lot of people get the opportunity to do. I haven't been in a show since before COVID, and I'm having an amazing time," Conover said.
"I'm also learning a lot about working together with the other members of the cast and production team. Working closely with all aspects of a show, from staging to costuming and set design, is so interesting and inspiring. I love how each tiny detail that every individual contributes to the show makes a difference in the final product. Everyone is putting in so much work and I'm so grateful to get to experience it with everyone," she said.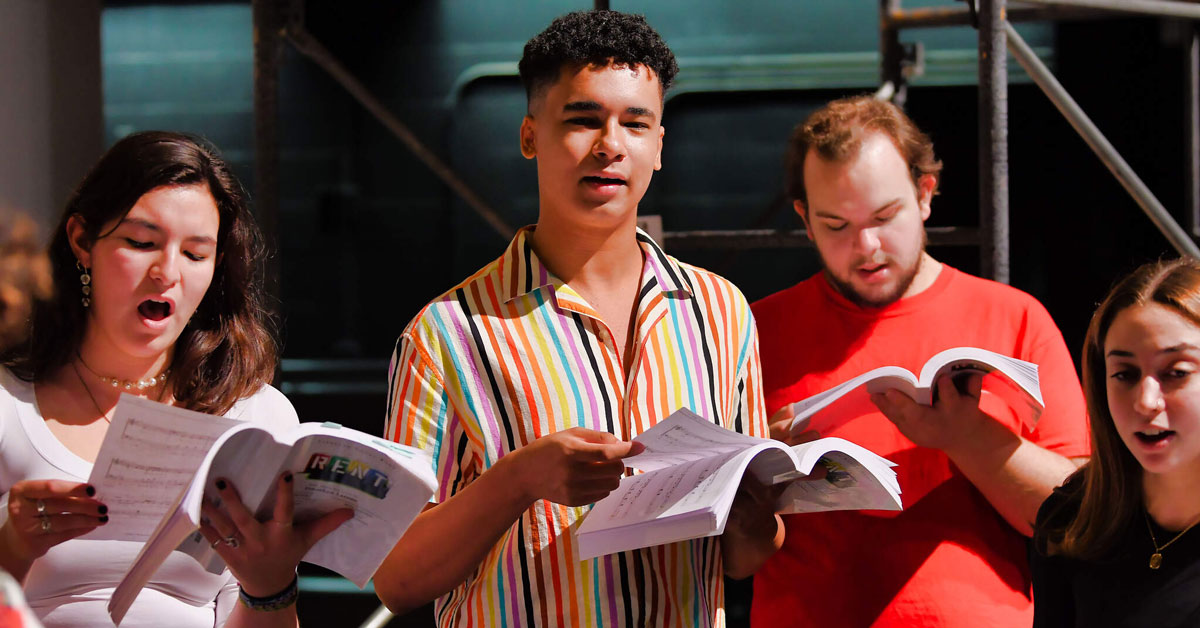 Matthew Velez '27, who plans to major in psychology, is excited to be playing Angel Dumott Schunard—a character he describes as a compassionate drag queen living with HIV/AIDS.
"Growing up in the Bronx, I admired the women who surrounded me—strong Latinas who carried themselves with strength and beauty. They served as my gateway to understanding and embracing my femininity, but I never took it to the extreme of wearing heels or applying makeup," Velez said.
"'Rent' provides me with the opportunity to step into a world I've always wanted to be a part of—the world of drag—but never had the chance to explore, especially in a safe and supportive environment," he said. "I couldn't wear those heels and embrace who I am without this fantastic cast and crew; they've been my support system, helping me love myself and my role as Angel."
During rehearsal, love was the theme of discussion, as Debra "Deby" Glidden '68 sat on a piano bench on stage across from Burlington Daniels, a Class of 1997 alumna, and surrounded by the cast and crew.
"Your relationships with the college don't end when you graduate. They only get deeper and richer because you begin to know all these other people who have been in this space and who love this place and can't wait to get back to it. My relationship with Wheaton has just grown and deepened because of the love," Burlington Daniels told the students as she introduced them to Glidden, a longtime generous supporter of the theatre and dance program.
In response, Glidden, who had come to watch the rehearsal, told her: "Stephanie, I just treasure our relationship. We've just done so much together. Everytime I come back to campus I feel 18 because of the energy. Let me just say I love interacting with students and I appreciate the opportunity to do this today and see rehearsal."
After students introduced themselves, shared their majors and heard personal accounts from Glidden about her time as a Wheaton student performing in theater, the chat ended appropriately—with a round of applause.