Stacey Abrams to receive Wheaton award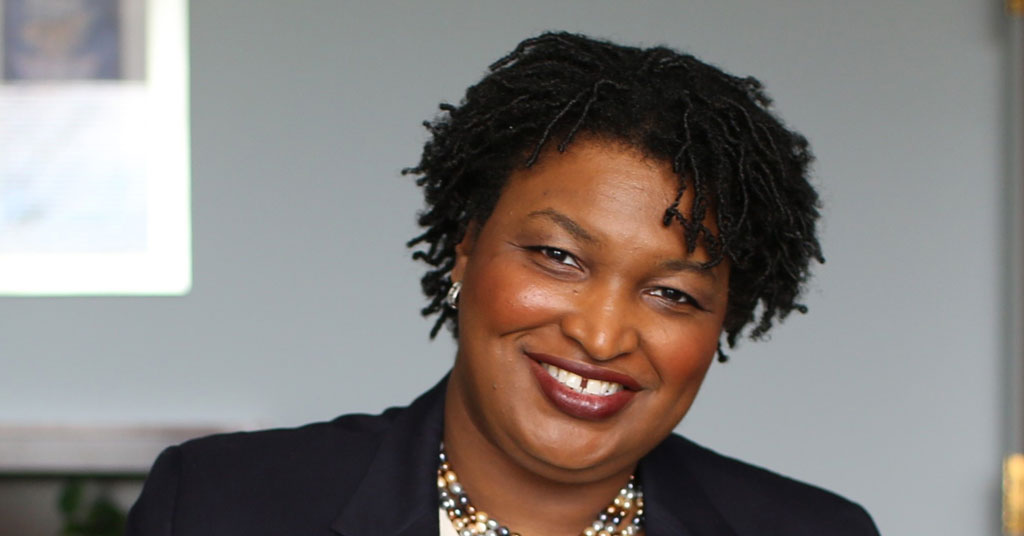 College will present Otis Social Justice Award to voting rights champion, author and visiting artist
Wheaton College will present the 2021 Otis Social Justice Award to voting rights activist, author and entrepreneur Stacey Abrams during a virtual event on Tuesday, March 23, at 7 p.m.
Following the awards presentation, Abrams will join Joe Wilson Jr., artist-in-residence in the Department of Theatre and Dance, for a conversation about the powerful and transformative roles storytellers hold in society, and how her work as activist and author complement each other, according to Jessica Kuszaj, associate director of arts events and publicity. Together, Abrams and Wilson will discuss the many ways through which creative work strengthens civic rights and impacts fair voting access.
The event, "Relentless Activism: Creativity and the Many Voices of American Democracy," is sponsored by the Evelyn Danzig Haas '39 Visiting Artists Program and the Otis Social Justice Fund.
Abrams made history as the first Black woman to become the gubernatorial nominee for a major party in any state, going on to win at the time more votes than any other Democrat in Georgia's history. After 11 years in the Georgia House of Representatives, seven as minority leader, she became the 2018 Democratic nominee for governor of Georgia in what was one of the most watched and closest elections of the year.
Abrams is the founder of the nonprofit Fair Fight Action, which aims to ensure free and fair elections. Her commitment to promote nonviolent change via the ballot box recently earned her a Nobel Peace Prize nomination, and the impact of her organization led to her being named to Forbes's list of "World's Most Powerful Women In 2020." In addition to Fair Fight, she has founded multiple organizations that are devoted to voting rights, hiring young people of color, and tackling social issues at both the state and national levels.
She also is The New York Times bestselling author of Lead from the Outside: How to Build Your Future and Make Real Change. Her most recent book, Our Time is Now, addresses voter suppression and the right to vote. Her upcoming thriller, While Justice Sleeps (Doubleday, 2021), is scheduled to be released in May. Using the name of her alter ego, Selena Montgomery, Abrams also has written eight romantic suspense novels.
The Otis Social Justice lecture series was established in 1959 through the generosity of Henry Otis, whose children included two Wheaton graduates. Eleanor Roosevelt was among the earliest Otis lecturers (1962). Today, the purpose of the Otis fund has broadened to support a colloquium in social justice—a forum through which the Wheaton community addresses key contemporary social issues. This aligns with Wheaton's dedication to the values of community, integrity, belonging and service.
The first Otis Social Justice Award was presented in 1990 to former U.S. Surgeon General C. Everett Koop. Other recipients include Marian Wright Edelman, founder of the Children's Defense Fund; author Barbara Ehrenreich; Sister Helen Prejean, whose first book formed the basis for the film "Dead Man Walking"; activist and journalist Gloria Steinem; and Robert Katende, an East African social entrepreneur whose work is highlighted in the critically acclaimed 2016 film "Queen of Katwe."