Spotlight on Giving Tuesday
Senior Anthony "Tony" Bowden '16 is still about a semester away from graduation, but that didn't stop him from paying it forward to Wheaton on Giving Tuesday.
"Each one of us can make a difference. I made a difference by assigning my gift to the Athletics Department," Bowden—a business and management major and member of the men's lacrosse team—wrote on Wheaton College Alumnae/i Association's Facebook page. "I have grown a lot over the past four years, and I believe a lot of that has happened through my athletic experience."
Recognizing the importance of scholarships in removing barriers to a college education, Liza Acevedo '15 also demonstrated her support of Wheaton students on that Tuesday. "I give back because every student should have a chance to attend college, no matter their financial status," she said.
Bowden and Acevedo are among many students, alumnae/i, parents and friends who stepped to the plate to give to Wheaton on Tuesday, December 1. They supported Wheaton students through the Wheaton Fund—an investment in all aspects of a Wheaton education from the ground up, including scholarships, athletics, experiential learning opportunities, technology resources and more.
This is the first year the college has actively encouraged the greater Wheaton community and friends to participate in Giving Tuesday—which takes places on the Tuesday after Thanksgiving. This day was created four years ago to spark a national movement of generosity to kick off the holiday season.
Here is a taste of some of the social media buzz on Giving Tuesday for Wheaton: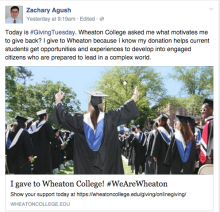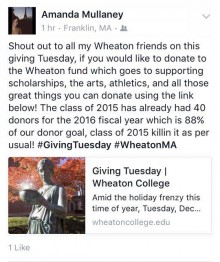 Volunteers, including class gift officers, played an integral part of making Wheaton's first-ever participation in Giving Tuesday a success.