It's that time of year again—the holiday season—and Delvyn Case's original composition "Rocket Sleigh" is making the rounds once more among orchestras across the United States and beyond.
Included in that list is the Portland Symphony Orchestra in Maine, just a few miles away from where the Wheaton associate professor of music grew up. In an article published recently by Maine Today, Case recalled attending performances by the Portland orchestra as a child and enjoying in particular the whip sound in the song "Sleigh Ride," which he said helped inspire his own composition.
"This piece has filled a real niche," Case told the magazine of "Rocket Sleigh," which he completed in 2009. "Almost every orchestra does a holiday family show, and they're all looking for new material. This is perfect for them, because it's not a medley or a new arrangement. It's a new piece."
More than 60 orchestras have performed "Rocket Sleigh" since 2009, including the National Symphony, Toronto Symphony and Royal Liverpool Philharmonic.
Twelve orchestras are scheduled to perform the composition during the 2016 holiday season, and the piece is part of the lineup for the touring acrobatics show Cirque de la Symphonie, according to a recent writeup in the Boston Globe South.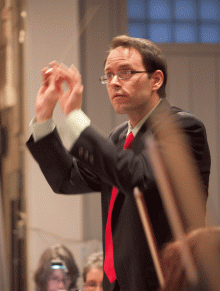 Wheaton's concert band, the Southeastern Massachusetts Wind Symphony, also performed the band version of "Rocket Sleigh" earlier this fall.
In addition, Case's composition is featured on a new CD released in September by Navona Records. Titled Dashing: Sounds of the Season, the compliation features new works, like Case's, and new arrangements of old holiday favorites. It includes performances by The Stanbery Singers, the Salt Lake City Jazz Orchestra and the Moravian Philharmonic Orchestra, which performs "Rocket Sleigh."
Case received funding support from Wheaton for his share of the Dashing project.
Case said he likes that "Rocket Sleigh" reaches a broad audience, as often the holiday concert is the only orchestra performance a person might attend all year.
"My piece gets to be an ambassador for orchestral music in a small way—possibly encouraging some people to attend more frequently and to make classical music a larger part of their lives," he said.