'Six journeys, one beginning'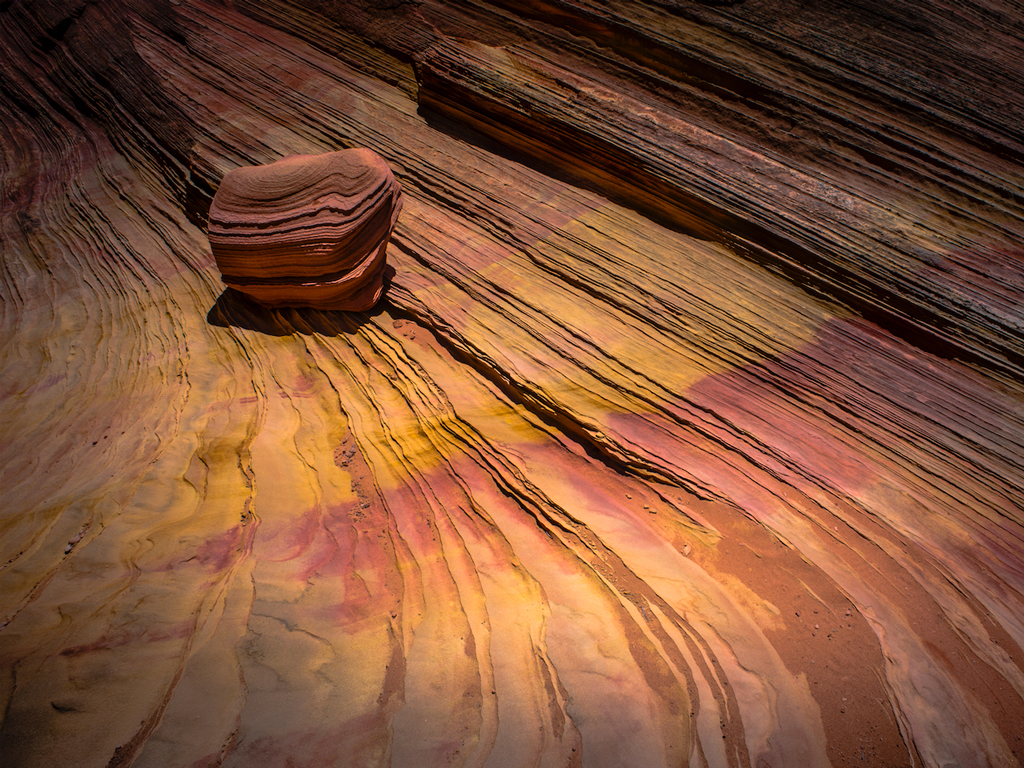 'Monuments & Meditations' exhibit to feature photography by Professor Howard, six alumni
During his 43 years at Wheaton, Professor of Art Andrew "Andy" Howard cultivated in students a love for photography that manifested into meaningful careers in photojournalism, sports photography, art photography and teaching.
Some of the results of his inspiring teaching, and his luminous landscapes, will be on display at the exhibit "Monuments & Meditations," scheduled March 19 to April 12 in Beard & Weil Galleries. The show will include the works of six of Professor Howard's talented students: Robin Bowman '82, Liz Corman '07, Adam Ekberg '99, Rebecca "Becky" Hale '99, Jenna Lee Mason '08 and Danielle Mourning '99. An artists panel and reception also is planned for March 21.
"I thought a fitting way to go out would be to have these former students show with me," said Howard, who retired last year. "These were the ones who were hungry, who wanted to be photographers. They were the dark room rats."
---
Robin Bowman '82, a documentary photographer (recipient of the W. Eugene Smith Grant) whose works have appeared in numerous national and international magazines, focuses on the human condition. Ten years ago, she published a book, It's Complicated: The American Teenager, which features photographs and interviews of 419 teenagers.
For the upcoming show, she will share photographs from her latest journey: a year's travel through East Africa. While there, she helped start a foundation to get women into the tour-guiding business, climbed several mountains, revisited people and areas in Rwanda where she had once covered stories about the genocide, and lived with and documented the Hadzabe, an indigenous tribe.
"It's almost impossible to assemble one year of travel and experiences in one exhibition. My approach here is to put it all up on a wall offering a chaotic colorful glimpse into my journey," Bowman said.
Reflecting on her time at Wheaton, she said, "Andy helped open the door and the inner fire was ignited. I couldn't get enough."
---
Liz Corman '07 is known for her photos of Wheaton's synchronized swimming team and the U.S. Synchro team. For the exhibit, her photos will feature athletes from around the world.
"I produce work that takes the viewer into an otherworldly, transitory space where the movement and refraction of light serves as a second lens," she said. "Each collaborator has distinctive physicality and unique command of their body underwater, resulting in imagery that is an amalgamation of sport and art."
She credits Professor Howard with his "unconditional support and encouragement" and for helping "instill crucial values of persistence, dedication and exploration in my work."
---
Adam Ekberg '99, a successful, award-winning exhibitor and lecturer, produces whimsical photos based on his sketches.
His photos accurately capture events he creates, with no manipulation. For example, in "Disco Ball in the Woods," Ekberg positioned a disco ball in a snow-laden evergreen tree and illuminated it with a flashlight, generating two million candles of luminosity.
"I make images that attempt to convey transcendence through modest means, firmly grounded in photography, yet leaning on sculpture performance and time-based experiences," Ekberg said.
While doing an independent study with Professor Howard, he fell in love with photography, he said. "Those conversations with Professor Howard and other Wheaton students are the model for the kind of creative community I seek to maintain today and one which deeply informs my work."
---
Becky Hale '99, a studio photographer for the National Geographic Society, will exhibit portraits, including one of U.S. Representative John Lewis.
"Having an opportunity to step into someone's world and make a portrait of them that's not just technically successful, but really shows who that person is, is incredibly gratifying. As a photographer, it's the most challenging type of shooting I do," she said.
Hale said that Professor Howard encouraged students to pursue their own vision. "He fostered a real sense that photography is work, not luck and not just a hobby."
---
Jenna Lee Mason '08 will display elaborate self-portraits that are inspired by her experiences with lucid dreaming, which is an ability to achieve a feeling of becoming awake while remaining asleep.
"I design all the props, do my make-up and set up the lighting and camera entirely on my own. My projects usually take weeks, sometimes months to prepare," she said.
Mason first began using herself as a subject in Professor Howard's classes; she received the Miriam F. Carpenter Prize from Wheaton for work created during her senior seminar.
"I thank Professor Howard for his validation and for providing the tools I needed back then to become a braver, more open-minded individual," she said.
---
The photos from Danielle Mourning '99 are large-scale self-portraits that touch on her family ancestry, in locations such as Mississippi, Ireland and India.
"Professor Howard was patient, fun and persistent on understanding the importance of the technical aspects of photography," she said. "He influenced my decision post-college to further my studies and eventually trust my vision and life as an artist."
---
As for Professor Howard, he will show landscape photographs of the desert in the Southwest United States and glaciers in Alaska. To capture these images, he and wife Sharon Howard '87 (former Wheaton director of alumni relations) hiked miles through the wilderness carrying 35 pounds of equipment and gallons of water.
"It's so much fun. When you are out there, you run out of superlatives. 'Wow' just doesn't cut it anymore," Howard said.