Music major selected for national convention team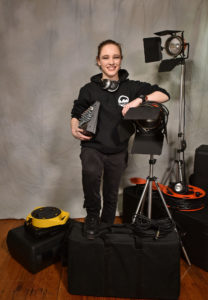 They are the first to arrive and among the last to leave. And if they have done their jobs well, no one will notice. They are the stage crews responsible for set-up, lighting and audio production for events big and small.
Christina DesVergnes '19 was immersed in that experience as part of the stage crew at the National Association for Campus Activities (NACA) convention held in Boston in February. Chosen through a competitive application process, she worked during the four-day convention that showcases musicians, comedians and a variety of other acts for NACA members to consider for booking on campus.
The nonprofit organization connects its higher education institutions and entertainment community members, and it provides networking, educational and professional development opportunities to college students.
A music major with a concentration in audio production, DesVergnes is co-president of the Lymin' Lyons Steel Drum Band at Wheaton, a technician for Media Services and a member of the Programming and Activities Council, which is currently making plans for the spring weekend events on campus in April.
Dean of Students Kate McCaffrey noted that DesVergnes was perfectly suited for the NACA assignment. "Christina's energy, enthusiasm and attention to detail for events here at Wheaton, including with the Lymin' Lyons, made her a great candidate for this role. We are proud to have her represent Wheaton in this way."
At the NACA convention DesVergnes was assigned to work as a drum and riser tech. "The whole experience of NACA stage crew is to learn what goes on behind the scenes for events. I learned a lot about large-scale productions. There is a lot of work that goes into a concert, and conventions are even harder because of how many acts are performing in a day. I also got to talk to professionals who had been doing this for years, and get their perspective on the industry. Overall, my time on stage crew was a good test to see whether I want to work for a production company after Wheaton. My answer is a big yes!"
DesVergnes, who plays six bass pan and double second pan in the Lymin' Lyons, and percussion in the Wheaton College Symphony Orchestra, has honed her audio skills on campus almost since the day she arrived at Wheaton: "My best training has been my job at Media Services, which I pursued after speaking with my academic advisor, Professor Matthew Allen, about my interest in audio production. He advised me to apply and work with Ellen Kane [director of Media Services]. She hired me my freshman year and has trained me to provide equipment and audio for meetings and events on campus."
It has all brought her full circle and set her up to follow her passion in the future.
"I've grown up with music always playing somewhere in my home," she said. "I really got into the audio production aspect of music during the college application process. I recorded myself playing guitar as a supplement for my application. I did everything from recording the music, to mixing the tracks, to mastering the final product. The whole process was really rewarding. I wanted to continue doing something with music when I went to college, and even after college, but I was not sure what that something was. I helped run a soundboard at my high school for a talent show, and that's when it clicked. I wanted to work with audio. The final push was when someone told me girls can't be audio techs. My response? 'Watch me.'"