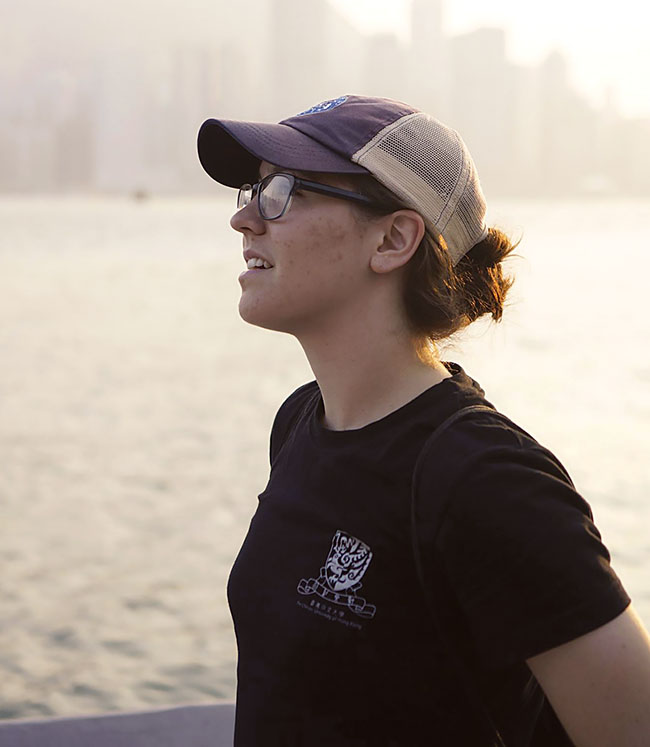 As a studio art minor at Wheaton, Leah Smith '14 worked in many mediums—pencil, ink, charcoal, paint. But for her first job after graduation, Smith uses just one: tape.
At Tape Art, a small company based in Providence, R.I., Smith helps produce large-scale murals and run corporate art workshops. The murals, which are drawn on the sides of public buildings and spaces, are created entirely from painter's tape.
"I like the fact that it's always something new," Smith said of the job. "When I was at Wheaton, I was involved in a lot of different things, like sports and music and research, and it occupied different parts of my mind and got me to think in different ways. I was afraid that I was going to go to work and be in a place where it was just about one thing. I like the fact that I'm at a small place where I can get my hands into everything."
The Wheaton alumna met Tape Art founder Michael Townsend three years ago and began collaborating with him on other art projects. While studying in Hong Kong the fall semester of her senior year, Smith met up with Townsend for a few Tape Art projects, such as teaching art students at a high school and leading a corporate workshop at a General Electric office.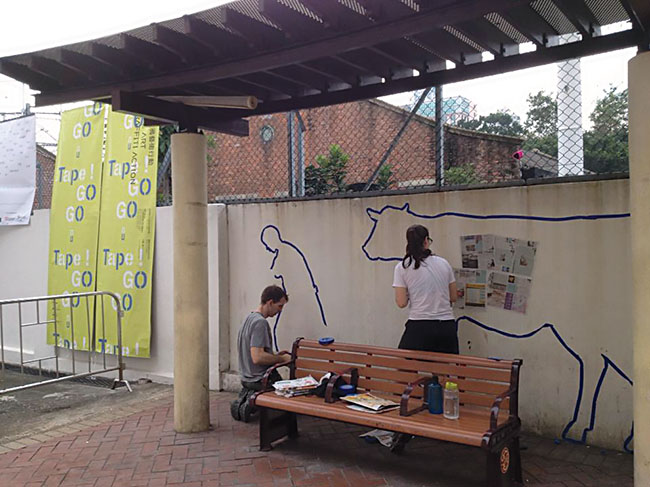 "We get people in the room together and give them a prompt, and the idea is to teach leadership and collaborative drawing. It's a nice way to make everyone a beginner," Smith said of the workshops. "Tape is something that no one has experience with, so everyone has to rely on each other to figure it out."
Creation of a Tape Art mural begins with the team's review of the space where they will be drawing—they are either commissioned to do a piece somewhere or they find a space they'd like to draw in and request permission. There are no sketches or concrete plans for a mural; instead, the creators have a short conversation and then get to work.
Despite all the work that goes into them, tape murals don't stay around for long. A piece that takes several weeks to complete might be taken down as soon as 24 hours later.
"It becomes special to the people who were there at that time, a shared experience in the seeing of it made and of it disappearing again," Smith said. "The idea is that you can transform spaces and show people the different possibilities for spaces without making one possibility the only possibility."
As for whether her future lies in tape art, Smith said she's open to many possibilities.
"I enjoy creative problem solving, and I think tape art speaks to that because you wind up in different spaces and you have to figure out ways to engage with the spaces. You can't just draw on 8 1/2-by-11 white paper all the time," she said. "It's special problem solving in a way that really excites me."