Shakespeare in the Dimple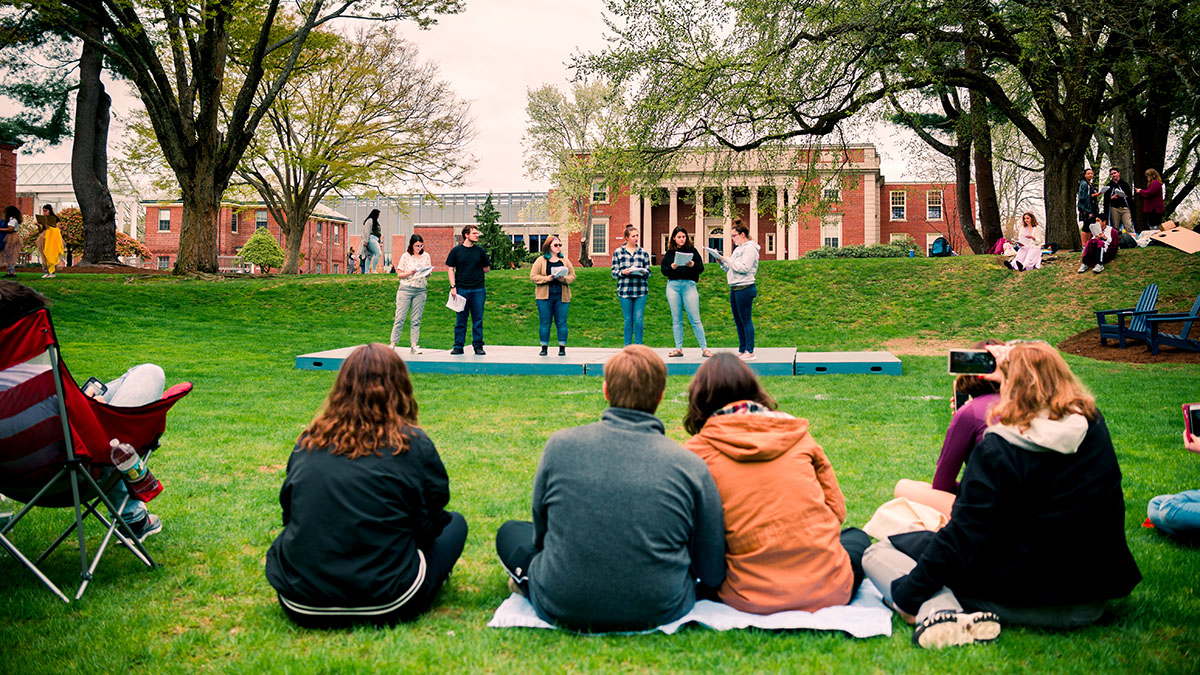 Student group Café Theatre performs 'Midsummer' under the trees
Students crossing campus on the last day of classes may have caught a glimpse of fairies, as student group Café Theatre performed its first Shakespeare in the Dimple production, "A Midsummer Night's Dream."
Started two years ago by Sarah Rouse '20, Café Theatre is a renewal of a former Wheaton club by the same name and provides a performance outlet for theater and non theater majors alike.
"I heard about Café Theatre from Professor Stephanie Daniels, how they used to do vaudeville shows on the chapel steps for Parents Weekend, and I thought, 'why don't we do that?'" said Rouse, a double major in theater and psychology.
Daniels, associate professor of theatre and a Wheaton alumna, Class of 1997, said the group was quite active after its founding around 1995 by theatre major Mike Dorval '96.
"He had studied at the National Theater Institute in Connecticut, a boot camp for actors, and returned to campus determined to make as much theater as possible," Daniels recalled. "He got funding through BACCHUS [now BAC], and every two weeks there was a showcase of work in the café at 9 or 10 at night. There would be food and non-alcoholic drinks, sometimes original, short one-acts, or scenes from plays or monologues."
This current version of Café Theatre has started small but is growing, Rouse said.
"We've mainly done little showcases here and there," she said. "We did a fall showcase in The Lyons Den, where we did monologues and sang; some people even wrote their own songs. We had rehearsals every Thursday where we'd come and show what we were working on and everyone would give notes."
Looking to get their name out on campus, the students decided to put on a bigger show this spring. Several members had recently studied abroad in London and brought back the idea of doing Shakespeare in the Park using Wheaton's natural amphitheater, the Dimple. It's something they hope could become a regular tradition, Rouse said.
"We wanted to provide a space for people who aren't necessarily theater majors, who may not get cast in the mainstage plays, because there are only so many roles," said Rouse, who played Nick Bottom in the production.
Along with plenty of acting opportunities, Shakespeare in the Dimple has given students the chance to try directing. "Midsummer" had three directors—Winslow Robinson '20, Veda Garrett '22 and Becca Johnson '19—who took on different parts of the play.
"I directed a little in high school, so I was excited to do it again," said Garrett, who just declared a theater major. "We're able to do our own performances and make our own decisions. It's sort of like working on an independent film, versus a major production. They both have their pros."
A double major in sociology and theatre, Johnson got involved with Café Theatre for the first time this spring, though she has acted and directed on other campus projects.
"I just want to do as much theater as possible before I leave Wheaton," she said.
The group put on two showings of "A Midsummer Night's Dream," on Friday, May 3 and Saturday, May 4, both at 2 p.m. The performances were purposefully casual, Rouse said.
"People are often intimidated by Shakespeare, so we wanted to do it in a casual way, where we still have our scripts in our hands and we are just having fun," she said. "It's a way to show Shakespeare and also promote Café Theatre, and to show that you don't need to be a theater major to do theater. You can do it for fun."