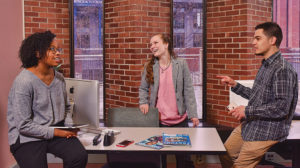 Lauren Cressey '18
Major: Chemistry
Job: Laboratory technician, Dartmouth College, Norton Cotton Cancer Center at Dartmouth-Hitchcock Medical Center
Developing the skills: "As a freshman, Professor Hilary Gaudet told me she was doing cancer research, and I immediately wanted to join her lab. I have been working with her ever since, and have discovered my passion for cancer research and my goal of going to medical school. I learned many skills in Professor Gaudet's lab that I will be using in my future job as a laboratory technician."
Eric Kogan '18
Major: Business and management
Job: Management trainee, Enterprise Rent-A-Car, Boston
Finding the passion: "Wheaton did a lot to help me discover myself and helped me realize that a career in a management setting, rather than a typical 9-to-5 desk job, is the right one for me."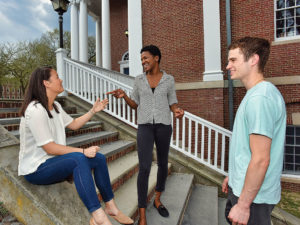 Quinn Hurse '18
Major: International relations
Job: Investment management communications analyst, Goldman Sachs, New York, N.Y.
Landing the opportunity: "After multiple rigorous interviews at major banks, I decided to intern with Goldman Sachs for two years [starting sophomore year]. Through my time at the bank, I was able to connect with numerous people and display my skills and was offered a full-time analyst position toward the end of 2017. The classes I took at Wheaton helped me to connect concepts—particularly between sociopolitical events and the financial markets—that helped me to stand out while interning and also helped me to hone my writing skills, which is necessary for succeeding in any position."
Rochelle Clarke '18
Major: Neuroscience
Job: Medical secretary, Adult Medicine and Aesthetics LLC, Camp Hill, Pa.
Enjoying the journey: "I have not discovered my passion yet, but I have no doubt that the moment will come. The journey to finding one's passion is just that—a journey. Having been exposed to multiple disciplines within the liberal arts, I have developed the skills necessary to pursue any future endeavor."
Erin Moynihan '18
Major: Neuroscience
Job: Medical scribe at the Schapiro Center for Multiple Sclerosis at the Minneapolis (Minn.) Clinic of Neurology
Landing the opportunity: "I believe that my neuroscience courses at Wheaton built a strong knowledge base from which I could draw upon during my interview process. The genetics research in Alzheimer's that I am conducting under the guidance of Ravi Ranjan [visiting
assistant professor of biology] gave me an advantage when speaking about the research being conducted at the multiple sclerosis center."
Winston Stewart '18
Majors: Business and management, economics
Job: Account manager, ALKU in Andover, Mass.
Being in the right place: "Wheaton's small classroom size and the ability to meet individually with my professors regularly was the perfect learning environment to develop my professional skills for after college."