Senior wins Fulbright scholarship to teach in Germany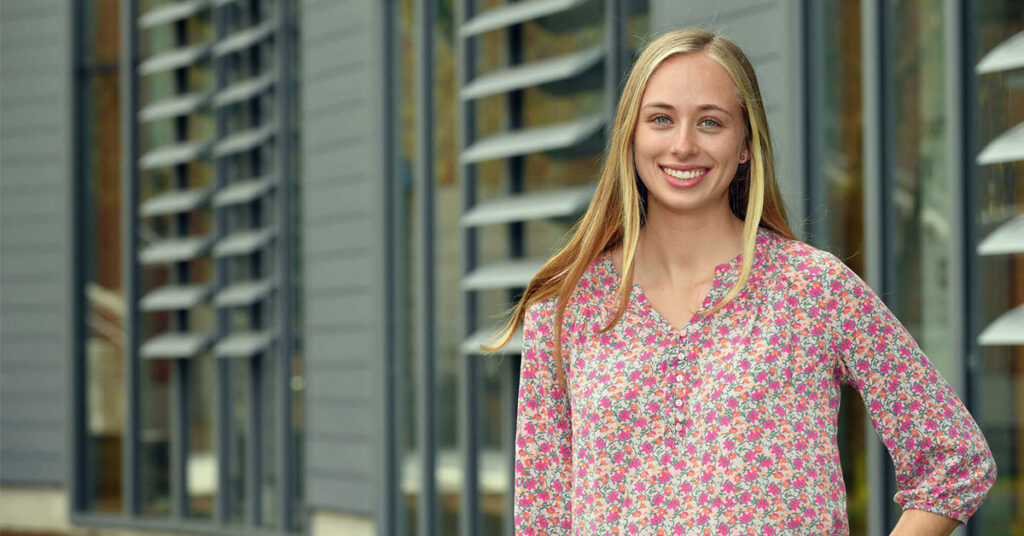 Chloe Van Dyne '22 aspires to create a positive learning experience as English instructor
Chloe Van Dyne '22 loves a classroom environment that lends itself to community building and personal growth. This fall, she will create a positive experience for student learners as a Fulbright English Teaching Assistant (ETA) in the Sachsen-Anhalt region of Germany.
"I am thrilled. I've been thinking about applying for a Fulbright since my senior year of high school. I'm really looking forward to the opportunity to live and work in Germany for 10 months. It will be nice to get to know my host community and speak German in my day-to-day life," she said.
Van Dyne first discovered a love of both education and German in her high school German class, where she felt engaged and supported as a learner. That experience compelled her to double major in elementary education and German at Wheaton College. As a student, she has thrived both in front of the classroom as a student teacher and as a champion of all things German as president of the German Club and a German tutor on campus.
"The Fulbright ETA program feels like a natural next step for me after completing my German and education degrees. I want to be a German teacher, so the opportunity to be a teaching assistant in Germany would continue to fuel my passion for foreign language education," she said.
Van Dyne said her student teaching practicum, which entailed teaching a fourth grade class at the Henri A. Yelle Elementary School in Norton, Mass., has solidified her desire to pursue a career in education. She looks forward to building on that experience in a K–12 classroom in Germany.
"I will definitely be able to apply what I've been doing and learning throughout my student teaching practicum. One difference is that for my practicum, I'm teaching all subjects—math, science, English and social studies. In Germany, I will be teaching English. I have learned a lot about being a teacher and working with students that I can apply to any teaching experience, especially a Fulbright ETA position," she said.
As president of the German Club, she helped organize campus events, including Oktoberfest, Winterfest Cookie Baking and Bretzel Tag Pretzel Baking.
"These events went really well and we had a lot of interest and engagement at our baking events from the wider Wheaton community," she said.
Van Dyne said she is especially happy to live and work in Germany as she was unable to study abroad at Wheaton, in part due to the COVID-19 pandemic. She looks forward to creating a safe and welcoming space for students and is planning a wide range of activities—including cultural exchange through an international pen pal system between U.S. and German students and a lesson plan focused on journaling.
"I want to build a classroom environment with my future students where we all feel comfortable to learn. I want to create this classroom community that I relied on all throughout high school for my students.
"Everyone deserves to have at least one teacher who cares, one class that they can be themselves in, and a safe learning environment where they can feel comfortable making mistakes. I know for a fact that this is what made me stick with German. My desire to help other students feel this same way about learning a language is what motivates me," she said.