Senior spends summer studying health of local watershed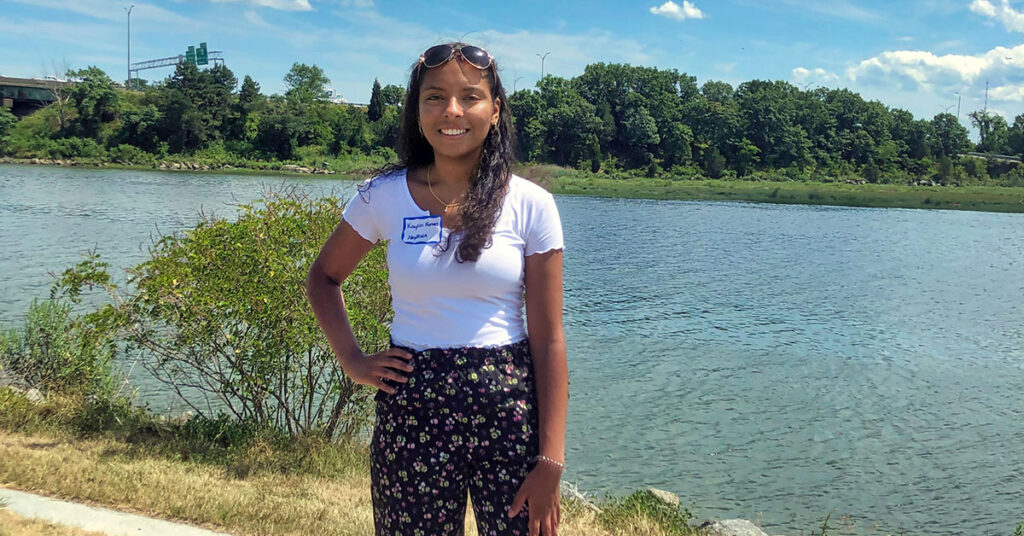 Kaylin Fortes '23
Summer experience: Neponset River Watershed Association
Supported by: Barbara Bissell '72 Internship Fund
Kaylin Fortes '23, a biochemistry major with a passion for environmental conservation, spent this past summer in the field studying the health of a local watershed.
Through her internship at Canton, Mass.-based Neponset River Watershed Association, Fortes learned about water conservation, water quality standards, the impacts of climate change on the local environment, how projects and proposals are implemented, and more, she said.
"I was also able to take measurements of water samples—such as the number of bacteria and the levels of dissolved oxygen—and see how the data was used to inform the public about the state of the watershed," she said.
Fortes engaged in various projects throughout her internship, including analyzing data from the Community Water Monitoring Network, for which volunteers collect water samples from 41 sites every month. Much of her time also was spent outdoors at Traphole Brook, in Norwood, Mass., where the Mill Pond Dam was recently removed and the banks were stabilized to prevent flooding and help brook trout repopulate the area. Fortes helped collect macroinvertebrates in the brook and brought them to the office for identification. 
"We mainly saw Chironomidae larvae, beetle larvae, Amphipods and Caddisflies. It was interesting to learn about these macroinvertebrates, how to distinguish them from each other, and what they say about the environment they were in," she said.
Her favorite moment was when she went electrofishing in Traphole Brook with MassWildlife while it was conducting a fish survey.
"Electrofishing is essentially running an electric current through the water to temporarily stun the fish. We caught the fish in nets so we could identify, measure and weigh them before releasing them back into the water. The purpose of this survey was to identify any cold water fish in the brook, which is especially important since we have been hit hard by the ongoing drought," she said.
Fortes's internship also exposed her to policymaking in environmental science, and how data are taken into consideration when determining if an area qualifies as a Superfund site, which requires clean-up of hazardous material contamination. 
Fortes noted that the Neponset River previously was polluted due to industrialization.
"Now, our 2021 Report Card shows that most of our sites are suitable for swimming and boating. This reminded me that progress takes a long time in environmental science, and the work that we were currently doing would help to improve the water quality in the future," she said.
She said the job provided lab experience that will prove useful when she pursues a career in her field of choice: forensic science.
"Gaining additional lab experience was crucial for me. Throughout the summer, I calibrated, used and deployed various pieces of equipment, such as pH meters, dissolved oxygen meters, conductivity loggers and temperature probes," she said. "Collecting macroinvertebrate samples using EPA standards and identifying them under a microscope has made me more attentive to details, especially when following standard procedures." 
Fortes is the treasurer of Alliance, one of the LGBTQ+ clubs on campus, and a member-at-large on the hearing board. She is a May Fellow and a member of the Weiss Women Leadership Program.