Senior crafts policy recommendations for nonprofit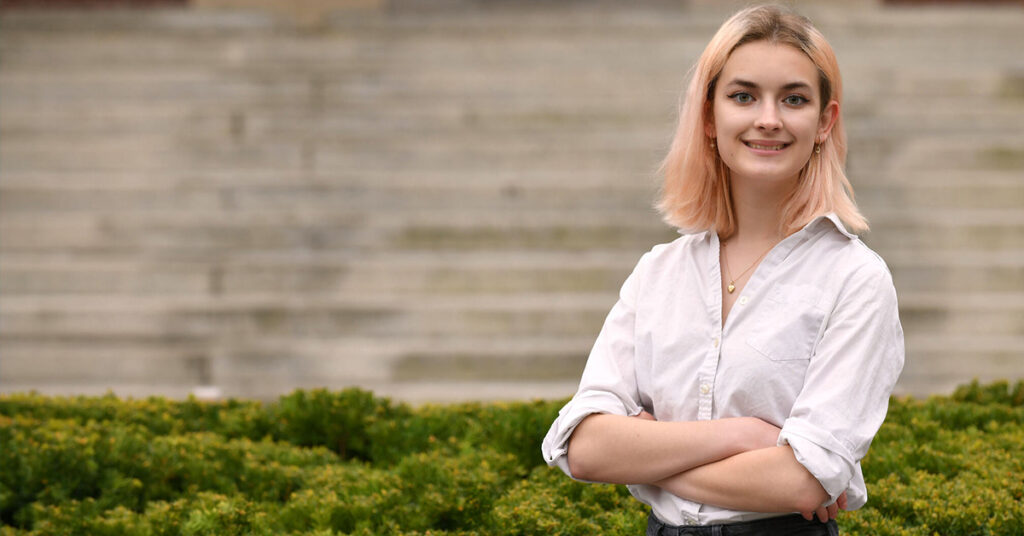 Erica Drufva '23
Summer experience: Latina Republic
Supported by: Caroline C. Edwards '70 Current Use Internship Fund
A passion for immigration issues compelled Erica Drufva '23 to spend her summer interning at Latina Republic, a California nonprofit working to strengthen relations between the U.S. and Latin America.
"I have always been passionate about immigration issues and hope to become an immigration lawyer or policy analyst to support undocumented people, refugees and asylum seekers," said Drufva, who is double majoring in Hispanic studies and international relations.
Latina Republic is an organization that reports on Latin American issues related to culture, economy, environment and society, and aims to identify local solutions and develop new policies to improve bilateral relations. In her role, Drufva authored a 24-page policy report outlining 23 policy recommendations for how the U.S. can improve and revamp the refugee resettlement program to better support all refugees.
This is Drufva's second internship at Latina Republic. In the summer of 2021, she interned as an immigration writer, which entailed reporting on Deferred Action for Childhood Arrivals (DACA) and family reunification under the Biden Administration.
Her recent internship provided ample opportunities to make connections with organizations working on immigration matters.
"My favorite moments were getting to make connections with key players in the refugee resettlement field, such as Integrated Refugee and Immigrant Services, a resettlement organization near my hometown in Connecticut, and International Refugee Assistance Project," she said.
Drufva said the internship fits well with her double major. "It has given me the opportunity to work in a field that I am deeply passionate about."
Erica Drufva '23 previously worked as a communications and development intern at the Legal Aid Society of Cleveland through the Porter Cleveland Fellowship and interned for the New Haven Climate Movement, which focuses on climate justice education.