Mingshi "Cecilia" Zhang '20 ships face masks in bulk to support Wheaton community
Mingshi "Cecilia" Zhang '20 is helping her Wheaton College community from afar by shipping several hundred KN95 face masks from her home in China to campus to offer protection against the spread of the coronavirus.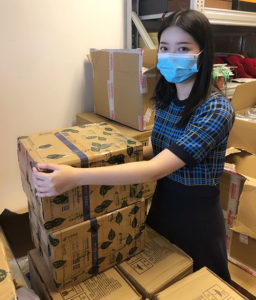 The Centers for Disease Control and Prevention recommends that members of the public use cloth face coverings when in a public setting to slow the spread of COVID-19, particularly since people who may have the virus and not know it could transmit it to others. Massachusetts Gov. Charlie Baker also has issued an executive order that, as of Wednesday, May 6, requires all state residents to wear face coverings in public places where social distancing is not possible.
"There's a shortage of masks all over the world. My family placed an order at a mask factory and we waited for a month to get them in batches," said Zhang, who majored in business and management at Wheaton and graduated a semester early in December 2019. "We want to help our friends and people in need so that we can defeat the pandemic together."
She reached out to Wheaton President Dennis M. Hanno weeks ago. Hanno received the masks last month and expressed his gratitude to her and others in one of his biweekly email updates to the college community on April 24.
"I am truly heartened to hear about the many ways that Wheaton community members are making a difference through their leadership and action," Hanno wrote. "As one small example of this, just this week recent graduate Mingshi Zhang sent me several hundred protective masks all the way from her home in China. They have already been distributed to our Campus Safety officers and food service workers, who interact every day with the students still here on campus. What a wonderful and powerful gesture of support and solidarity!"
At home in China, Zhang is settling into life post-COVID-19 while waiting to go to graduate school. She said she enjoyed her time at Wheaton, especially the campus atmosphere.
"People are very kind and helpful, so I adjusted to the life of college quickly after orientation. The academic and career advising I received helped me a lot and I also got a chance to continue studying piano," she said. "As an international student, I learned how to step outside of my comfort zone."
Zhang currently is gaining work experience helping with the management of her family's business. She was scheduled to begin a master's degree program in finance at Babson College in September, but she has deferred the start for one year because of restrictions related to COVID-19.