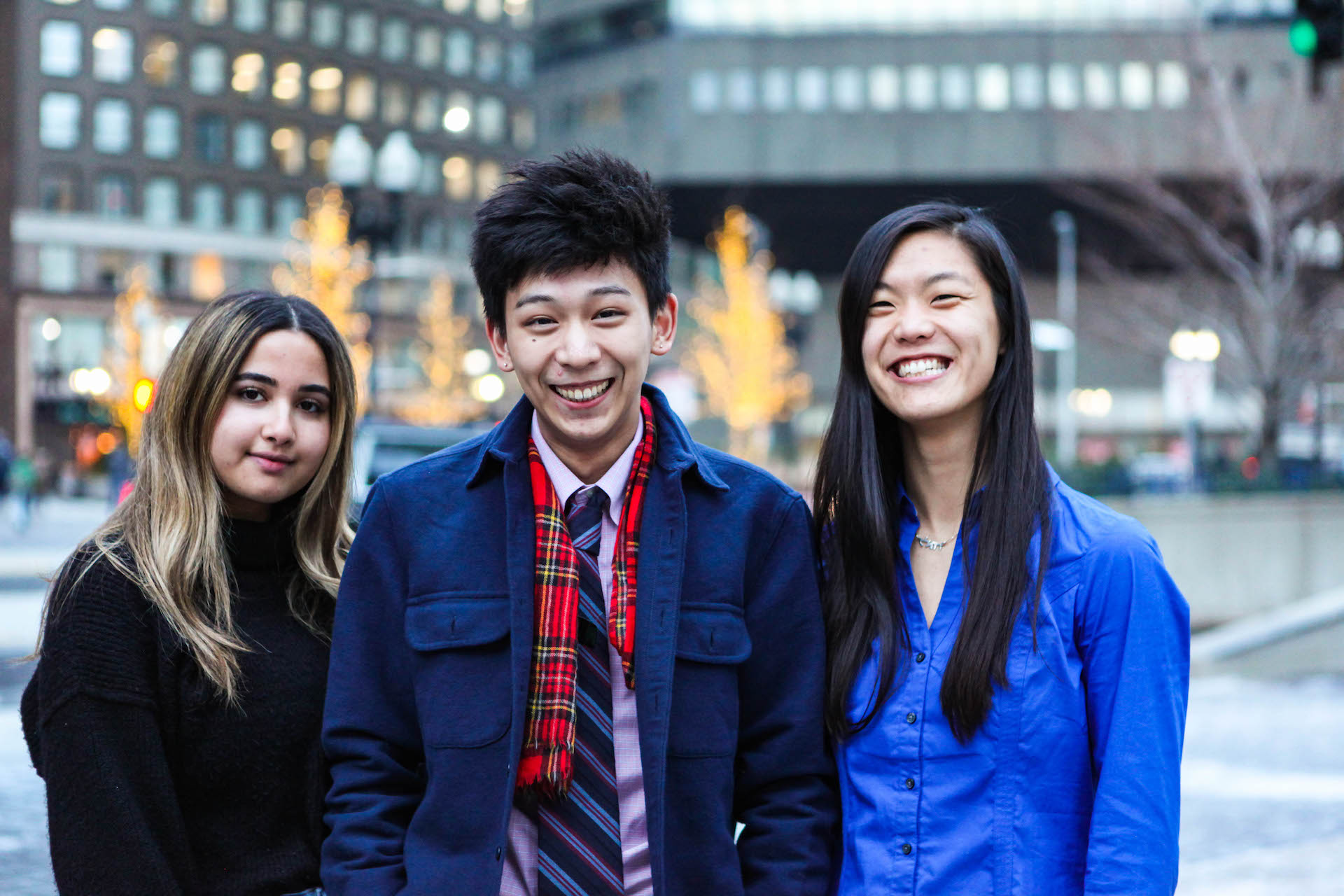 Students gain skills, insight and internship experience in Boston
Tatyanna Cabral '21 spent the spring semester of her sophomore year living in Boston and interning as a community organizer for Jamaica Plain Neighborhood Development Corporation.
The business and management major led trainings, helping with promotion and community outreach and participating in meetings and events. She developed her public speaking skills as well as some clarity.
"Getting the real-life experience of working a 9 to 5 and doing hands-on work has helped me to prepare for life after college," said Cabral, a participant in Wheaton's Semester in the City program. "I figured out that I don't want to have a job where I am sitting at a desk all day; I want to be able to interact with the community."
Semester in the City is an immersive program offered through the Boston-based College for Social Innovation (CFSI). Wheaton is one of a dozen college partners throughout New England. CFSI matches students with internships in the social sector—at a nonprofit organization, government agency or social-mission business—where, as Semester in the City Fellows, they work 30 hours a week while earning credit for two courses, "Social Innovator's Toolbox" and "Becoming a Problem Solver."
The students live alongside those from CFSI's other college partners in apartments in Boston's Allston neighborhood, supported by several community advisors. Since Wheaton joined the program in fall 2017, 28 students from a variety of majors have participated.
"It's a great way to experience what it's like to be an adult living in the real world, while living in an urban setting," said Stephanie Morales, manager of student recruitment at CFSI. "Boston has so many great opportunities. It's a great way to get a sort of trial version of adulthood while being well supported through the program team, our staff and the internship mentor."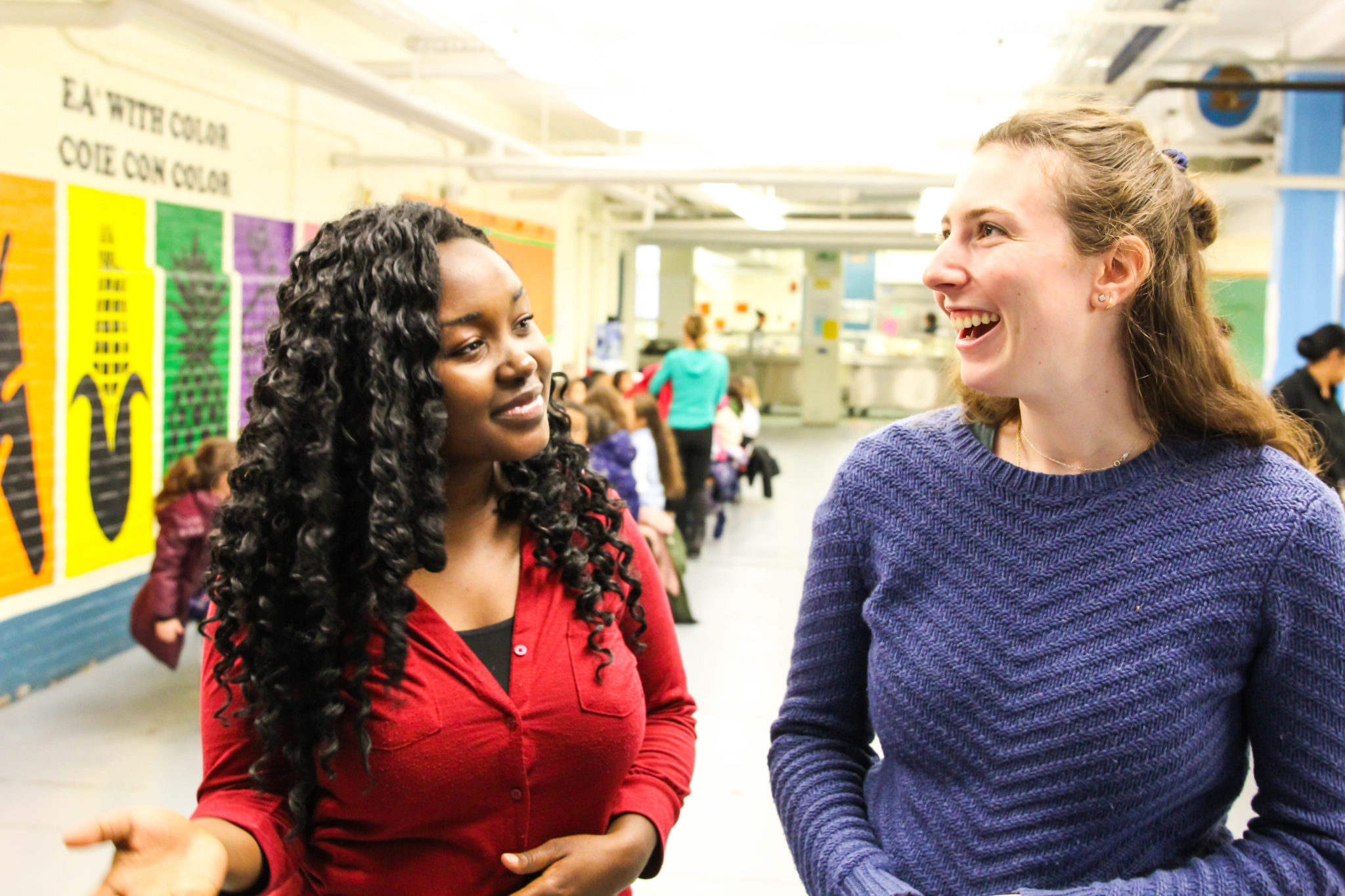 On-the-job experience
At their internships, students aren't just going on coffee runs—they are involved with major projects that support the work and mission of their organizations, said Professor of History Dolita Cathcart, who serves as Wheaton's Semester in the City coordinator.
"They're responsible for these projects. Their mentors treat them like adults," Cathcart said. "Then in the classroom they're putting it all together—giving presentations, understanding social media and personal branding, learning how to be effective, what kind of language works best and how to present themselves."
With a focus on communication and critical thinking, a Wheaton education prepares students to do well during their semester in Boston, Cathcart said.
"Students begin presenting their work to their classmates in their first year at Wheaton and continue to do so throughout their education. Faculty discuss how their assignments prepare students for the 'real' world and those real-world work responsibilities," she said. "Students are taught to consider what they know they don't know, and to try to figure out what they don't know they don't know. Asking these types of questions open up new paths of discovery and that is something Wheaton does very well."
At the end of the program, students present their final project and what they've learned in a three-minute talk, during a graduation showcase.
Exploring city and self
Sociology major Lauren Bartlett '20 participated in Semester in the City in the spring semester of her junior year, interning with Freedom House, a social action organization based in Boston's Grove Hall neighborhood.
For her final project, Bartlett developed a needs analysis for the nonprofit and designed an event to support and promote high school seniors who were attending college.
"I was involved in many different functions of the organization. I experienced one-on-one coaching with students in a school setting, the business side, marketing and event planning," Bartlett said.
In between her internship and classes, Bartlett said she enjoyed meeting other students and exploring the city.
"One of my favorite activities was walking around Boston and going to new places. Every weekend I chose a new area that I wanted to explore. Walking allowed me to feel a sense of relief and to reflect on the completion of the last week," she said.
In addition to helping her build professional skills, Semester in the City has given Bartlett more confidence as she prepares for life after college.
"Through this experience I have learned what it means to be a young professional. I learned how to build my own personal brand, how to communicate in a professional way with others, how to work in diverse teams and not to be afraid to voice my opinion or thoughts," she said.
Inside look at nonprofit work
Business and management major Sam Read '22 participated in Semester in the City this spring, interning with Second Nature, a nonprofit that promotes climate action in higher education.
"The role I play at Second Nature, in addition to helping with various tasks, is communicating with clean technology and clean energy providers and linking them with colleges that could benefit from their services to make their campuses more sustainable, "Read said. "It is great to see how nonprofit organizations operate on the frontlines."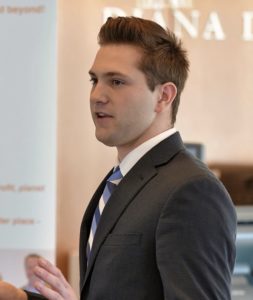 Read, who explored his interest in entrepreneurship through Wheaton's SE Launch program this past January, said the semester in Boston provides another way to enhance his education.
"I like Semester in the City because it works in partnership with Wheaton to provide a hands-on, involved learning experience. You gain valuable knowledge and experience that will most definitely be useful post-grad and in your career," he said.
As a first-year student, Gabriel Lee '23 wanted to start exploring his different interests right away, including the nonprofit social sector. This spring, he interned with Greater Boston Legal Services, where he worked with clients and advocates and wrote an article on the MassHealth Senior Buy-in program that will be published in Boston Seniority magazine.
"I've built a lot of networking and communication skills as well as learned about what it's like working in a professional environment with lawyers and clients," said Lee, who is interested in working in criminal justice and is considering majors in sociology and political science. "The classes are directed toward teaching students how to succeed in the professional workforce as well as how to build strong relationships with people that can support you in reaching your goals outside of college."
Lee also found that his Wheaton coursework helped prepare him for his semester in Boston.
"One class that was really helpful in preparing me for Semester in the City was my First-Year Seminar class called 'Design Your Life,' which went over creative thinking, problem solving and how to prepare for working in a professional environment. A lot of key discussions that we had in the class were focused on how to succeed in finding internships and jobs while also learning to network with people, which has definitely helped me at my internship," he said.
Skills for the future
Zain Almutawa '22, an independent communications major, interned this spring at Dudley Street Neighborhood Initiative in Boston's Roxbury neighborhood, working on graphic design and social media and creating monthly newsletters for the nonprofit.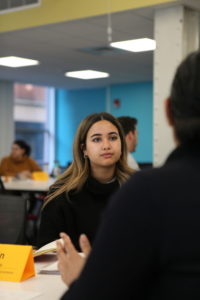 "The program seemed like a huge opportunity for me to develop myself professionally and pick up skills firsthand," she said. "Experiences shape who you are."
Interested in a career in communications and graphic design, Almutawa said she has been able to leverage what she's learned in the classroom to get the most out of her internship.
"I have learned so much about myself through this program," she said. It's taught me how to turn my creativity and artistic abilities into something tangible that can touch people everywhere."
Studying at the University of Canterbury in New Zealand this spring, Cabral said Semester in the City helped prepare her for the challenges of learning abroad.
"Semester in the City definitely helped me gain independence and be OK with being by myself," she said. "These are skills I'll also need once I graduate and try to navigate where I'll head to next."
Cathcart sees the program's focus on presentation as one of its biggest benefits—and it's why she encourages students to participate in their first or second years at Wheaton.
"The students, when they come back from this program, are older, wiser, motivated, well-spoken. They know what they want to do," Cathcart said.
She's especially noticed the change in student ambassadors—Wheaton students who have completed the program and help promote it back on campus.
"They are so comfortable in front of the classroom. They don't need notes. They have gained that ability to articulate their ideas to a room full of people without the typical insecurities," Cathcart said.