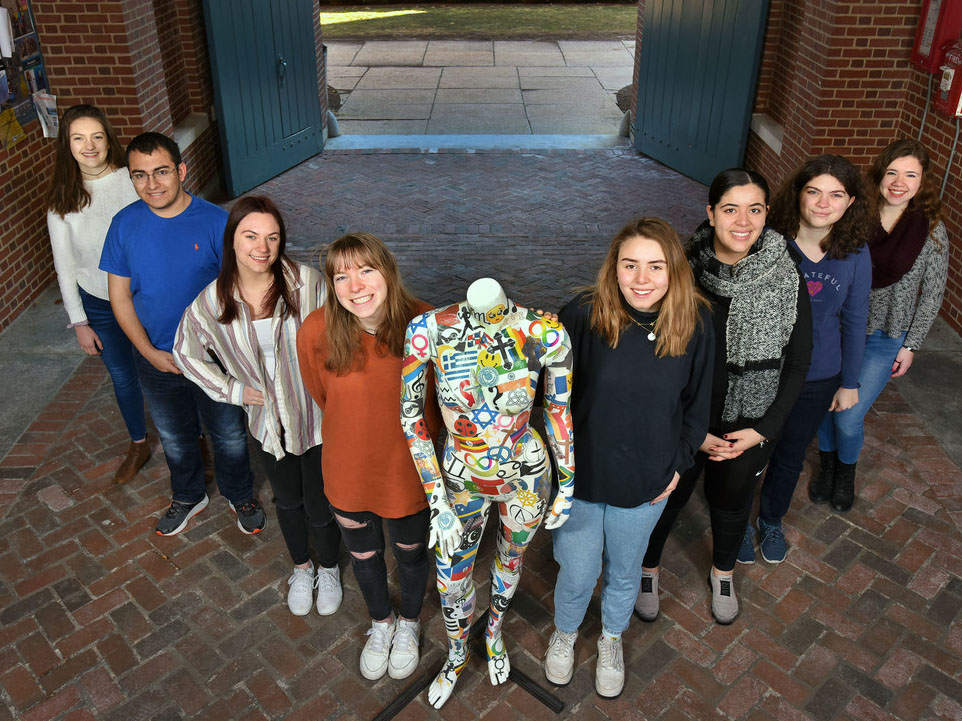 Fourth annual May Fellows Colloquium examines the question 'Who are we?'
Students explored the concept of self in three very different ways over winter break, working in teams to conduct research and develop projects that address the question "Who are we?," in Wheaton's fourth annual May Fellows Colloquium.
"The goal is for students to hone their creativity and expand their critical thinking and problem-solving skill set by tackling real challenges and considering interdisciplinary perspectives to develop a research-based solution-oriented response to a current problem," said Associate Professor of Political Science Aubrey Westfall, who served as a faculty mentor for the program.
Previous programs have focused on global climate change and the questions "What is truth?" and "What is normal?"
The January 2020 colloquium kicked off just before break with a series of faculty presentations that provided perspective on the question from a variety of disciplines: art history, political science, German, religion, psychology, biology and environmental science and chemistry.
Jenna Denomme '23, Shelby Hanks '22, Adele Rossignol '23 and Gia Orsino '23 approached the question of "Who are we?" from a community perspective.
"Our final projection is an art installation, which is a mannequin covered in symbols anonymously submitted by Wheaton community members to demonstrate the unity among us despite our diversity in individual identity," said Rossignol, a double major in Hispanic studies and psychology.
The shared symbols range from national flags, pride symbols and logos to images that relate to hobbies and careers. The students have installed their art piece in Balfour-Hood Campus Center for the spring semester, along with information about the project and a link to a website with details about their work.
Denomme, a creative writing major, said the group wanted to show the power of symbols to express acceptance and unity, and to counteract negative messaging.
"We want to spread the word about our project to other colleges in the hopes that they can find a way to reproduce and adapt this project as a meaningful exercise for their communities," she said.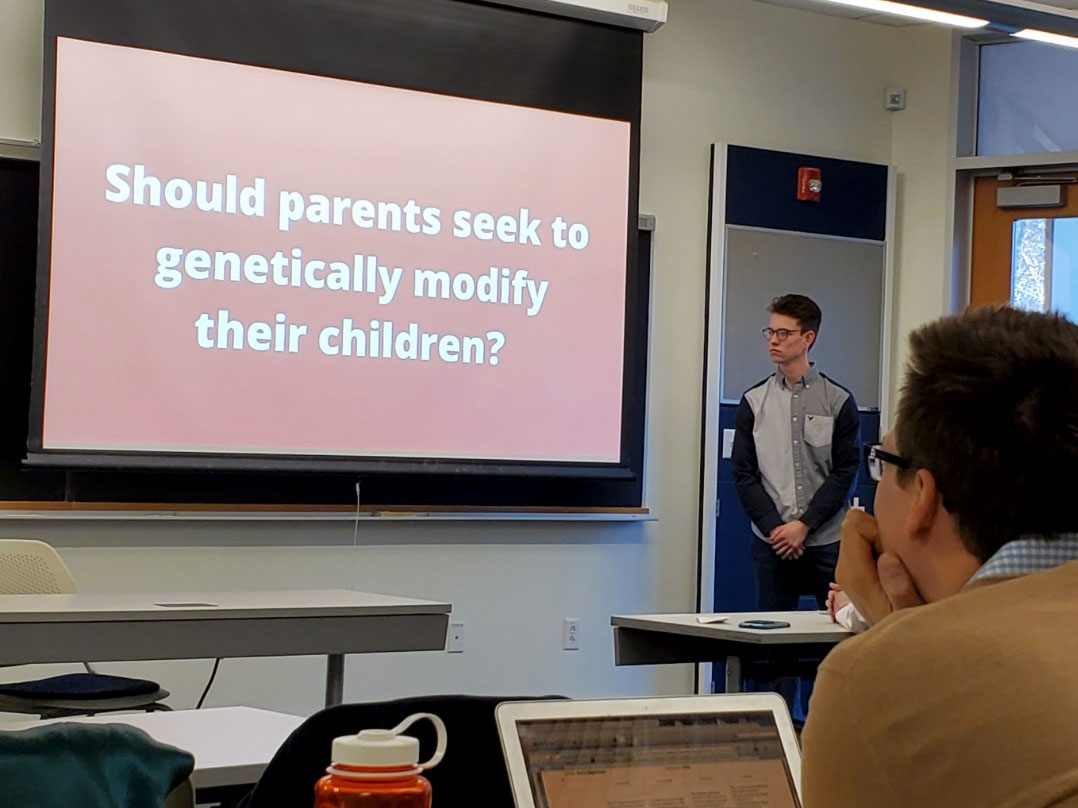 Yassmine Raoui '22, Neal Canastra '21 and Han Yang '22 looked at the question from a biological perspective, investigating who humans are as a species and how that might be changing.
"We decided to focus on genetic modification in human embryos using CRISPR-Cas9 [genome-editing technology], and we explored the ethical, philosophical, legal, business and biological consequences of that technology," said Raoui, a biology major.
The students created a website that reflects their extensive research and are planning to host a panel discussion on the subject during Wheaton's Academic Festival later this month.
"The May Fellows Colloquium was intense and research-based, which I really appreciated because it gave me insight into the world of independent research," Raoui said.
The third group, which included Tyler Ladden '23, Kim Dugan '22 and Alyssa Myers '23, looked at "we" from a generational perspective, exploring the identity of the college-age population.
"We realized that our generation has a lot on their plates right now with so many different societal changes—the three we focused on were political participation, climate change and mental health—among other things. We wanted to be able to create a platform for members of Generation Z to get involved in different types of advocacy for the issues that they care about," said Dugan, a sociology major.
Their website provides information about current issues as well as tips for activism, such as how to plan a protest.
The group also developed a podcast, "Acts of Advocacy," in which they interviewed members of Generation Z from Wheaton who are involved in various types of activism.
Teamwork, public speaking and research are just a few of the skills students said they gained over the intense two-week colloquium.
"A lot of the project felt like the type of work I always saw my parents do as a kid—namely, loosely structured, collaborative project work done on computers," said Ladden, who is considering majors in international relations, history and political science. "I believe I am more adjusted and prepared to work harder this semester, in future semesters and beyond college because of the colloquium experience."
Westfall said she was impressed by students' enthusiasm and creativity and the way they worked together.
"The projects this year were the most diverse in interdisciplinary scope of any group of projects I've seen in my four years as a colloquium faculty mentor," she said. "The students engaged with a range of skill-building exercises including constructing websites, making a podcast, creating an art installation, administering surveys, making videos, writing an op-ed/letter to the editor and planning a campus-wide event. I'm sure we will continue to see great things from the colloquium students."