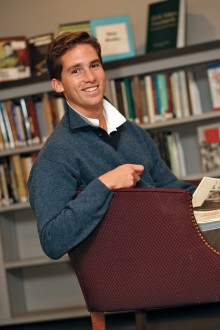 In 1950, the celebrated photographer Gordon Parks returned to his hometown for LIFE magazine to produce a photo essay documenting African Americans' experience of segregation, but to his chagrin, the photographs were never published.
Finally, 65 years later, Parks's work was shown at the Museum of Fine Arts in Boston in the exhibition "Gordon Parks: Back to Fort Scott," which opened on Jan. 17, 2014.
In a story about the exhibition, Peter Kunhardt Jr. '05, the executive director of the Gordon Parks Foundation, told the New York Times, "Gordon was very disappointed that the story never ran. He was really going back to a place that meant everything to him, and he wanted to use it to say something important."
The New York Times observed that Parks's pictures of his former classmates from Fort Scott are powerful pictures today "when racial unrest and de facto segregation in many American cities give it a new kind of relevance."
The new exhibition provides a fresh opportunity to appreciate the work of a photographer considered among the most influential of the 20th century. Kunhardt says that his work shows a mastery of the photo essay form and a deep commitment to seeing and capturing the humanity of others.
Said Kunhardt in the article: "His genius, I think, was based on a respect and trust he brought to the people and issues that he photographed. He spent much time with his subjects, sometimes even living with them—often in the harshest conditions."
Parks worked at LIFE with Kunhardt's grandfather, and the photographer was a friend of the family and a regular visitor to the home, the Wheaton grad remembers. But Kunhardt's knowledge of the photographer's work runs deeper. He served as co-editor of the five-volume Gordon Parks: Collected Works, which was published in 2013.
The art history major previously served as a co-editor (with his father and uncle) of Looking for Lincoln: The Making of an American Icon, which was published in 2009 on the 200th anniversary of Abraham Lincoln's birth.