The scoop on Hunter Walker '06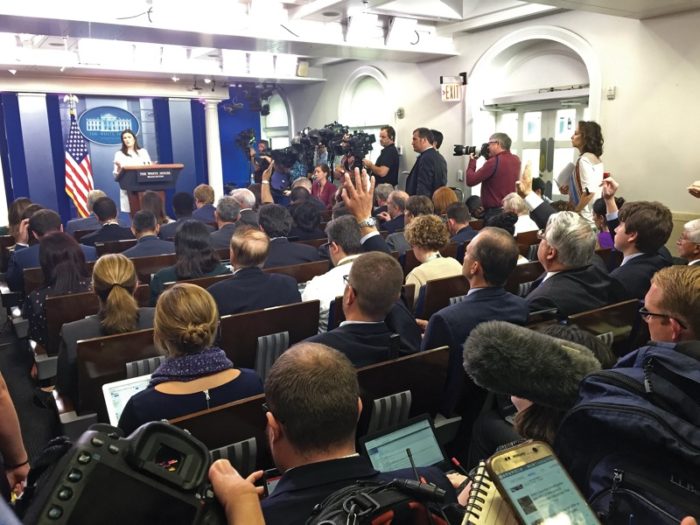 Yahoo White House correspondent thrives on getting the story first, right
By the time Hunter Walker '06 woke up one Monday last fall, he had already broken news.
It was a week after Labor Day, and the White House correspondent for Yahoo had spent the past 48 hours collaborating with Michael Isikoff, the site's award-winning chief investigative reporter, on a significant scoop: the FBI was investigating Sputnik News, an outlet funded by the Russian government. The story, about whether Sputnik was in violation of federal law by acting as an unregistered propaganda arm for the Putin government, had so consumed Walker's weekend that he'd wound up being late to his own birthday party.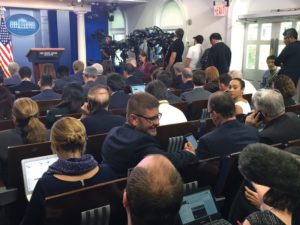 "Nothing is as good as a scoop," Walker explained a few days later. "I have learned in this profession that really the whole reason you do it is to tell people something, ideally something important, that they couldn't get somewhere else."
Yahoo published the Russia story at 5 a.m. that Monday, September 11, and Walker was already the center of attention when his alarm went off at 7:30, with dozens of journalists from other outlets sharing the article on Twitter, and MSNBC inviting him on TV to discuss it that evening.
After a 10 a.m. editorial call with the rest of Yahoo's news staff, Walker spent the day tracking the fallout from the story, including a formal statement from a U.S. senator saying she was "very encouraged" by Yahoo's report, as well as other developments in D.C. He barely had enough time to refuel at Starbucks. By 5 p.m. a hired car was whisking him to MSNBC's Washington headquarters, where he chatted live with host Ari Melber about the Russia investigation. His workday still wasn't over once he left the TV studio: from there he joined a group of reporters at an off-the-record dinner with an important Capitol Hill source, a gathering that kept him out until well after midnight.
Oh, and through it all Walker was sorting through roughly 100 emails an hour, interacting with his 23,000 Twitter followers and responding to his iPhone's endless flood of text and alert notifications. On any day when he doesn't have breaking news to cover, Walker's goal is to make contact with 50 sources, whether by phone, text, Facebook message, Gchat or in person. He admits it's "a lot of incoming," and he wouldn't have it any other way.
"This is all I really ever wanted to do," said Walker, who majored in English at Wheaton.
As a White House correspondent, Walker's title is among the most prestigious in American journalism, allowing him to chronicle one of the most tumultuous periods in the nation's history from up close. "We have a front-row seat to the biggest story in the world. It's fun and exciting, and it's a personal and professional honor," he said. "But it's also a massive, massive burden. We need to use that vantage point to bring people what they need from us."
Walker's approach and his work ethic have earned him the respect of those on the other side of his notebook: among his fans is Sean Spicer, who met Walker as a top Republican National Committee staffer before joining the White House as President Trump's first press secretary. "Both during my time at the RNC and White House I enjoyed working with Hunter," Spicer said in an email. "He was tough but fair. He was always looking to get the story right."
"Hunter is driven by a deeply competitive drive to get his hands on breaking news and then publish it as fast as humanly possible," said Colin Campbell, a Yahoo editor who has worked with Walker at three news outlets since 2012 and is one of his closest friends. "At the same time, he's willing to put in the months of relationship-building to get there—and committed to getting it right."
Associate Professor of History Dolita Cathcart, who taught Walker in several courses during his time at Wheaton, said they do their best to keep in touch, but his busy schedule these days means she's more likely to see him on MSNBC. "And no matter what he is reporting or commenting on, lately some pretty horrible stuff, I'm smiling all through the collective pain while watching him," she said.
Newsroom with a view
Walker's Yahoo office is barely 250 yards from the White House, just down Pennsylvania Avenue in the United Nations Foundation building, where he shares a small space with two colleagues. It's a prime location for keeping tabs on Washington's movers and shakers; in fact, on arriving to meet Walker at a café across the street from the White House, top Trump advisor Kellyanne Conway was seen standing outside. She was quick to inquire about Walker's upcoming wedding, which was a few weeks away at the time—evidence of how well-known he is among senior administration officials.
Even after nearly a year on the White House beat, Walker remains awed by his professional habitat. "This is my country," he said. "That place is so important, and the work that gets done there every day is so important, and the history there is so overwhelming. When you're sitting in those briefing room seats and thinking of the incredible journalistic legends who've come in that room before you, not to mention all of the historical figures who've been there—when you walk in the Oval [Office], seeing that room and being aware of the decisions that have been made in there—the weight of that is just incredible. It is one of the most iconic spaces in the world, and deservedly so."
Yahoo's close proximity to the White House makes it easy for Walker to walk over for the press briefing, which comes in handy since he sometimes doesn't know what time it will be held until a few hours beforehand. He has a coveted "hard pass" to access the West Wing, allowing him to get through security more quickly than other visitors. And he never shows up unprepared.
"I always try to go to the White House and have in my mind—if I see Trump in the West Wing, what am I going to ask?—because it's happened before," Walker said. "Or, if I go watch Marine One take off, what question do I shout at him? Every time I see him, I consider it my duty to attempt to ask a question."
The day after his Russia scoop was published, Walker headed over to the West Wing about an hour before Press Secretary Sarah Huckabee Sanders's
2 p.m. briefing. Yahoo has one of 50 assigned seats in the briefing room, which is more cramped than it looks on TV, with reporters and photographers crammed in cheek by jowl.
Once the briefing began Walker managed to get in two questions—one on the Deferred Action for Childhood Arrivals (DACA) immigration program, and another on whether Trump planned to read Hillary Clinton's then-new memoir about the campaign. Riffing off the book's title, Sanders replied: "I think it is pretty clear to the president 'what happened'"—a jab that lit up the internet and which Clinton was asked about on ABC's "The View" the next day.
Walker was pleased with the exchange, dismissing the idea that reporters should only use the briefing to ask wonky questions about public policy. "I like to ask the fun and colorful stuff because I think that's part of what gets people engaged in politics," he said. "We have sort of two functions to our job: engage and inform. And nobody's going to get informed if they're not engaged."
That ability to engage people is also why Walker likes working for Yahoo, which ComScore ranked in June as the third-largest digital media website in the U.S., behind only Google and Facebook. He describes Yahoo as "a really unique place where they have old-school values and a real commitment to quality, serious work, but where we also have some fun sometimes." Its massive audience totals about 185 million visitors a month.
Reliable sources
Walker's path from Wheaton to Washington was a winding one.
He was born and raised in Brooklyn, N.Y. One of his mothers was a corporate lawyer, while the other had a number of jobs, including one in telemarketing that he credits with giving him early insight into the value of a telephone call.
But Walker never considered following either of his moms' professional paths. "I have wanted to be a reporter since I was a very small child," he said. Growing up, he would sit in his backyard with a recorder making fake radio shows, and at the age of 10 he was picked to host a Halloween program for kids on a New York City station. His parents also instilled in him the habit of reading the newspaper every morning.
(Walker also honed his future craft at Yankee Stadium. A longtime Bleacher Creature, Walker credits hours spent in the stands in the Bronx with teaching him how to make his voice heard over a crowd, saying with a laugh, "I'm very, very loud." Campbell concurred: "On rare instances, he can turn on that stadium voice to make sure his questions get answered at a chaotic press conference.")
Walker was brought to Wheaton by the Posse Foundation, which recruits and supports students from urban public schools. He acknowledged Norton was a major adjustment for someone who'd spent his whole life in New York, and he credits Posse—and particularly his Posse mentor, the late Dean Gordon Weil—with helping him find a path to success.
"You have that support system right off the bat," he said. "And they really infuse you with the ethos of making a positive difference both in the society at large and on campus. I think that kept me driven in journalism. I am in this business because I want to have a positive social impact."
In addition to Weil and Professor Cathcart, Walker singled out Associate Professor of English Shawn Christian and Professor of Religion Jonathan Brumberg-Kraus as faculty members who had a profound influence on him. In Cathcart's case, he said, "I cannot tell you how often, particularly lately as we've been dealing with Charlottesville and this controversy over Confederate monuments, things that she taught me pop back into my head."
Christian, also an associate provost, said looking back he isn't surprised Walker went into journalism. "It wasn't just his ability to pose thoughtful questions and engage in spirited debates about the deployment of themes in a novel," Christian said in an email. "He also displayed a capacity for journalism, a penchant, if you will, for getting at the story (or stories) behind the story, in how he handled assignments."
After graduating, Walker returned to New York, where he wrote for a number of outlets before eventually enrolling in the Columbia University School of Journalism. While he knew he wanted to cover politics, he decided he would take the first full-time job offer that came his way. It turned out to be with The Wrap, an online entertainment news site. "I barely watched TV; suddenly I'm at the Hilton having sushi with Jerry Seinfeld and Tina Fey," he recalled. "It was incredible."
Before long Walker was poached from The Wrap by Richard Johnson, the legendary editor of the New York Post's Page Six gossip page, for Rupert Murdoch's startup The Daily. He continued to become better-sourced in Hollywood—Walker was texting Charlie Sheen during the actor's intense public breakdown—but when the opportunity came to cover city hall politics for the New York Observer, he grabbed it. From there he went to Talking Points Memo and Business Insider, before finally landing at Yahoo in October 2015, just as the presidential campaign was getting into full swing.
"I walked in, did my paperwork, got my Yahoo backpack and laptop, then got on a plane and flew to Las Vegas for Bernie and Hillary's first debate," he recalled.
To be continued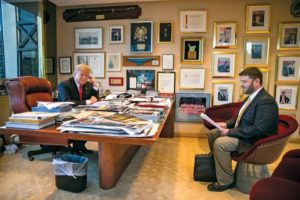 As someone who grew up in 1990s New York, Walker says Donald Trump has been omnipresent in his life for almost as long as he can remember. When he moved to Hollywood, then-reality-star Trump became more than a virtual presence.
"He used to call me and email me all the time," Walker said.
Walker did not think then he was interacting with the next president of the United States. But by the time he joined Yahoo, Walker knew Trump was a real political phenomenon, largely because of what he saw as he crisscrossed the country tracking the campaign. He spent more than one-third of 2016 on the road, visiting or passing through about half the states. And he was at Trump's victory party on election night, when many didn't expect their candidate to win—only to watch as a few swing states tipped the balance in his favor. As one of Yahoo's lead Trump reporters, Walker was soon asked to move to Washington and take the White House beat.
He admits to being unnerved by the current political climate. He worried about his safety at a turbulent Trump rally in Phoenix last August—partly because of rising hostility toward journalists—but said the atmosphere has not deterred him from doing his job.
"I want to bring home to people the on-the-ground reality of these events," he said. "Our politics have gotten very violent and nasty, and I'm doing my best to make sure people have photos and videos and stories about that. They can decide what to do with it, but this is a really ratcheted-up climate that we find ourselves in."
Despite such concerns, Walker remains grateful to be reporting from inside the White House, and hungry to continue breaking stories that grab attention and make an impact.
"It really is an honor and a privilege," he said, "to get to work in there."