Alumna makes Food & Wine Top 50 list for dairy deliciousness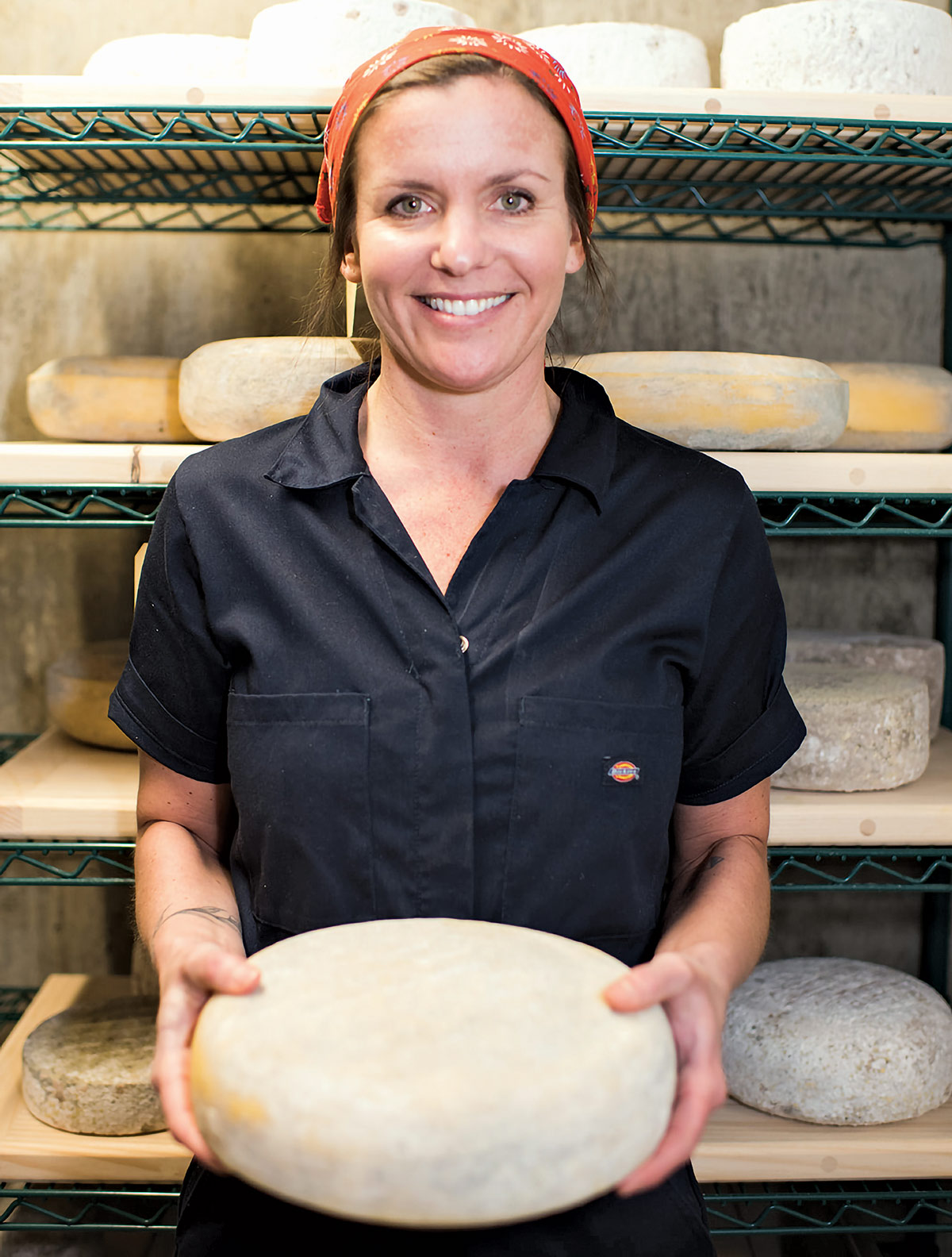 Crooked Face Creamery and owner Amy Rowbottom '06 earned praise in Food & Wine magazine in the article "The Best Cheese in America: These Are the Top 50 U.S. Cheesemakers."
In the December 2021 article, writer David Landsel noted that "Rowbottom uses raw Jersey milk to create some of the most prized American-made ricotta, alongside aged beauties like Bonfire, a winning raclette style, washed with local ales and ciders."
Rowbottom, who majored in English at Wheaton, worked as a journalist and as a marketing executive after college. She loved both. However, while living in Vermont she was surrounded by farms and a lifestyle that felt right to her—especially as she considered starting a family.
So, she let her passion lead her to the perfect work-life blend. Rowbottom, who grew up on a dairy farm, has been in business in Skowhegan, Maine, for 12 years.
Hungry for more details, we asked her
a few questions.
What makes your cheese a standout?
"With cheese, people want the whole picture. They want to know the story. I think this ties into my Wheaton experience and pursuing a degree in writing. There are stories behind all my products, where I get my milk, how the cheese is made, why it's unique."
Do you have a personal favorite?
"That's a toss-up. I love our raclette style, which we wash in a local Juniper pale ale. We take our big wheels and melt it over grilled vegetables and bread, accompanied by pickles and mustard, and salami. It's a meal in itself and always a good time."
What is the most popular cheese?
"Our most popular cheese is the pressed herbed and smoked ricotta. It's what we are known for. When I first started making it, customers would walk by my sign at the farmers market and see ricotta, and I could hear them say, 'I don't like ricotta; it doesn't have any flavor.' What I didn't have the chance to tell them is that my ricotta is so different! So, I started just advertising 'fresh cow's milk cheese' and customers would line up to try it, and the rest is history."
By season, which cheese is best to enjoy?
"In spring, our new pudgy soft-ripened washed rinds served with local honey; in summer, fresh herbed ricotta made with local chives, lemon verbena, fresh pesto or cilantro and scallions; in fall, our buttercup havarti made with grassy summer milk; and in winter, our Bonfire, raclette."
Any advice on wine pairings?
"In general, stick to light white wines, as red can take over the flavor of the cheese. However, reds do pair wonderfully with cheeses with bold flavors. I love a simple white wine alongside our Swissy and buttery havarti."
Tell us a little more about the role Wheaton has played in your success.
"I have to admit, I have a hard time relating to my college self. I grew up in a rural area, and never really ventured far from the farm. So, Wheaton felt so big to me. I felt a bit lost and out of place in the beginning. But there's really no better way to grow than breaking free from your comfort zone. The people, the courses, the environment, my time on the softball field, all taught me how to learn. To take on so many things that scared me and challenged me, and to come out the other side, instilled a confidence that continues to carry through in my career. By senior year, I felt at home at Wheaton, and will forever appreciate that journey in self discovery."
What do you love about being involved in the cheese business?
"I care deeply about supporting Maine dairy farms, the culture and the people. I love the creativity, working with my hands, seeing customers smile and enjoy our cheese. Making people happy. It's so simple."
Here is a delicious ricotta gnocci recipe to try.