Assistant professor of business and management
·       Bachelor's degree in psychology, George Mason University; master's degree in sociology and doctorate in organizational science, UNC Charlotte.
·       Former consultant to nonprofits and the Charlotte Chamber of Commerce
Why I became an educator: "In many ways I have always been an educator. As a child, I was heavily involved in the 4-H youth development program. Through that experience, as a teenager, I was leading teams of 20 to 30 kids. That gave me the opportunity to become a staff leader, teaching children how to think critically and develop self-awareness. Fast forward to now, and I am still driven by a passion to teach students to be critical and self-reflective. I fundamentally believe these two skills are required to make a positive change in the world around you."
What led me to my field: "My focus has been on organizations and the world of work because most people spend the majority of their time at work. I'm drawn to the idea that many broader societal trends, whether they be economic or social, filter through organizations. Currently I'm researching how schedule instability influences job attitudes and class differences in the experiences of work-life conflict. We know that the nature of the kinds of work people do influences how they experience, understand and respond to work-life conflict. Currently, however, the dominant narrative in business and management research discusses the experiences of white-collar professionals. However, if organizations are going to create policies that support the needs of all employees, we need a broader understanding of the challenges for individuals across job types and status levels."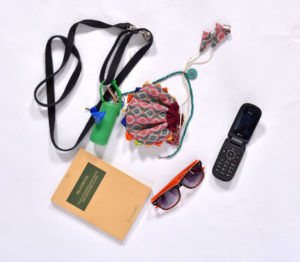 Most important lesson I learned in college: "Do not fear critical feedback. Seek it out and pursue it aggressively. That is the only way to learn and grow."
What I want every student to learn: "You can make a positive change in your small corner of the world."
My photo shoot item: "I brought a dog leash because I am always with my dog, Shia. I also brought a pair of sunglasses. I always wear these orange and black sunglasses that I got for free (no matter what I'm wearing). Ever since a pair of my favorite sunglasses was broken accidentally, I only wear free sunglasses so I am never sad if they are lost or broken."
Return to main story and read about other new tenure-track faculty.