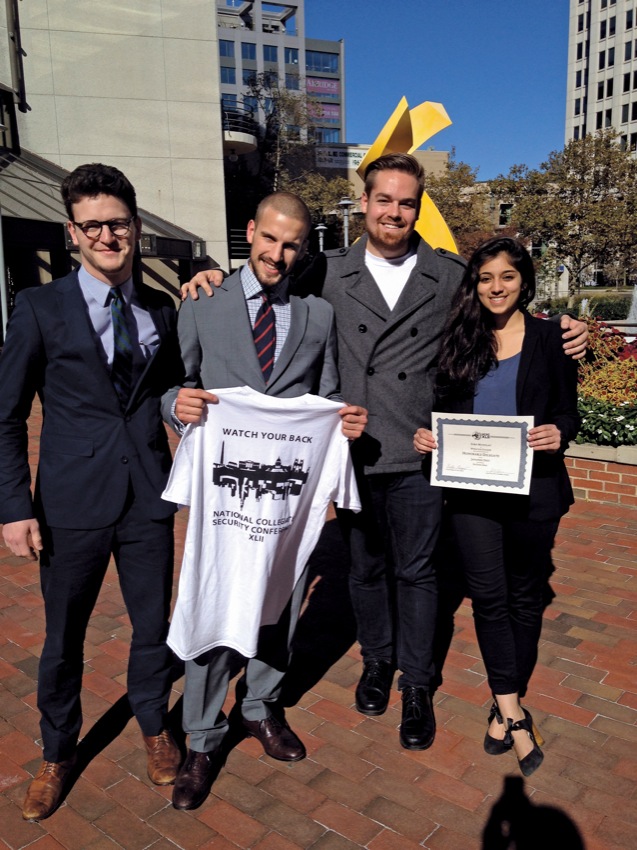 Wheaton's Model United Nations team has had a busy academic year. Not only did they increase their competition schedule from one event to five, but they also brought home accolades at their first competition.
Saba Mundlay '17 received an honorable mention for her outstanding work as a delegate at the National Collegiate Security Conference, held Oct. 23–26, 2014, at Georgetown University. She participated in the conference's Japanese Diet session, a modern-day debate that examined Japan's constitutional policy regarding the stationing of American troops and ships.
"In February 2014, one of the articles that was put in place in the Japanese constitution after World War II was reinterpreted, so the debate we were having was whether there needed to be an amendment made to the constitution," Mundlay said. "I was a member of the Democratic Party of Japan. I defected from my party, and I and a lot of the other people formed a different party and managed to gather the majority vote."
Model UN was traditionally modeled after the real United Nations, with college teams taking on the roles of member nations to debate world issues. But that format has changed over the years to include a range of decision-making bodies, both current and historical.
"Model UN has become one of the premier forms for collegiate debate and collaborative negotiation," team president Michael Ratliff '16 said. "It's a holistic way of looking at how to negotiate, how to come into a situation, learn how to define your position and priorities and then work to defend and persuade other people to work within those priorities. It's universally applicable to students across disciplines."
Ratliff, an economics major who plans to double major in political science, is hoping to expand the program's reach and competitiveness. For several years, the team, led by faculty advisor Adam Irish, has attended one conference annually, the Harvard National Model United Nations. This year, along with attending the Harvard and Georgetown conferences, the team will be heading to the Brown University Crisis Simulation, Five College Model United Nations and the New York University Model United Nations Conference.
To prepare for these events, the team holds simulated debates on campus that enable team members to flex their negotiation skills and receive feedback.
"You're assigned a role prior to the conference that's meant to be a starting point from which you can do your own research into the actual context and your character's role, but your role is not seen as binding," explained senior advisor Marcel Angliviel de la Beaumelle '15. "If you just follow what that person would do and use that as an excuse not to be creative, that will work against you."
A double major in international relations and economics, Angliviel de la Beaumelle has drawn on his Wheaton education during Model UN debates, but the debates are also their own learning experiences. Before attending the Georgetown conference, he did a lot of research so he could play a member of al-Shabab, a militant group involved in the Somali conflict.
Mundlay, who plans to declare a political science major, said Model UN has helped teach her the importance of confidence, adaptability and tact.
"I've studied a lot of political theory, and I've found that those make for very good, logical arguments," she said. "And Model UN has taught me a lot more history."