Rocking and rolling in success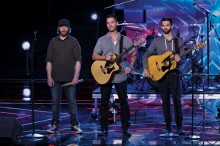 The rock 'n' roll life is more than just an ideal for Nick Fradiani '08. The West Haven, Conn.-based musician performed regularly with his multi-instrumentalist father at the age of 5, in talent shows at 10, and—last July on America's Got Talent to an audience of 3,500 with Beach Avenue, his five-piece rock group.
"It was surreal. I remember walking on stage at the Dolby Theatre for the first time and thinking the judges almost looked like holograms," says Fradiani, as he rattles off the roster of celebrity judges: Heidi Klum, Howie Mandel, Howard Stern and Mel B.
"I was more nervous to answer their questions than starting the performance itself."
The anticipation transformed into single-minded focus: Beach Avenue garnered a standing ovation from the audience and several judges, which launched them into "judgment week," the semifinal round (and the band's last), at the end of the month.
Beach Avenue, as Fradiani puts it, is "fun pop rock with a little folk twist." It formed only three years ago in Milford, Conn., when he was making his own solo music and his roommates had recently dissolved their own band. They asked Fradiani if he wanted to play some time.
"It wasn't serious—we figured we could have some jam sessions," he says.
However, when the drummer submitted Fradiani's solo music to a Battle of the Bands competition at Mohegan Sun and it made the top eight, they were faced with actually writing music and becoming official.
"We played our very first show during the first round," he says, "and wound up winning the entire competition."
Fradiani has led Beach Avenue as singer and guitarist since its inception. Though he cites the Beatles as a lifelong influence, his taste expanded once he arrived at Wheaton (he was recruited for the basketball team). Coldplay, the Killers, and Bruce Springsteen were on heavy rotation as he fine-tuned his music, writing his first original songs and performing them at the Loft and the Lyon's Den several times.
Academically, Fradiani dove into Professor Dolita Cathcart's variety of history courses, which led to majoring in U.S. history and pursuing an independent study about African American boxer Jack Johnson's life. After graduating, Fradiani began his master's degree program in secondary education at University of New Hampshire, but his artistic passion became unavoidable and he left the program.
"I knew in my heart I wanted to be a musician," he said, "but that's a scary thing to tell your parents while attending college."
The risk has been matched with tremendous reward. Beach Avenue has opened for groups such as Styx, Third Eye Blind, and REO Speedwagon, all while promoting their work on their own. The group caught the attention of a Syco Records talent scout, who invited the band to appear on America's Got Talent.
Fradiani "didn't think much of it"; the band had received offers from various other opportunities that never materialized.
This time, however, was different.
"One week after receiving that email, we were on a plane to Los Angeles," he said. "This was a huge opportunity for us."
For the past three years, Fradiani has also worked during the day as an account manager at CDW-G, where he pairs various school districts with technology solutions. Like most artists, he faces the challenges of balancing work and life.
Life got a little more interesting again in January. Fradiani was in the spotlight again—as a contestant on American Idol. At press time he had made it into the top 12 and was awaiting votes to continue in the competition.
Photo courtesy of NBC