Elaine Dezenski's career focuses on transparency, governance, global security
At 6 years old, Elaine Dezenski '92 received the book All About Me from her mom. In it, young readers are asked to write about themselves and their aspirations.
"For the question about what I wanted to be when I grew up, I wrote, 'What is politics?'" Dezenski recalls. "Apparently, I was already thinking about government, or maybe being a politician. I was already thinking about service. I've always been driven by a mission to serve."
Four decades later, she has held prominent positions steeped in politics and government—including working for the Department of Homeland Security and Interpol, and founding her own firm to help organizations understand and manage their exposure to a range of global
security-related risks.
Most recently, during the 2017–18 academic year, she held a joint appointment at Yale University, as Senior Fellow at the prestigious Jackson Institute for Global Affairs and Mars Visiting Lecturer of Business Ethics in the Ethics, Politics and Economics undergraduate program. She taught an undergraduate course titled "Corruption, Governance and Reform."
For Dezenski, who majored in international relations at Wheaton and has a master's degree in public policy from Georgetown University, teaching represents service in a new vein.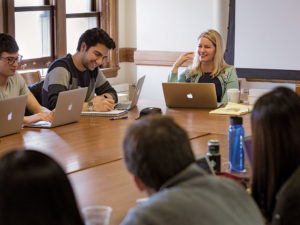 From January to early May, in a conference-style classroom in the Wall Street Building at Yale, she focused on
inspiring her 20 students to be diligent in the pursuit of transparency and understanding global corruption risks as they learned about kleptocracies (governments with corrupt leaders); the financial crime risks facing the global financial system; and what she describes as the role of advanced economies—such as the United States and the United Kingdom—in facilitating illicit financial flows.
"These students will end up with important leadership roles, whether in government, civil society or the private sector. They need to know how the system works. I'm trying to help effectuate change through the next generation of leaders," says Dezenski, founder and CEO of LumiRisk.
LumiRisk advises governments, corporations and nonprofits on issues that include financial integrity, anti-corruption, border security, immigration and supply-chain risk—all components in global terrorism. (The firm's name is about "bringing transparency into opaque spaces," she says.)
"If I can help students understand and detect risks around corruption and governance," Dezenski asserts, "they'll be able to make better decisions about how they're going to work within systems or try to change systems for the better."
The Yale Fellows program was launched in 2010 and is designed to offer students real-world perspectives on real-world challenges. Dezenski was among 17 fellows for 2017–18, including former Secretary of State John Kerry, former U.S. Sen. Russell Feingold (D-Wis.) and New York Times columnist David Brooks.
Fellows are selected because of their work as distinguished practitioners who tackle pressing global challenges through teaching, research and international dialogue. "They're valuable mentors who are accessible to students both in and outside of the classroom," says James Levinsohn, director of the Jackson Institute for Global Affairs.
Dezenski's wide-ranging international experience holding executive leadership positions, including being a senior advisor to the Financial Integrity Network and an advisory board member of the Center on Sanctions and Illicit Finance, make her a particularly good fit right now to lend her expertise.
Around the globe, nearly one in four people say they've paid a bribe in the past 12 months while accessing public services, according to Transparency International, a nonprofit that works with governments, businesses and citizens to stop government and corporate abuses of power.
For Verónica Ortiz, a Branford College senior who was taking part in the Yale Visiting International Student Program, Dezenski's course was illuminating.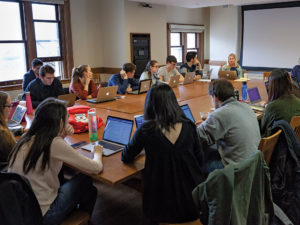 "What stuck with me the most is that, even though the concept of corruption remains ambiguous— specifically regarding the distinct criminal codes and domestic norms—the solutions to prevent it and avoid it are not so far to achieve," says Ortiz, a native of Mexico who hopes to work at the Mexican Ministry of Foreign Affairs. "Professor Dezenski emphasized the importance of being creative and critical when it comes to designing solutions or proposals to fight corruption."
Added Metincan Suran, a Yale junior majoring in global affairs: "It was invaluable for me to hear her advice on how to espouse integrity and honesty in professional situations where the system forces people to become corrupt."
Dezenski also pulled in other perspectives by inviting guest speakers to give students a broader view.
Among them was Thomas Sanderson '92, co-founder of the Transnational Threats Project at the Center for Strategic and International Studies think tank in Washington, D.C. The project focuses on the threat and evolution of terrorist, insurgent and criminal networks.
In 2010, he and Dezenski established the Wheaton Global Security Fellowship, which allows incoming juniors and graduating seniors to travel abroad in the summer to research sustainable
approaches to homeland security and transnational threats.
"Elaine is very thorough in her work. She has built for herself a reputation for quality in analysis, and an ability to generate policy," Sanderson notes.
Learning to open doors
Dezenski's international passions started at a young age. She took her first French language classes at age 10. Her interests grew at Wheaton, which she chose for its East Coast locale ("I was looking for an experience outside the Midwest. I wanted a liberal arts experience and I wanted to stretch. Wheaton gave me that opportunity.")
She majored in international relations because she didn't want to choose between economics, politics and history.
"I wanted all of it, and international relations was a nice way to get that broad-based foundation on which I could build," Dezenski says. "For me, the liberal arts education was absolutely perfect. I look at it as earning a license to learn. It opens the door to something else. That's really what I wanted from my experience at Wheaton."
After graduating from Wheaton, Dezenski first worked in the private sector. With the help of the late Jerry Murphy, who taught political science at the college for 41 years, she landed an internship in Washington, D.C., with the German industrial giant Siemens. There she did research that supported the company's government affairs office.
The internship turned into a full-time job for eight years as manager of marketing and government affairs for the company's transportation division. She also helped the division set up its Washington, D.C., office, building relationships on Capitol Hill and with industry associations.
"I owe Jerry so much in terms of the trajectory of my career," Dezenski says. "In addition to his professional network and expertise, he had such a strong foundation of integrity, and it set him apart in how he performed his job—especially in Washington. It's a testimony to Wheaton that he was affiliated with the college for so long. He helped many students along the way, and I couldn't have asked for a better mentor and role model at such an early point in my career."
A pivotal moment and a deeper commitment
From Siemens she went on to the U.S. Department of Transportation and U.S. Department of Homeland Security, where she had various senior leadership roles related to policy development and security.
The work took on deeper meaning after the unthinkable happened on Sept. 11, 2001.
The 9/11 terrorist attacks shattered illusions that America was immune from such horrors. That morning Dezenski was on loan from the Department of Transportation, working for former Rep. Sherwood Boehlert (R-N.Y.), when jetliners flew into the World Trade Center and the Pentagon.
"It was surreal," says Dezenski, who recalled the absolute chaos of trying to get home to Alexandria, Va., with the transportation networks nearly shut down and the shock of seeing the smoke and ruin at the Pentagon. "Experiencing 9/11 was, for me, a profound moment of disbelief and shock."
And something more: "It solidified my call to public service in a way that I could never have imagined," she adds.
In the aftermath of the attacks, Dezenski found herself recruited into the newly formed Transportation Security Administration, where she helped develop 40 recommendations for how to better process the tens of millions of tons of cargo that are transported each year on commercial aircraft. She also led outreach efforts to the global shipping community, toward establishing regulations to support the Maritime Transportation Security Act.
By the time she left the Department of Homeland Security, Dezenski had risen to deputy and acting assistant secretary for policy development.
"It was a crazy period. We had no playbook to build this new department, but it gave us space to be quite entrepreneurial in policy development, at least in the early days," she says. "I tried to transform my own profound sense of loss after the attacks into a chance to give something back, to try to build something to serve the American people."
Her boss at the time, Stewart Verdery, assistant secretary for border and transportation security, recalls the Department of Homeland Security in those early, disorganized days as "kind of a combination of the FBI and a bad tech startup." Dezenski was a clear-headed and organized presence, he notes.
"She has a combination of brainpower and incredible people skills," Verdery says. "You had a lot of stakeholders very nervous about what the department was going to do, and foreign governments were not used to dealing with new mandates on security.
"Being able to explain the rationale behind new policies to a somewhat skeptical and nervous set of audiences really took a diplomat, and Elaine, in particular, was very good at being a competent, steady voice. She was a great mix of diplomacy and hard work."
After leaving the Department of Homeland Security in 2006, she went to work for Cross Match Technologies, a leader in biometrics and identity management.
Two years later, she got a call from the secretary general at Interpol—the International Criminal Police Organization, which facilitates international police cooperation. Working from Lyon, France, Dezenski was director of Interpol's Global Security Initiative, an effort to "help build the capacity of global law enforcement through new technology and partnerships."
"During that time in France, I became quite interested in the uptick of corruption prosecutions of multinational corporations undertaken by the U.S. and other governments, and at the same time, the rise of kleptocratic regimes appearing in newly democratizing countries where the U.S. had been focused on building rule of law and democratic norms," she says. "I wanted to dig into that a little more."
While the U.S. has "led the charge around many global anti-corruption initiatives," more work needs to be done, Dezenski says. From France, she moved to Geneva, Switzerland, where, as senior director at the World Economic Forum, she helped launch a program on global risks and subsequently led the organization's anti-corruption initiative, working with CEOs from multinational corporations to build a global agenda on transparency and anti-corruption.
She will continue to lend a voice on such issues as a lecturer during the upcoming academic year at Yale.
"We need to continue to push for reform and demand transparency in many areas of governance," she says. "People are tired of the way that systems work for certain people and not for others. It's an opportunity for the next generation to do a bit better."
More than 40 years after she first picked up All About Me, as Dezenski reflects on her career and aspirations, she says: "I've had a lot of opportunities in my life to contribute to a bigger mission, to something that's more than just having a job. I like the process of untangling complex problems and clearing a path forward. When it comes to security, governance and moving toward a greater degree of transparency, there are very few easy answers, but that doesn't mean we should shy away from finding them. We need everyone at the table."
Photos by Harold Shapiro