You learn a lot when you have to get up at 3 a.m. to report to work by 4:30 a.m. One: It's hard to find a fast-food place open that early in the morning to get that lifesaving cup of coffee (thank goodness for those golden arches). Two: It's easy to order hash browns and not worry about the carb count when you order in the fog of sleepiness.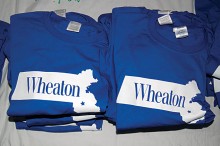 This, of course, is information I could have lived without in exchange for more sleep. However, the early-morning wake-up was well worth it, considering the payoff: seeing the campus come to life in all of its shining glory with television cameras on-site to share it.
Fox 25 News Boston came to campus on September 26 (starting with a 4:30 a.m. set-up) to do a live news program from 6 a.m. to 10 a.m. as part of the station's "College Tour" series. The series showcases the best of what selected New England colleges have to offer. Staff, students and faculty spent the four hours on the campus green in front of cameras. The president was interviewed, various student groups performed, others showed off their scholarly interests, and the entire community provided Wheaton spirit. Some of us had way too much fun—and coffee.
The logistics of making it all work required weeks of dedication by a small village of staff and faculty members from departments across the campus, and, of course, students willing to get up at an ungodly hour (some of them slept in the Dimple to get the limited-edition Wheaton T-shirt offered as enticement for the first 50 students on-site). Go online to see the result in videos documenting the morning: wheatoncollege.edu/news/morning-news-comes-to-wheaton.
Wheaton. What a great place.
No wonder Professor Jay Goodman has been teaching here for 50 years. Check out the masterful profile, written by award-winning journalist Ted Nesi '07, on page 28.
No wonder hundreds of alums, students, staff and faculty members were more than willing to spend weeks making sure the inauguration of Dennis M. Hanno was so special on October 17; story on page 4.
And no wonder alums stay connected and continue to inspire students and underscore the value of their liberal arts education through their career success and their willingness to return to campus to share advice with the next generation; there are examples throughout this issue. (You'll see writer Rachel Bowie's name a few times. The Class of 2004 alumna attended a presentation on campus (page 24), where she met a student whom she helped get an internship at Good Housekeeping (page 9), and she wrote about Persephone Tan '09, who is empowering tenants in New York City, on page 34.)
Whew! Rise and shine, indeed.