Laura Norton '12 helps Disney keep its magic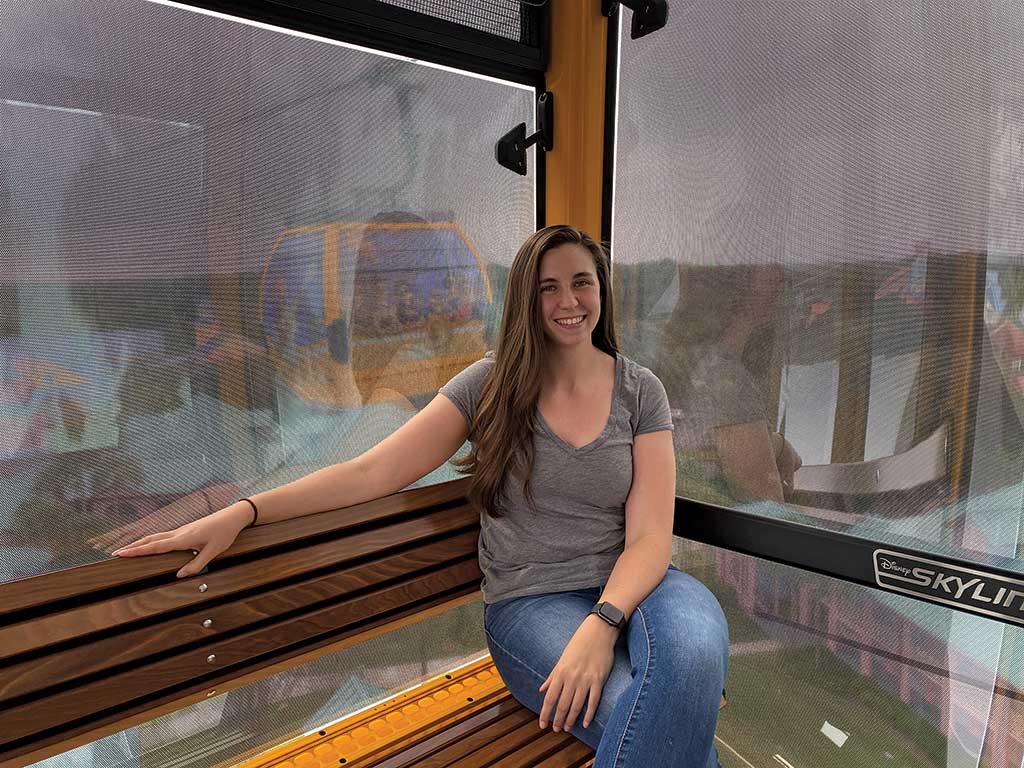 The Rock 'n' Roller Coaster at Walt Disney World Resort in Orlando, Fla., accelerates from 0 to 57 mph in less than three seconds, launching riders into an immediate heart-pumping loop, while Aerosmith tunes fuel the adrenaline.
The exhilarating roller coaster is Laura Norton's favorite ride at the world-famous resort. It's a source of inspiration for her not just as an avid Disney fan, but also in her day job—as a Disney imagineer.
As imagineer, Norton spends her days at Disney World working on a team that combines imagination and engineering to develop the attractions and rides that they hope will wow the next generation of visitors.
"There are fewer than 1,500 imagineers worldwide, so it's a huge honor, and an incredible job," Norton said.
A childhood dream
Norton knew at a young age that she wanted to work for the Walt Disney Company. During her annual family vacations to the resort as a child, she fell in love with its theme parks, interactive characters, adrenaline-inducing rides and imaginative scenery.
"I loved the idea of being transported to different places and, as I grew, I began to appreciate Disney's incredible attention to detail," she said.
Through steadfast determination, she made that childhood dream a reality.
Norton, who double majored in English and theatre and dance studies, moved to Florida directly after graduating from Wheaton in 2012 to start her career at Disney.
Her theater and dance background enabled her to land a position as a performer, playing the Disney characters that fans love best. She soon took on increasing responsibilities, including training new park cast members and leading educational field trips through the Magic Kingdom. She taught children ages 8 to 18 about how the company uses physics on the rides.
In 2017, Norton became an imagineer after working in leadership positions for the opening of two rides at Disney's Animal Kingdom, she said.
The imagineer role is part of Walt Disney Imagineering, the research and development arm of the company responsible for Disney's most memorable rides. The department is known as a hub of innovation. Since its founding in 1952, Disney Imagineering has acquired more than 300 patents in areas such as advanced audio systems, fiber optics, interactive technology, live entertainment, ride systems and special effects.
For the past three years, Norton has contributed to many Disney projects, including Pandora—The World of Avatar in Disney's Animal Kingdom. The theme park, which opened in 2017, is based on the film "Avatar" and features its fictional exoplanetary moon, Pandora, with its alien wildlife, floating mountains and bioluminescent plants.
Norton also played a crucial role in the implementation of Disney's new gondola transportation system, the Skyliner, which includes five stations: Epcot, Hollywood Studies, Disney's Art of Animation, Pop Century and Caribbean Beach. The ride, which takes visitors 60-feet high in gondolas for panoramic views of the park, opened to much fanfare in September 2019.
Realizing a vision
Within Walt Disney Imagineering, Norton facilitates all stages of the development of Disney rides and attractions—from conception to implementation. As such, her daily duties vary greatly, depending on the developmental phase of the current project.
"If we are still designing a new ride, much of my day is in front of a computer assisting with procurement and documentation. If we are in the implementation phase, my days are on the construction site ensuring the specified drawings are being followed and the deadlines are met," she said.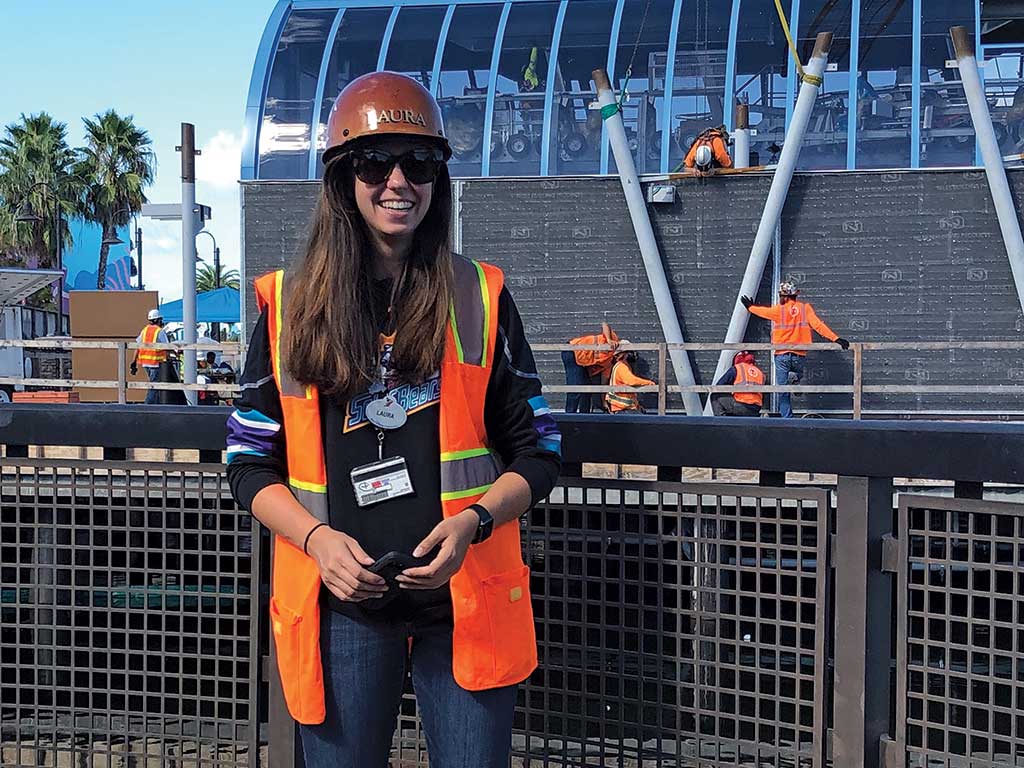 For example, as a key player in the implementation of the Disney Skyliner, Norton was responsible for all things related to the ride vehicles.
She worked with the manufacturer during production to monitor the schedule and make sure that key milestones were met. She also coordinated the multi-phase shipping and storage efforts of the gondolas from Austria to Central Florida, and she managed the graphics installation for more than 300 cabins.
"These critical efforts spanned over two-and-a-half years, but Laura's diligence and next-level work ethic allowed for it to be pulled off seamlessly," said Steve Mickel, a project coordinator at Walt Disney Imagineering. He has worked with Norton on the Skyliner and other projects since 2016.
Mickel said Norton is a natural problem-solver who always goes above and beyond, and brings light, energy and fun to their small team.
"Aside from Laura's tangible contributions to the project, she was really the glue that held all of us together, even in the toughest of times. Laura radiates positivity, and more often than not, that felt like the most meaningful contribution of all," he said.
Norton also spends time brainstorming with her team the types of rides they envision wowing Disney fans with in the future. (She can't mention the most recent rides that are underway as they haven't been formally announced yet.)
"Many of our new rides are based off of movies or other already successful intellectual property, but a good number of new rides and ideas come from just sitting around and discussing what guests have said they would like," she said. "From there, we come up with some ideas, explain how we could make them work and, after a lot of back and forth, we will then move into the implementation phase and begin developing and building," she said.
Making the ideas spring to life requires creativity—and patience, she said.
"Our work requires finding ways to make things work in the field. Even if we have a plan in mind, it rarely goes the way we expect and we need to come up with creative solutions on the spot," she said.
Skills to succeed
Norton's liberal arts background at Wheaton prepared her for the creative challenges of her position, she said.
"I left Wheaton with a well-rounded perspective, giving me the ability to see things from others' points of view, which helps me anticipate their thoughts and needs. If I can anticipate where their head is, I can anticipate a solution or response to any issue they may have," she said.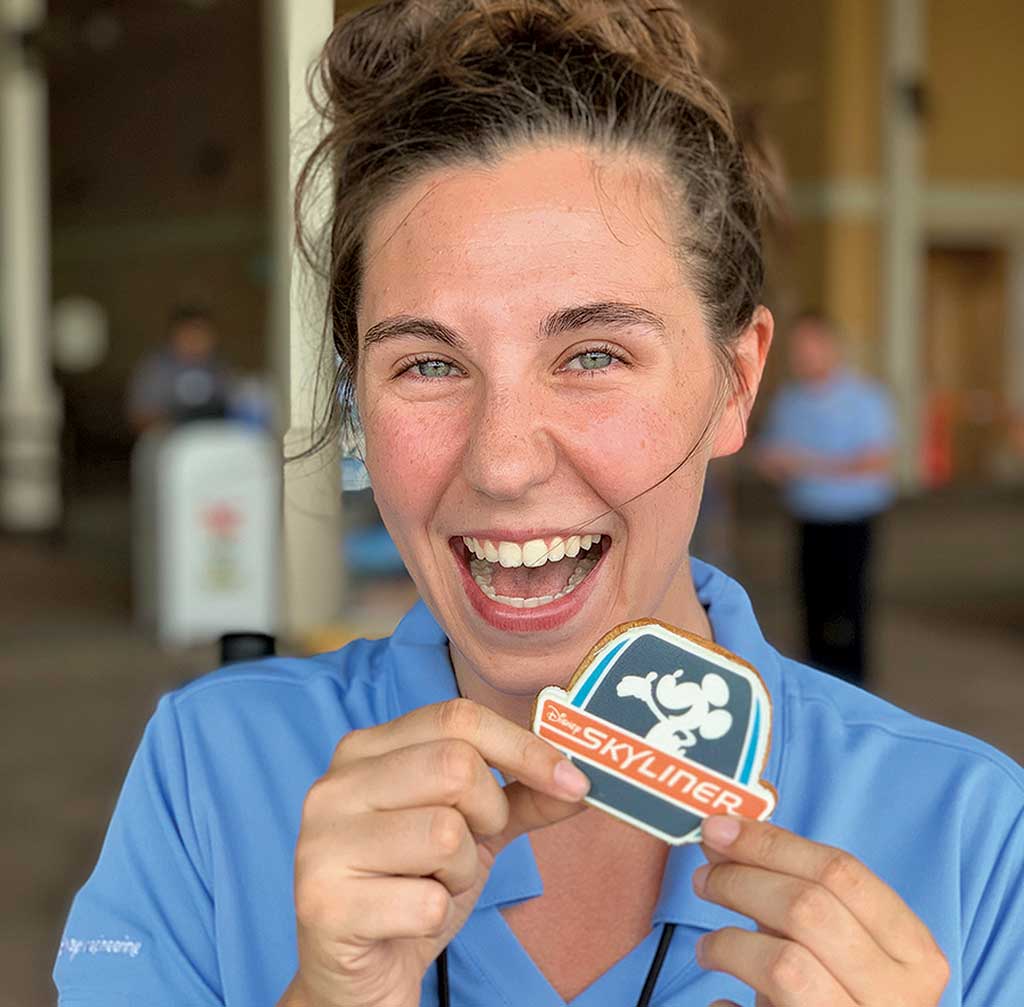 Norton transferred to Wheaton as a sophomore in 2009. After spending one year in Boston, she decided she wanted to attend a small liberal arts college with a strong sense of community.
Norton already knew Wheaton well, as her mother (Nancy Bianchi Norton '78), aunt (Brenda Bianchi '89) and brother (Thomas "Tom" Norton '09) all are alumni.
"I was hesitant to attend a school my family was so associated with and did not want to continue being 'Tom Norton's little sister' into my 20s," she said. "But my brother's close friend, Austin Simko '09, convinced me to give Wheaton a second look, and it changed my life entirely."
Norton said her time at Wheaton revolved around her close-knit friendships and a laser focus on studies. She most enjoyed her classes with Michael Drout, professor of English, and Ann Sears, professor of music.
Drout recalled Norton as one of his standout students. She took his 2011 senior seminar course that examined the long tradition of Arthurian literature, from medieval texts through present-day films.
"Laura did a number of remarkable multidisciplinary projects on the interaction of literature, artwork and music," he said. "Her final paper looked at the musical 'Camelot' in its matrix of the Arthurian tradition, so I am not surprised at all that she has ended up doing multimedia and immersive work like ride design."
In addition to literature, Norton found Wheaton as a place she could explore her passion for dance, both on and off campus.
Norton performed with Tap Out Loud, Wheaton's tap dance group. Off campus, she assisted with choreography for programs in various Taunton middle schools, and choreographed actors at Triboro Youth Theatre in Attleboro, Mass. She coordinated with Triboro to put on a show at Wheaton over winter break during her three years at the college.
To this day, she is passionate about dance. In addition to working at Disney, she teaches and manages a competition team at the studio Ready, Set, Dance in Gotha, Fla.
"My liberal arts background from Wheaton has been instrumental in allowing me to be successful as an imagineer," she said. "My time at Wheaton equipped me with three essential skills that I use every day: problem-solving, critical thinking and communication."