Though the 20th-century plaster cast of the Lemnian Athena, a member of the world-renowned Caproni Collection, stands at almost seven feet tall, she has been an elusive member of the Wheaton community much of the last century.
But last summer, the goddess of arts, literature and reason received some well-deserved attention to replace a fragment of what remained of her left arm and reattach her head and neck to her body.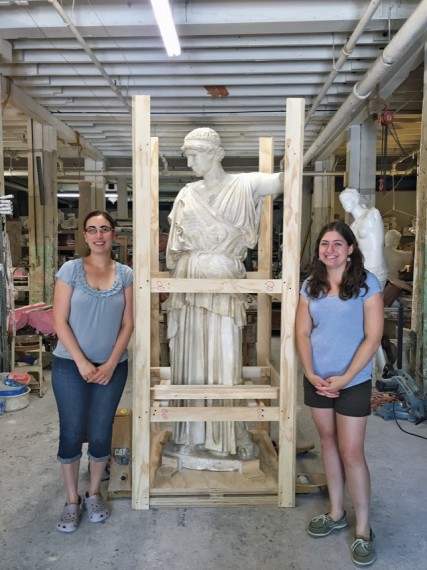 After a restoration proposal was submitted by Art History Professor Tripp Evans, Lisa Shure Benson '06 and Kayla Malouin '10 were called on to restore an important piece of their alma mater and tap into their Wheaton education.
Both Benson and Malouin work at the Giust Gallery in Woburn, Mass., the owner of the Caproni Collection cast necessary to make these repairs. Benson, who is the daughter of the Giust Gallery and Skylight Studios' owners Robert and Kathleen Shure, serves as a sculptor and conservator-restorer at the gallery. Malouin is the gallery's project and research manager and curator of the Caproni Collection.
Benson was raised in an artistic environment but admits that she took campus displays of artwork, like Athena, for granted. "Before I was a student at Wheaton and visited campus with my parents, they would point out all the statues. I now have come to appreciate it," she says.
Although she was interested in pursuing a career in art—after all, it runs in her family—Benson chose Wheaton for the opportunity to explore other subjects. "As an artist, I could take a science class and then it could be an inspiration for art. At Wheaton, I could be a more well-rounded artist," said Benson, who decided on a studio art major and art history minor.
Her co-worker, Malouin was interested in museum studies.
"When I arrived at Wheaton, I didn't know the Caproni Collection. I was fascinated by the plaster casts in Mary Lyon though, and ended up researching Wheaton's collection for my senior year project," Malouin says.
 Malouin gained hands-on experience in the field for three years as a collection assistant for Leah Niederstadt, assistant professor of museum studies and curator of Wheaton's Permanent Collection. Athena is a continuation of their connection.
The statue, which was donated to the college in 1913 as a gift of the Class of 1912, is an important part of the college's collection that, from its earliest days, has been an excellent pedagogical resource, notes Niederstadt. Over the years, the whereabouts of the statue sometimes has been a mystery as it was moved around on campus and then into storage.
In summer 2016, Athena was moved to the Giust Gallery by Richard Wright Inc., a fine art handling company based in West Bridgewater, Mass.
At the gallery, major damage was fixed but smaller chips were left untouched to maintain Athena's antique quality. According to Benson, who worked on the molds and casts, keeping the repairs discreet was a challenge. "That's kind of what restoration is about versus conservation, where you might see where there's a fill or something that was once missing."
The restored Athena is now on display at the Providence Athenaeum in Rhode Island on a five-year renewable loan, and serves as "…an excellent example of the Wheaton community collaborating to create and care for knowledge," says Niederstadt.
Photos by Leah Niederstadt