Respecting intellectual property
Understanding copyright in digital age
Wheaton students pursuing majors in a wide array of disciplines are examining the complicated and evolving legal requirements that govern the use of copyrighted material in the digital age, receiving counsel from an expert in the field.
Earlier this month, classes in museum studies and film and new media studies gathered for seminars with Kyle K. Courtney, an attorney and scholar on copyright law who serves as the copyright advisor for Harvard University. His visit to campus, which included a public lecture as well as class discussions, was sponsored by the Dale Rogers Marshall Visiting Artists Program Endowed Fund within the Evelyn Danzig Haas '39 Visiting Artists Program.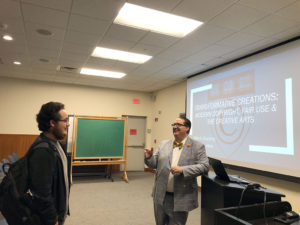 Associate Professor of Museum Studies Leah Niederstadt, who organized Courtney's two-day campus visit, said she was inspired to arrange the engagement because of the broad relevance of intellectual property rights for students in virtually every field.
"In the digital age, the pace of technological change and the ease with which we can search on Google or access and make use of images and texts created by others requires that we are all aware of the importance of acknowledging sources and of copyright," Niederstadt said. "Arguably, this is even more important in an academic environment where students, faculty and staff are creating, performing, researching and writing new content, often inspired by or drawing on the work of other artists and scholars."
Santiago Mathison Muci '20, a business and management major enrolled in Niederstadt's museum studies course, said the deep dive into copyright law has been illuminating. "I now have a more general understanding of intellectual property in the digital era," he said. "As a student, it means that there is an opportunity to make recurring income and royalty-based revenue in the business world using digital technology."
One of the main points running through Courtney's discussions with students is the idea that copyright law provides individuals the right to "fair use" of intellectual property owned by others and that the standard the courts use to interpret this provision has changed to allow uses that transform the work in substantive ways. One illustration: a musician's use of a short audio recording in a wholly new composition.
"We can be both users and creators," he said. "In other words, we are the balance between owning creative expression and being able to use those ideas."
The idea that copyright law empowers users as well as protects copyright holders is critically important, said Associate Professor of Film Studies and English Josh Stenger.
"This shift in perspective is crucial not only because it acknowledges the value and importance of building on others' creative works in transformative ways, but also because it does not prevent transformative works from being put to commercial use," Stenger said.
Ben Danielson '22, who intends to major in film and new media studies, remarked on the complexity of understanding what fair use means. "There is a certain amount of ambiguity in many of these cases," he said. "In some instances, to use even a part of someone else's intellectual property, it must be transformative. But what qualifies the use as transformative? There are no quick answers to apply in every situation, which is okay if you keep that in mind."
The subject will continue to be a focus in Stenger's classes during the semester. Students in his "New Media" class will study the Digital Millennium Copyright Act of 1996, while those enrolled in the course "Creative Industries in the Digital Era" will be learning more about how copyright and licensing factor into the creation of complex transmedia franchises like the Marvel Cinematic Universe.
Kallum Aldredge '21, who is pursuing a double major in film and new media studies and English, said the focus on intellectual property law has been illuminating.  "As a student, especially as one who is hoping to work in the creative industries in some capacity post-graduation, I feel it's important for us to learn about ethical uses of intellectual property," he said. "More than likely I will be working with other people's intellectual property early on in my career after college and given this I will need to know the ins and outs of copyright law, and what is classified as fair use."
In Niederstadt's "Introduction to Museum Studies" course will be navigating issues of ownership as they research the provenance of items that are now part of the college's Permanent Collection.
"I didn't know much about copyright beforehand, except that 70 years after your death, your work went into the public domain, but I didn't know the history of copyright," said Emma Flesher '22, who is majoring in anthropology. "I now have a better idea of how to use the materials available to me in a legal way, and I have more knowledge to look critically at the institutions around me to see if they are following copyright law."
Such reflections are exactly what Niederstadt was aiming for in organizing the seminars. "I hope this will reinforce to them the importance of citing their sources in their work and of being mindful of copyright as it applies to their own professional and personal lives, whether to their social media practices or their artistic and academic endeavors," she said.