Lesley Stahl remembers a brave friend
Wheaton alumna and "60 Minutes" correspondent Lesley Stahl '63 reflects on gender inequalities in her early days at CBS, and the groundbreaking career of friend and colleague Sylvia Chase, in an op/ed published January 12 in The New York Times.
Chase, one of four women along with Stahl hired by CBS in the early 1970s, died January 3, after a long career in broadcast journalism.
In the piece, titled "Sylvia Chase and the Boys' Club of TV News," Stahl writes about how she and Chase were hired as "affirmative action babies," given the title of reporter rather than the "correspondent" given to their male counterparts, at a time when most women in broadcast journalism were working as researchers.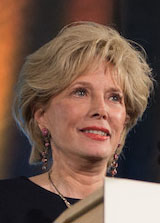 "We were more like apprentices … " Stahl wrote. "While we did reports for radio, the 'grown-ups'—all men—did TV, but we were allowed to watch how they developed sources, paced their days and wrote and edited their stories."
When other women in their field began speaking out about gender discrimination, Chase led the charge at CBS, Stahl said, seeking more airtime and better assignments.
In her op/ed, Stahl notes how women in her generation broke ground in a lot of ways, but also how there was still much to be done, pointing specifically to the recent #metoo movement. She also remarked on some recent highlights for women in the professional world, such as the announcement last week that Susan Zirinsky would become the first woman to lead CBS News as president.
Stahl, a history major at Wheaton, began her television career as a producer and on-air reporter at Boston's WHDH-TV. Among her many career highlights, she served as CBS's White House correspondent through three presidencies and has been a correspondent at "60 Minutes" since 1991.