Reflections paint portrait of genuine, engaged leader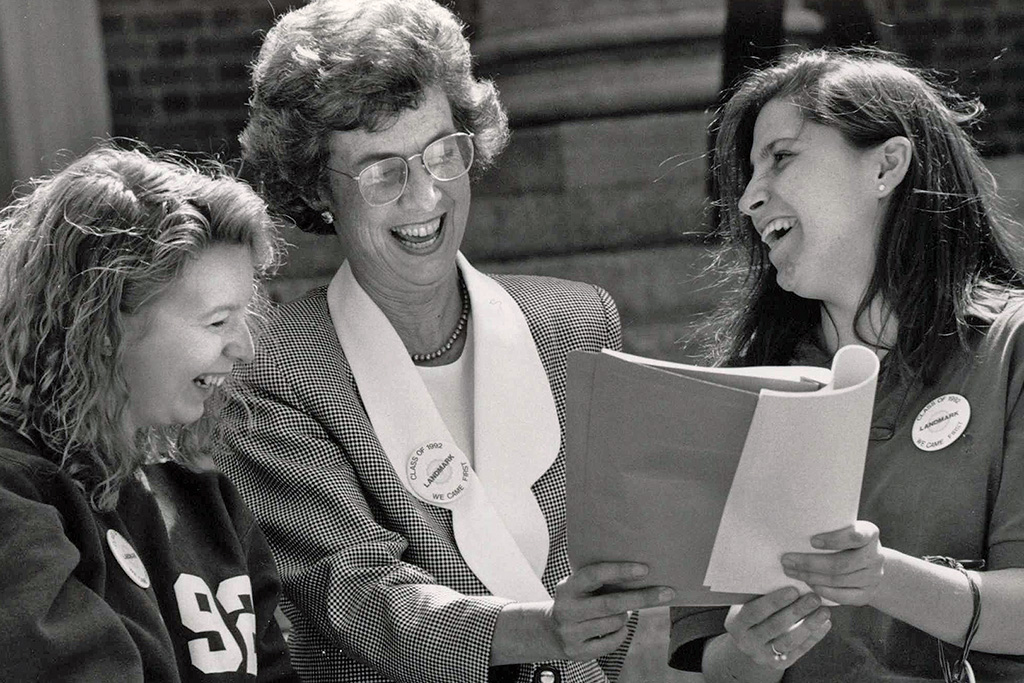 Since the news of President Marshall's passing, the outpouring of tweets, Facebook posts, emails and reflections shared during virtual meetings have painted a full portrait of her—one inspiring aspect at a time. Here we share a few of the comments.
"I found her to be truly committed to multiculturalism, diversity and inclusion. She was genuine. My first interaction with her was in my first semester here. I was one of the faculty members who came in on a cluster hire [aimed at increasing diversity], and I was walking across campus and she was walking across campus going somewhere and spotted me. She came to me, stopped me and said, 'Hey, you haven't come to my office yet. I haven't met you.' And she invited me to join the Multicultural Advisory Committee. She was just very authentic, a real person, very elegant. I enjoyed working with her and I think Wheaton is better for her having been president."
Deyonne Bryant, associate professor of English
"As a student and as a new faculty member, whenever I was in a show or whenever I directed a show, she would come with The New York Times and she would be there a half-hour before anyone else. She would find her spot, bury herself in The New York Times until the opening lights, and she was just there, she was present. And, of course, I remember lots of young alumni cocktail events in her house and just her great spirit of joy and pride and presence, and I carry that with me."
Stephanie Burlington Daniels '97, associate professor of theatre and dance
"When I was leaving campus, Dale was coming back on campus. I would often pass her as I was heading to the parking lot at the end of the day. She was coming back for the evening version of Wheaton. She would be at plays, at talks, athletic events. It was incredible how much time she gave to the college."
Nancy Kendrick, professor of philosophy
"She knew everybody. Everybody on the staff called her by her first name. She was an accessible president. The students felt that they could go to her on the weekends and say, 'Where do I go apple picking in the fall?,' and she would look up some names and sometimes she would drive them. She was a wonderful person to serve with on the Tenure Committee and the Educational Policy Committee. She was wise and judicious and tried every way possible to be fair. She also made tremendous progress in our thinking about race.
I was heartbroken when she died."
Donna Kerner, professor of anthropology
"I want to recognize Dale for her leadership in helping us to diversify in unique ways, because it was under Dale that we started the Posse program. It was also under Dale's leadership that we did cluster hiring of faculty. It was quite clear to us at Wheaton that if we were going to make any real difference in diversifying the faculty body that we had to bring a cohort of several together. So this idea of cluster hiring of diverse faculty came from the top and it was Dale who encouraged it and drove the departments to go look for, recruit and hire in different ways. That initiative, along with Posse, went very close to who Dale was."
Hyun Kim, professor of sociology
"It is so appropriate that the Marshall Center for Intercultural Learning is named after Dale. The center would not exist in the ways it does without her support and leadership. She supported the hiring of staff and the financial resources for us to be able to grow the space into the center.  She was very involved in diversity, equity and inclusion efforts. She was responsive to students' concerns and regularly attended meetings, potluck dinners and programs students hosted. Students approached Dale to bring Maya Angelou to campus and she worked with them to make that happen."
Raquel Ramos, Marshall Center dean, and Diversity, Equity and Access Leadership co-chair
"I credit Dale with taking sciences at Wheaton and elevating them into a position that they had never occupied before. I remember being at a meeting with her and she kind of looked up at us—we didn't expect this—and she says, 'When are you people going to start talking about a new building?' That was kind of transformational for us. She also came out to our vernal pool study site wearing her heels and bringing a couple of trustees in tow to see what we were doing out there. She was also sitting in the bleachers with me and my wife at an Indigo Girls concert in the gymnasium."
Scott Shumway, professor of biology
"President Marshall and I had a very close relationship throughout my four years at Wheaton. As a student leader and athlete, I spent a great deal of time in meetings with her and having dinner at her home. My senior year at Wheaton she and I were having lunch together, and I was sharing with her my desire to move to Washington, D.C. I told her that I was a little nervous, and wondered whether I could make it in that city. She looked me in the eye and said 'not only will you make it, but you will take Washington, D.C., by storm.' She then went on further to say, 'Indira, you are Eliza's daughter, Wheaton has prepared you, and no matter where you go, you will be covered by the Wheaton network.'"
Indira Henard '03, alumni trustee and executive director of the DC Rape Crisis Center
"I will never forget my second day on campus. President Marshall just pointed to me, this guy from Maine, and said, 'You, come join this committee to plan for the next freshman orientation and join my speaker committee.' Dale changed my life and so many others. She provided opportunities for me to realize my potential and for challenging me as I studied throughout my four years at Wheaton. She was an authentic leader who didn't shy away from debate and pushed all those she led to go further."
Chris Paquet '03, alumni trustee and assistant commissioner in the Office of Emergency Preparedness and Response, New York City Health Department
"Dale Marshall loved Wheaton. While she arrived at the college at a challenging time, it was the right time for Wheaton. She made a long-lasting impact, for which we can all be grateful. My more recent memories are after Dale and Don returned to California. Dale, Dellie [Smith] Woodring '62 and I would meet for lunch several times a year. She always wanted to know about my visits to Wheaton for meetings, eager for my details. While she retired, she never left Wheaton. In addition to this love for the college, Dale was kind, thoughtful and caring. A very special person. In fact, unforgettable."
Jane Rowe Mraz '57, recipient of the Dale Marshall Award (2005)
"While I was already an alum when Dale became president, I got to know her a bit through my work on the Alumni Board of Directors from 1996 to 1999. It was not until years later that I would come to truly appreciate her. After I wrote a piece on [Trustee Emerita, Class of 1963] Ruth Ann Stewart's passing for the magazine, Dale reached out to me. We talked and she invited me to join her at a Wheaton event in San Francisco to welcome the new president. She suggested we ride together, so I drove to her beautiful home and she drove us to the city. On the ride we talked about all of her volunteer work [I was amazed]. We also talked about Ruth Ann and about dying. Dale told me that she and her friends had promised one another that if they were sick or dying that they would tell each other, reach out and care for one another. I was so touched by our conversation. When I heard of her passing, I wept and remembered that ride to the city and how much I learned from her that evening. She was really special."
Lisa Webb '83, dean of counseling, equity and achievement, Merritt College
Do you have fond memories of President Marshall that you would like to share? Email us at magazine@wheatoncollege.edu. We will include some of them in our online version of the magazine.