Recognition for Innovation Spaces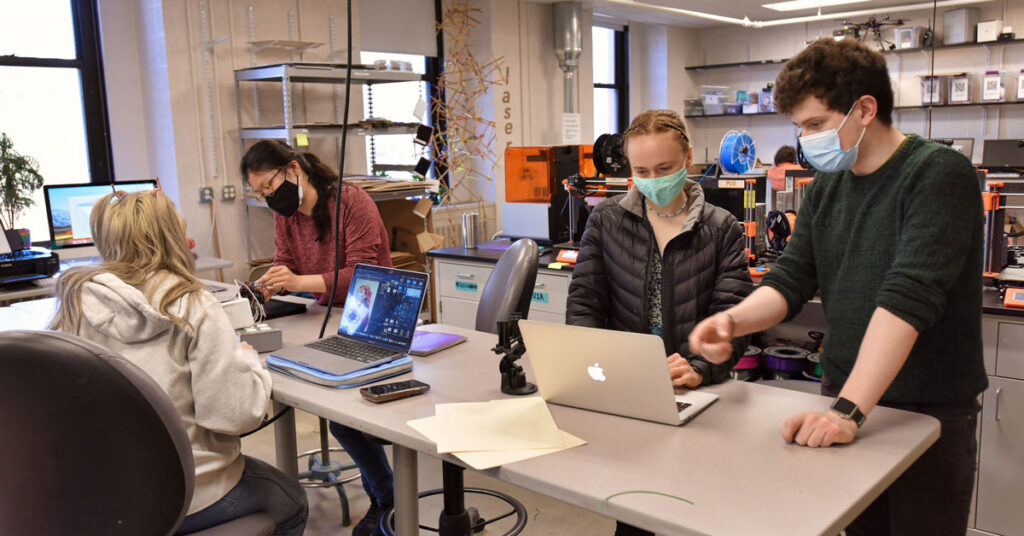 Newsweek names Wheaton among best maker schools
Newsweek has named Wheaton College on "The Best Maker Schools 2021" list that includes higher education institutions in the U.S. and abroad.
Newsweek teamed up with Make: Community, the publisher of Make magazine and books, to determine the best maker schools, according to an August online announcement.
The list highlights schools that "encourage learning by doing; are supported by educators committed to collaborative problem-solving; have well-developed makerspaces, labs and studios; and which support diverse, interactive communities that engage in knowledge and skill sharing," wrote Newsweek Global Editor-in-Chief Nancy Cooper. "Our goal was to highlight institutions with innovative programs that demonstrate the ingenuity and community engagement that are hallmarks of the maker movement."
Wheaton's Innovation Spaces is made up of labs in several buildings throughout campus. Wheaton's Fab Lab houses 3D printers, a laser cutter, electronics and other high-tech rapid-prototype tools and machines. The Digital Lab focuses on virtual and augmented reality. Fiber Lab has tools for textile work. Idea Lab was created in collaboration with the Diana Davis Spencer '60 Foundation to encourage social entrepreneurship and global social impact. The Shop focuses on woodworking, metalworking and small-scale model prototyping and construction.
"We are incredibly honored to be listed as a top maker school by Newsweek and Make magazine," said Madison Dunaway, coordinator of Innovation Spaces and Programs at Wheaton. "The Innovation Spaces and Programs team strives to consistently offer high quality experiential learning opportunities that engage our community. We are a safe place to make, a safe place to fail and a safe place to connect."
In 2019, Wheaton also was recognized as a great place to create, earning a spot on Great Value Colleges' list of U.S. institutions with the "50 Best Maker Spaces."
The list featured college makerspaces that provide cutting-edge equipment and technology in a comfortable environment and show innovative approaches to learning, plans for growth and other signs of vibrant activity. Wheaton was ranked 11th on the list.