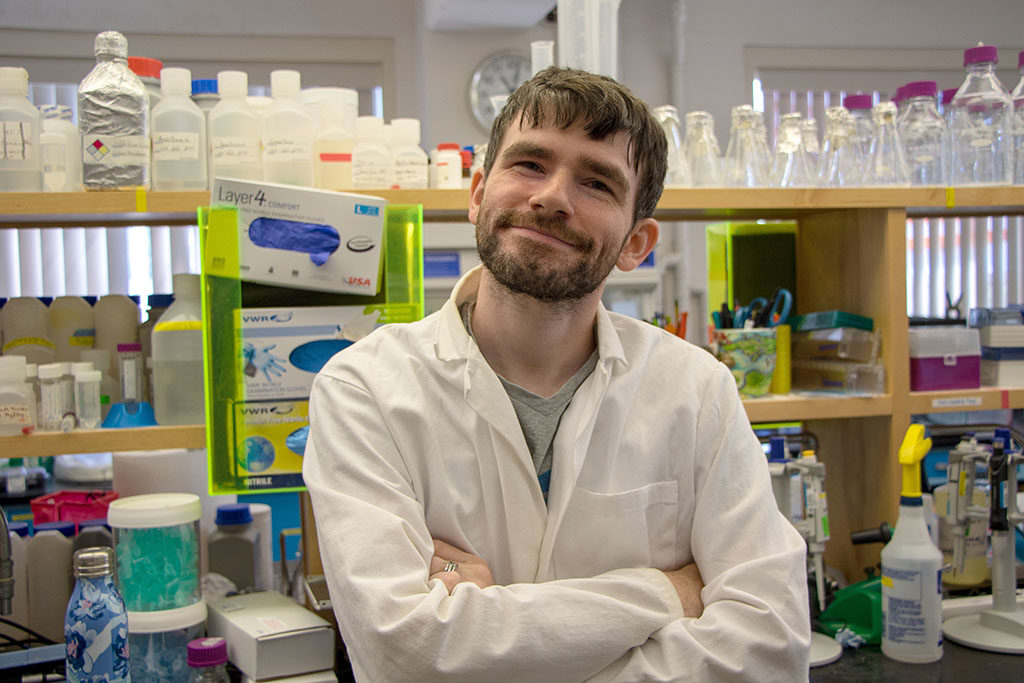 Biology alum's Ph.D. studies of clam immunology have implications in world of aquaculture
Wheaton alumnus Brian Preziosi '10 is digging into what makes razor clams in Maine thrive, hoping to understand how to cultivate the clams through aquaculture and bring them to local grocery store shelves.
Preziosi, who has a bachelor's in biology from Wheaton and a master's in marine biology from the University of Maine recently was highlighted as a Researcher of the Week on the UMaine website. He is currently working on a Ph.D. in aquaculture and aquatic resources at the university, under his advisor, Associate Professor of Aquaculture Timothy Bowden. He also is a fellow with the Sustainable Ecological Aquaculture Network (SEANET), a National Science Foundation-funded program of UMaine's Established Program to Stimulate Competitive Research.
"He is currently working on a Ph.D. in aquaculture and aquatic resources at the university under his adviser Dr. Timothy Bowden."
Preziosi has been studying the immunology of razor clams and, in particular, how they survive sediment acidification—low pH levels caused by the breakdown of decayed organic matter in the sand and mud where razor clams live. He also is developing a new, more natural method for testing the impact of acidification in a controlled laboratory environment.
"The sediment surface is where the razor clams must spend most of their lives, since they have short siphons. Even the adults need to spend the majority of their time at that acidified sediment surface to continue feeding," Preziosi said. "I am interested to see if adult razor clams are resistant to this acidification, since young soft shell clams [such as steamers and longnecks] seem to avoid it or simply dissolve in it."
Though razor clams aren't currently a common item on seafood menus, they are being grown for aquaculture purposes at places like UMaine's Darling Marine Center, Preziosi said.
"Right now some of the Mainers I ask about razor clams have never even seen one. People in general do not like to try new types of seafood, but I am hoping people will give them a try when aquaculture makes them more available in stores and restaurants," he said.
A different species of razor clams is already popular on the West Coast, but the local variety hasn't quite caught on in New England, Preziosi said. And cultivating the clams does have its challenges, such as a short shelf life. But the Wheaton alum sees a lot of positives to adding razor clams to the local menu.
"Getting razor clams in the seafood market of Maine means clammers and clam growers have another species choice to make their living with," he said. "That also means adding resilience to both the aquaculture and clamming industries if razor clams end up being able to grow in conditions that soft shell clams can't."
Preziosi said his Wheaton education gave him a solid foundation in the life sciences, and his time as a teaching assistant in Professor of Biology Scott Shumway's marine biology labs helped to prepare him to mentor undergraduates.
"I also learned how to take care of marine animals in a recirculating aquarium under [Professor] Shumway," he said. "It turns out you end up doing plenty of animal husbandry in my field, so I would say that taking care of that small tank played a big part in my graduate studies."