Providing a lifeline in tough times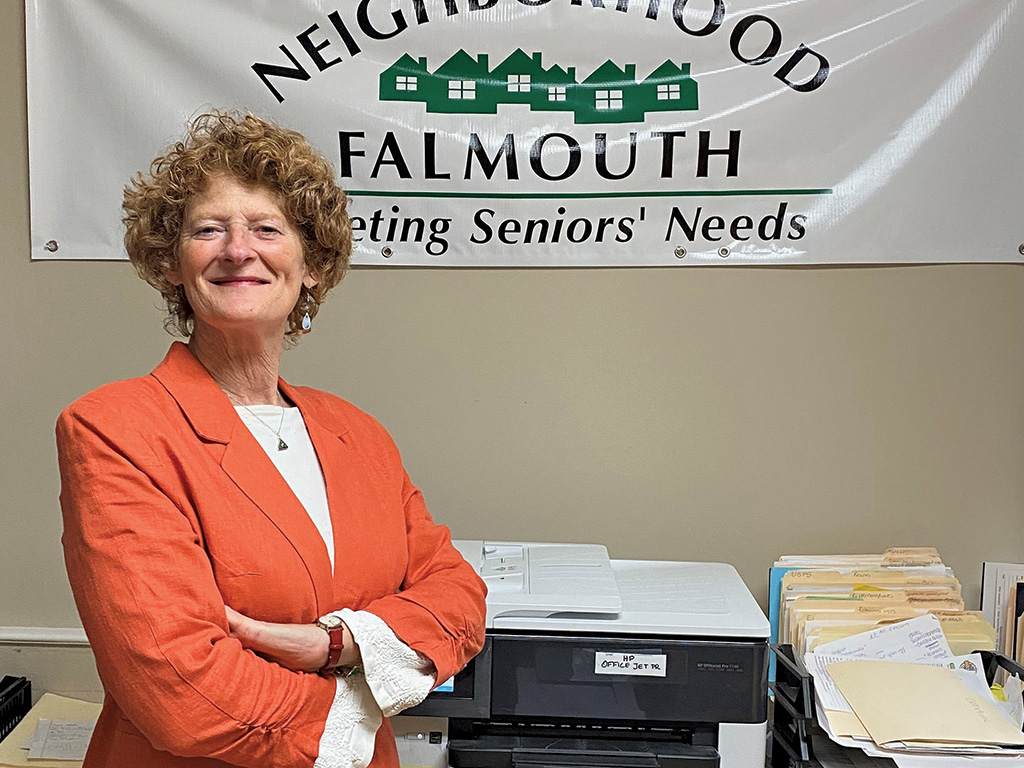 At Neighborhood Falmouth in Massachusetts, helping older adults with a variety of errands and services has always been the focus. During the pandemic, the nonprofit has become an even more critical lifeline, said Susan Loucks '80, who is the executive director.
"COVID-19 has been particularly threatening to those over 65, and that demographic encompasses all of our members, and most of our volunteers," Loucks said. "Neighborhood Falmouth, like so many other essential service organizations, has had to pivot to respond to the situation."
To protect seniors early on, staff and volunteers did grocery shopping for them. The organization also ramped up its pharmacy pickup service for those who needed it and provided safe transportation for those with urgent medical concerns.
The member-based organization assists seniors by providing information and services to help them live independently, safely and comfortably in their own homes for as long as possible.
A big concern currently is how to address the social isolation and loneliness that the pandemic has intensified for some—particularly for those not comfortable with technology like smartphones and video conferencing, she said.
Loucks joined Neighborhood Falmouth in 2014. Her daily wide-ranging duties include managing volunteers, staff and social media, and tapping into her knowledge of fundraising and nonprofit finance.
She majored in economics at Wheaton and had big plans for a career in investment banking after she got her first job at Paine Webber in Boston, taking a position her former Wheaton roommate Donna Sposato Williams '80 was leaving. "But," said Loucks, "when I found myself doing an impromptu umbrella dance on my desk entertaining the office gals, it became clear to me that investment banking wasn't in my future."
Her career after that, as she describes it, was a "zigzag" that brought her into the arts and entertainment world, which clearly was a passion, to apply her talents. (At Wheaton, she was a member of a student comedy singing group.) She first joined the Boston Shakespeare Company Theater as a bookkeeper. Next, she worked for Boston-based WGBH for nearly 25 years, 10 of which as the development director for WGBH's Cape Cod NPR station, WCAI-FM; and at two nonprofit museums before landing at Neighborhood Falmouth.
She joined the organization just five years into its start and has stayed. "I expected it to be interesting work, but I didn't expect to love it as much as I do," Loucks said. "One of the biggest surprises for me has been how deeply connected I feel with the senior population that we serve. While I thought this work would be rewarding, as all my nonprofit work has been, the beauty, vulnerability and poignancy of helping someone navigate the ups and downs of aging is really powerful to me."
At Wheaton, Loucks played field hockey and was sophomore class president and a head resident in Meadows East her junior year. All of these experiences have been important throughout her career.
"Learning to listen, to understand that there are multiple sides to most experiences, and the value of friendship, are all things that I was exposed to at Wheaton," she said, "and that I continue to learn even today."