Programming and Activities Council wins award for excellence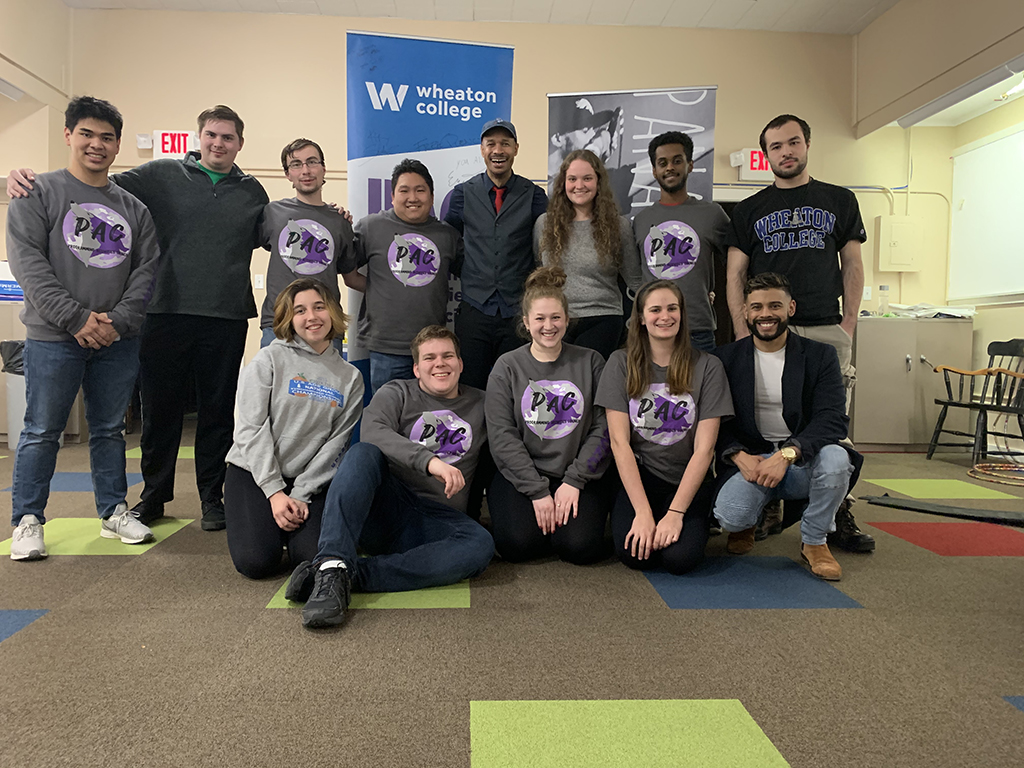 Honor highlights student leadership in planning during challenging time
The pivot to remote operations in March 2020 took everyone by surprise and required remarkable creativity and innovation to reimagine teaching and learning as well as the programming for activities and events. Wheaton College not only pulled it off—but has received accolades.
The National Association of Campus Activities Northeast Region has presented Wheaton's Programming and Activities Council (PAC) with an Excellence in Programming Award. The honor highlights three 2020 events in particular, as well as the students who took the lead in organizing them: Hangout@Wheaton with Annawon Weeden and the Wampanoag Nation Singers and Dancers (Lexy Acosta '22); Roll With It Rollerblading Rink (Kimberly Ekstrand '21); Sailesh Hypnotist Extraordinaire (William Laplaca '20); and Drag Queen Bingo with Alliance and Monique Heart (Renee Grubler '22).
PAC is a Student Government Association board that consists of executive and general members, who plan events that include comedy and trivia nights, performances, spring weekend activities and more. 
"They have been amazing to work with, and they have done a tremendous job adjusting to this new and challenging environment," said Donnie Taveras, assistant director of student engagement and leadership development and staff advisor for PAC. "I'm super proud of them."
When the college first shifted to remote operations for the safety of the community because of COVID-19, PAC struggled initially to figure out which events to host, said Grubler, a religion major and chair of marketing design for PAC.
"This is where I took charge and saw my opportunity to host an event that I always wanted to see at my school," she said. "PAC is incredibly motivated to provide programming for students within different communities. As a queer student at Wheaton, I was incredibly interested in hosting an event where other students like me would feel safe. A safe environment is usually intended to be a space where students of any gender or sexual orientation are welcome and will not be ridiculed or criticized."
That event was the virtual Drag Queen Bingo on April 23, 2020, in partnership with Alliance and hosted by Monique Heart (Kevin Richardson), a star competitor on the 10th season of "RuPaul's Drag Race." 
"A huge fear of ours was that nobody would attend the event because they didn't know what a virtual event would look like," Grubler said. "However, this clearly wasn't the outcome. What made this event so popular and so engaging was the interaction between Monique and the students. Having a star from the TV show was more helpful to our promotional efforts than we initially thought it would be."
About 50 people attended the Zoom event, including students from Binghamton University and the University of Albany.
Edward Burnett, associate dean for campus life, applauds all those involved with making PAC so successful in presenting a large variety of events. 
"All of our student organizations play a vital role in enhancing the student life at Wheaton, but PAC stands out as one of the best primarily because of their consistent delivery of campus events that are both entertaining and impactful," he said. 
"The events, particularly those recognized by this award, expose our students to different cultures and identities, as well as provide a fun social experience. Although our students deserve much of the credit, I would be remiss not to acknowledge their advisor, Donnie Taveras, and his work in guiding them to achieve these successes," Burnett said.