Professor, alumna collaborate on public art in South Korea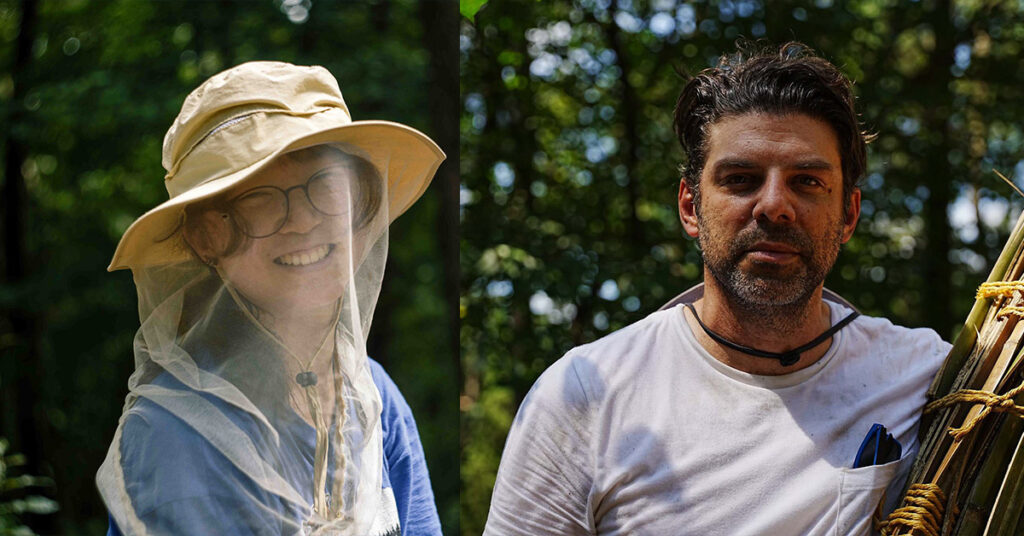 Hyunmin "Min" Bae '19 and faculty member Kelly Goff reunite to create bamboo sculpture
Associate Professor and Chair of Visual Art Kelly Goff's proposal for an international art biennale in South Korea this past summer was ambitious in scope: an infinite loop of bundled bamboo set amid thick flora on a park mountainside.
When the Korean Nature Artists' Association invited Goff to participate in its program and exhibition, he knew the perfect collaborator to help him accomplish this feat: Hyunmin "Min" Bae '19, who was a studio art major at Wheaton.
Bae, who had Goff as an advisor while a student, created memorable art for his course "Public Art." Her artwork "The Trees of Life," an installation of colorful PVC pipes emerging from a pond, was chosen for installation in the Town of Franklin Sculpture Park in 2018.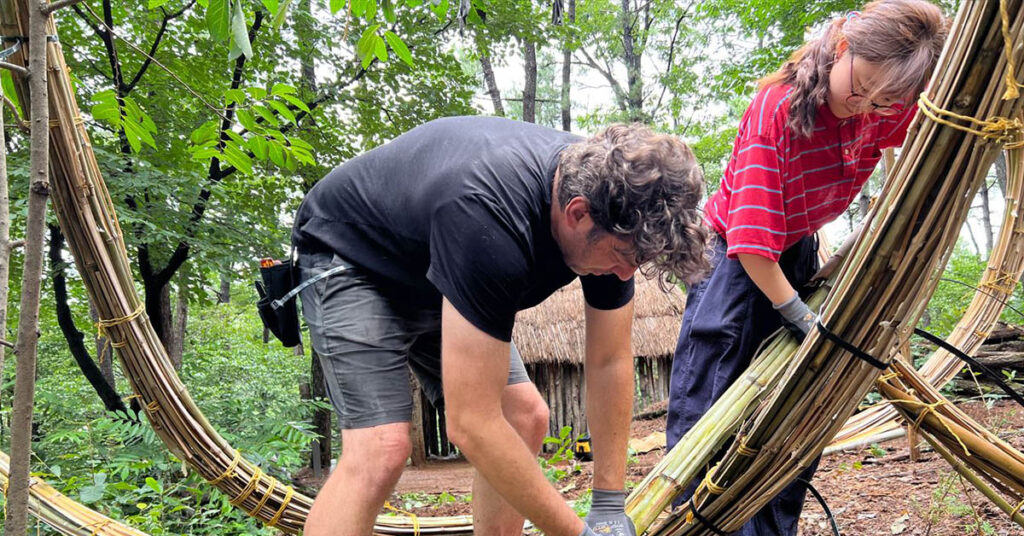 Professor Goff first contacted Min, who lives in South Korea, when developing his proposal for her help in researching local materials.

"When I received the invitation to participate in the exhibition, I immediately contacted her to see if she would be available to help and was thrilled that she said 'yes,'" recalled Goff.

The reunited professor and alumna worked on a project titled "Continuous Line VI [bamboo]" for the Korean Nature Artists' Association's Geumgang Nature Art Biennale. The artwork fits the biennale's theme "Again, Multiplicity of Rewilding," which explores continuity. The large sculpture, nearly 14 feet high and 25 feet across, snaked in a continuous loop amid trees and other floral growth in Yeonmisan Nature Art Park, which is just outside of Gongju, South Korea.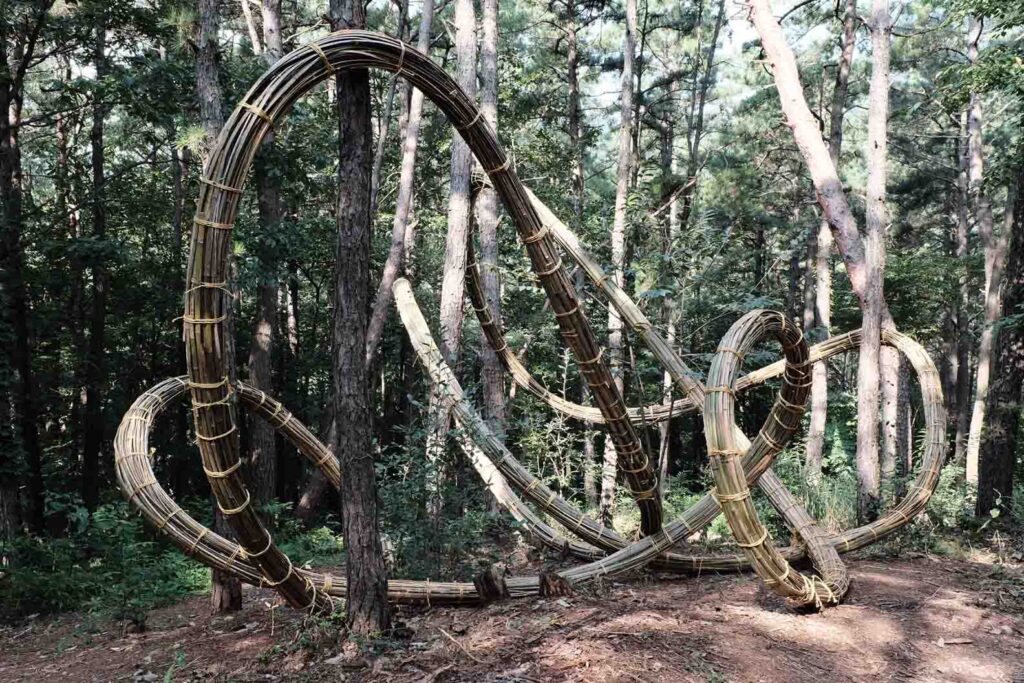 Building the sculpture required many hours of working in hot and humid conditions, rife with mosquitoes and other insects.
"It was also monsoon season, so the heat, rain and insect density reminded me of the Amazon. The sculpture we created is site-responsive—it weaves through the trees flexing gently as they sway and is totally covered with praying mantises and cicadas," Goff said.
Extra strong bug repellant spray and long pants were absolutely necessary to manage in those conditions, Bae said.
"I really enjoyed the working process because it wasn't the kind of structure that could be perfectly planned. It was like making a sketch in three dimensions. There was a lot of decision-making at the site," said Bae, who currently works as a freelance illustrator and painter.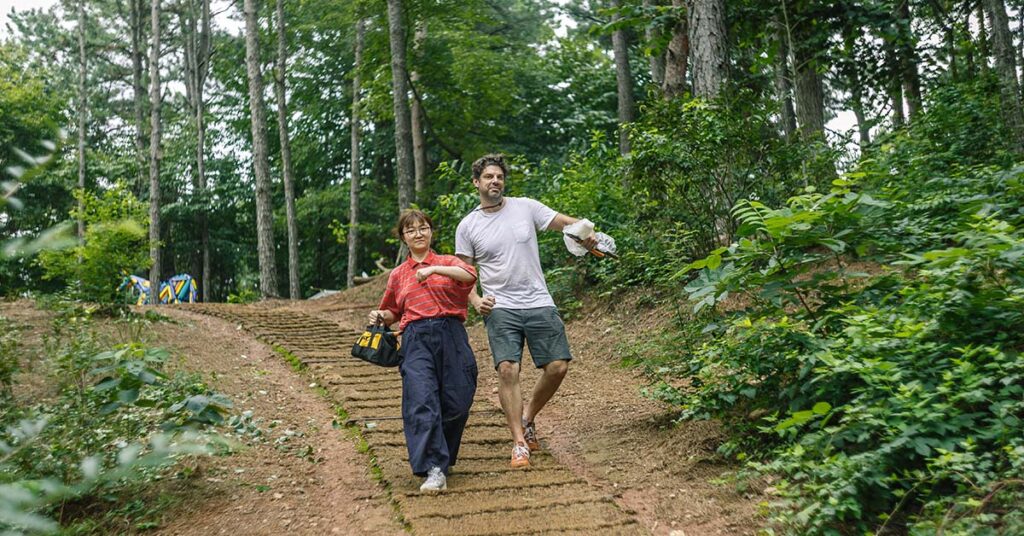 Goff described Bae as an amazing collaborator due to her positive attitude and strong work ethic.
"Her experience in public art and her agility as a problem solver were indispensable. I'd often find myself scratching my head about a problem and Min would come up with a solution to save the day," Goff said.
"The project was complex because of its scale. It would not have been possible to do it alone. Min and I shared the physical labor of splitting and transporting hundreds of lengths of bamboo up a mountainside in the heat," he said. "We lashed together the bundle with huge removable zip ties at first, replacing them one by one with rope—with sore hands and backs. Through the monotonous periods of our process, Min provided much-needed company. She laughed at my ridiculous jokes and would hum show tunes that would get stuck in my head."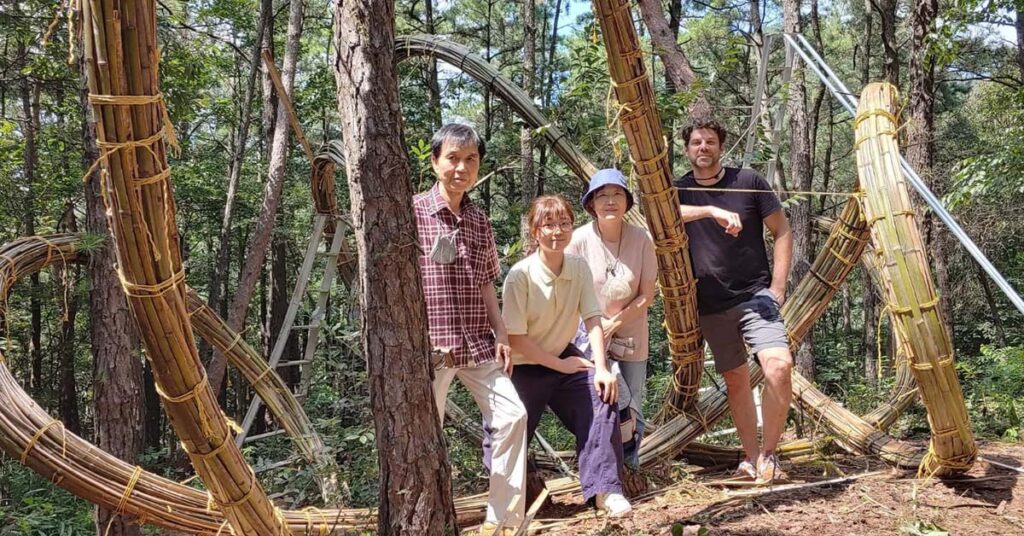 Bae also helped Goff with Korean translation with Korean Nature Artists' Association staff, the artistic director of the biennale, and the many visitors who flowed through the park daily.
"The other artists benefited from Min's presence, too. She served as a kind of cultural ambassador by answering our questions patiently. At one point Min's parents visited from Seoul and brought us frozen watermelon juice on an especially scorching day. It was great to reconnect with them and to see the pride they have for their daughter," he said.
Bae added that it was great getting to know Goff beyond their previous roles as student and professor.
"Back in college I had only seen Kelly teaching as a professor mostly, so it was interesting to actually see him doing his own art," she said. "Seeing him outside of school—not as a student and professor—was a different experience. It felt like I got to know him better as a person, a friend and a fellow artist."