Associated Press reporter Susan Haigh '89 is a pillar of the fourth estate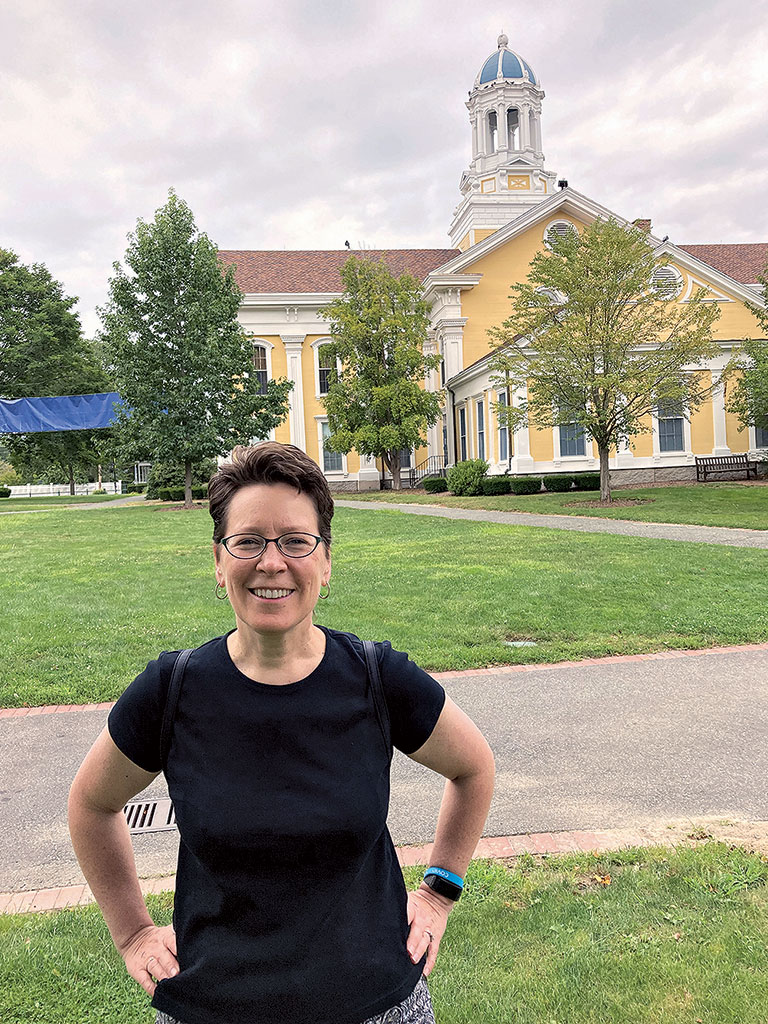 While on her last day of vacation in Wellfleet, Mass., a quiet town on Cape Cod, the roar of sirens from a fleet of ambulances tipped off Susan Haigh '89 that something was wrong. A longtime journalist for The Associated Press, Haigh is accustomed to serving as the eyes and ears of the community.
The ambulances led her to a tragic site: the first fatal shark attack in Massachusetts since 1936.
"I wasn't working, but I interviewed people at the scene and began phoning in details to my editor in Boston. It was pretty traumatic," she recalled.
In her September 2018 news story of the incident that claimed the life of a 26-year-old man, she wrote:
"Joe Booth, a local fisherman and surfer, said he was on shore when he saw the man and his friend boogie boarding when the attack happened.
He said he saw the man aggressively kick something behind him and a flicker of a tail from the water. He realized what was happening when the friend came ashore dragging his injured friend.
"I was that guy on the beach screaming, 'Shark, shark!'" Booth said. "It was like right out of that movie 'Jaws.' This has turned into Amity Island real quick out here."
Her story and photos ran in newspapers all over the world.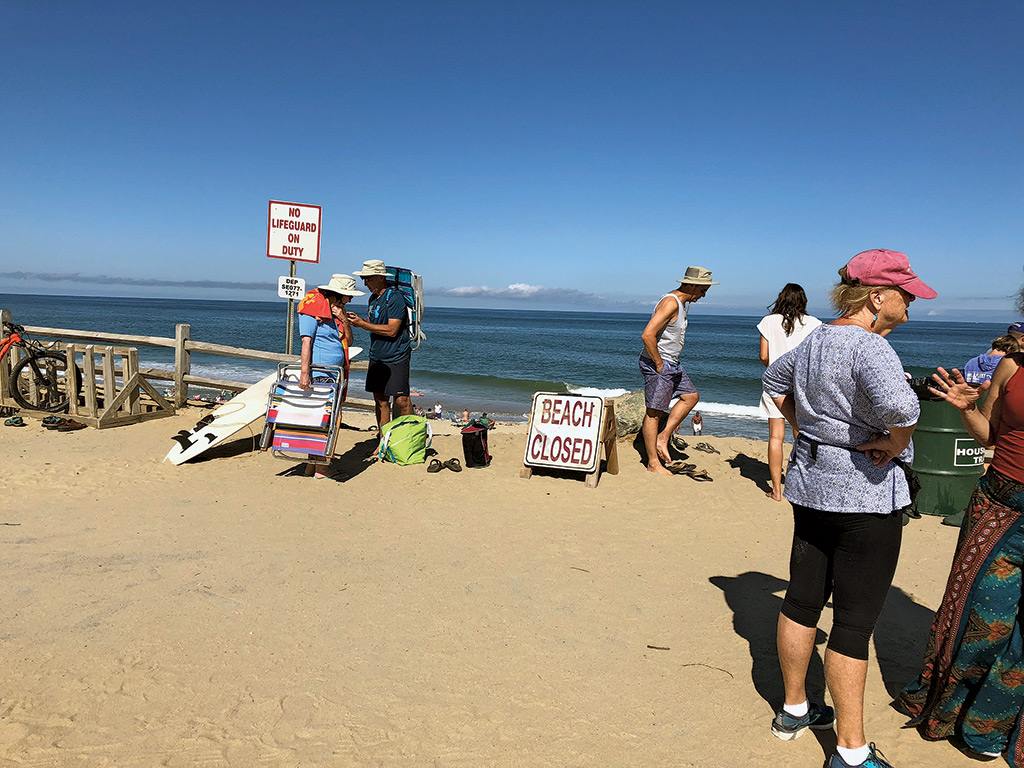 Haigh always endeavors to get the scoop. For the past 21 years as a Connecticut State Capitol and political reporter at The Associated Press, she has established herself as a true-to-form journalist committed to imparting the facts to the public.
Her steadfast pursuit of the truth has enabled her to earn the trust of both her readers and sources. She recently was awarded a fellowship with the New England First Amendment Institute and her work has been recognized by internal Associated Press contests. Also, in 2020, The Washington Post's The Fix named Haigh on its list of outstanding reporters to follow in each state.
"In an age when journalism is under fire for so much partisanship and criticism, reporters like Sue have so much integrity, bring so much knowledge and understanding and respect for the process," said Daniela Altimari, a journalist who reports for Roll Call magazine. She previously worked alongside Haigh in the Connecticut State Capitol press room when she worked for the Hartford Courant.
"The citizens of Connecticut are extremely fortunate to have someone of Sue's caliber highlighting issues that matter to people," Altimari said.
Wheaton Wire, baptism by fire
When reflecting on her student experience at Wheaton, Haigh jokes, "I majored in The Wheaton Wire."
As a first-year student, she was exploring interests in nonfiction writing and political science and international relations when she joined the student-run newspaper. She settled on international relations as her major: "I thought I'd be a foreign correspondent."
Each year, Haigh took on more responsibilities until landing the role of editor-in-chief her senior year. She worked on all facets of the Wire's operation, including reporting, writing, editing, production, sales and managing 20 students on its staff.
Advances in technology ushered in many changes for print journalism, and Haigh played a part in modernizing The Wheaton Wire. She applied for a college grant to secure Pagemaker, a desktop publishing program, to help lay out the paper. She also changed the frequency of the Wire from a monthly to a weekly publication.
"I'd drive my Volvo to Brockton [Mass.] to drop it off at the printers and then later pick up stacks of papers to bring to the dining halls. It was a great experience. I loved it," she said.
At the time, Wheaton was making its own headlines when the college decided to transition to coeducation. Haigh attended board meetings, interviewed administrative leaders and honed her ability to ask hard questions about an institutional change that had a major impact on students.
"It made me grow up and realize there are things going on that you care about," Haigh said.
Patti Farquhar '89, who worked on the paper as a business manager, recalled Haigh's impact.
"The amount of hours, blood, sweat and tears she put into The Wheaton Wire was remarkable. When she covered coeducation, she interviewed the president, members of the Board of Trustees and presented a variety of perspectives on that," said Farquhar, who lives in the Hartford, Conn., region and takes great pride when she reads her classmate's stories or sees her being interviewed on news shows.
"At The Wheaton Wire, she was inclusive and pulled people in who had all different backgrounds—including sportswriting and photography. I didn't have a background, so she asked me to serve as business manager," she said.
For her work on the student newspaper, Haigh received the Eliza Baylies Chapin Award, which recognizes students who add a new dimension to campus life by founding, revitalizing or transforming a program, office or initiative at Wheaton.
Having the breadth of knowledge from her liberal arts education has helped her succeed in her career as a reporter, as she is always curious, Haigh said. She credits Professor Emeritus of English Sam Coale and the late Professor of Political Science Jay Goodman; Coale for inspiring a love of reading and Goodman for connecting her to Providence City Hall to better understand the government in action through shadowing a city council member.
During her time at Wheaton, she also developed her journalistic skills as a student intern at The Patriot Ledger and Norwich Bulletin—the latter of which hired her after graduation.
A remarkable career
Haigh began her professional career on the police and fire beat, and soon covered a diverse range of topics, including politics.
"I've covered state government in Connecticut since 1995, beginning with the Norwich Bulletin and for four years with The Day of New London. When I worked for The Day, they sent me on a couple of my coolest assignments. I got to cover the Democratic and Republican national conventions and got to sail with U.S. Coast Guard Academy cadets aboard the Barque Eagle when they went out for a training mission for almost a week. It was an awesome experience," Haigh said.
Her interest in government and policymaking led her to become a political writer at The Associated Press—
a position she continues today. She often works long nights writing stories that help readers make sense of the U.S. Senate and governor races, legislative hearings, tax policies and more. She furthered her knowledge and expertise by earning a master's degree in public policy at Trinity College in Hartford.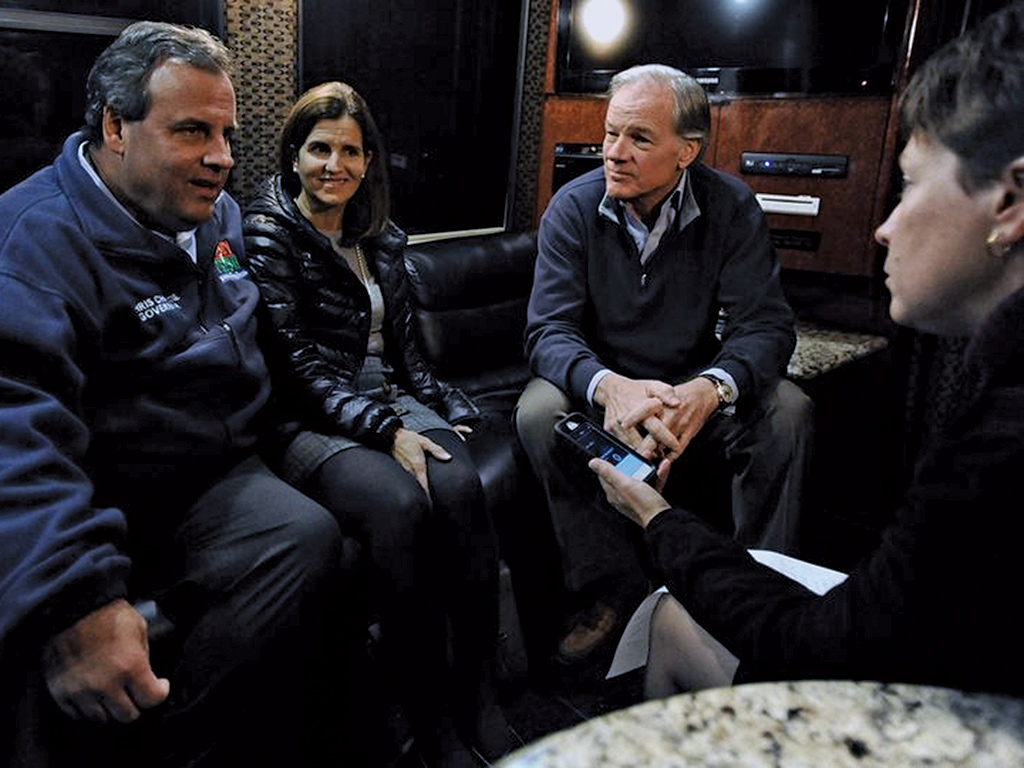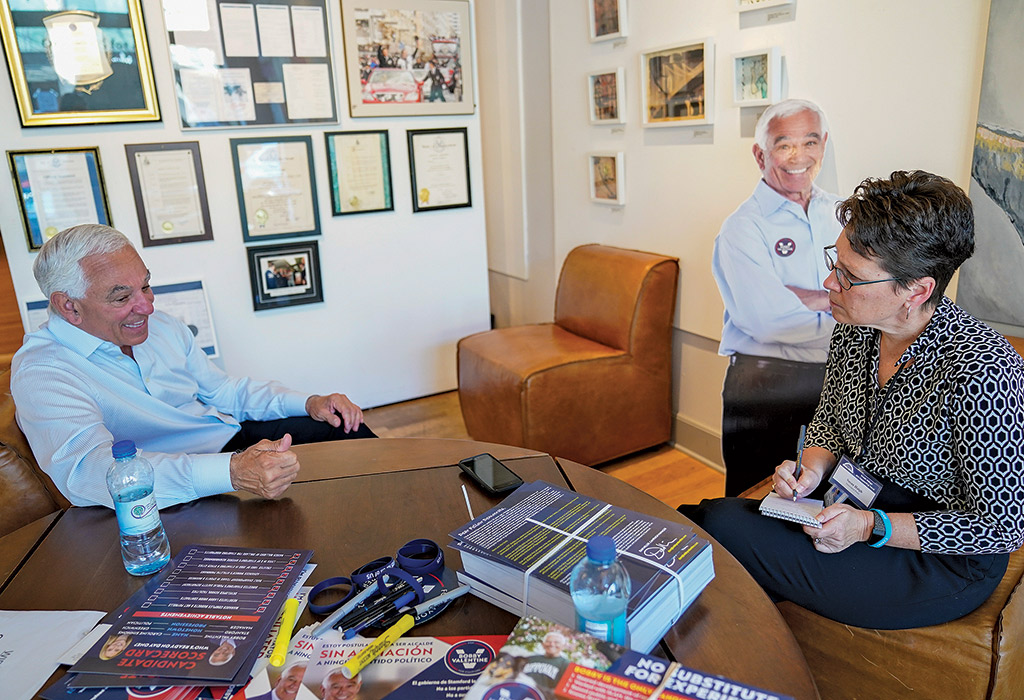 "There is always a different issue coming up. I'm covering gambling one day or writing about a former governor going through an impeachment trial. It's a real learning experience," she said.
At various points in her career, she produced as many as three stories per day, depending on the news cycle. Some assignments placed her in the heart of national tragedies; she has interviewed families on gun reform who lost loved ones in the Sandy Hook Elementary School shooting in Newtown, Conn., and covered the funeral of victims killed during last year's mass shooting in Buffalo, N.Y.
"I've met so many interesting people. It's not just the politicians or people who have had terrible tragedies, but people who have done amazing things in their life," Haigh said.
Working at the world's largest news-gathering organization means she collaborates in real-time with reporters throughout the country—and the world.
As the profession has evolved, Haigh notes an increased team approach in her role. "My job has kind of changed to a more nationally focused beat. But we're always on call, in case something big breaks."
She collaborates with colleagues to uncover trends and national stories—and provide more context on issues impacting readers. For example, her work highlighted the use of federal COVID-19 funds to erase medical debt; a trend happening across many states. She also wrote about the trend of state lawmakers, who typically earn about $30,000 per year, quitting their posts due to struggles making ends meet.
When major events occur—such as when Russia invaded Ukraine—she is tasked with updating feeds and monitoring accounts from reporters overseas.
What remains unchanged is her commitment to accuracy and fairness, values that drew her to The Associated Press.
"My job is to make sure people can see the various sides and know what the facts are. That is one of the reasons I love working for this company. It's not about you. It's about getting facts out to readers," she said.
"I try to be decent and fair to everyone I interview. It doesn't matter who they are. I'm very careful to make sure not to accuse somebody of something and try very hard to make sure the wording is correct," she said.
Evidence of Haigh's ability to build trusting relationships comes across in the connections she has established in all levels of the Connecticut government, Altimari said.
"We're in a building covering the governor and legislators and there can be egos among reporters. It's a little bit cutthroat and everyone wants to get the scoop. Sue, in a more quiet, non-aggressive way, routinely scoops all of us. She is well-connected, has great sources, and is a great person that people want to talk to," Altimari said.
She also is a good person, Altimari added. "Sue is so generous with her knowledge and time. She is a sounding board who has always been so supportive and helpful. She is like that for everyone. She cares about good journalism, and she cares about helping people."