Preparation, connection lead to Good Housekeeping internship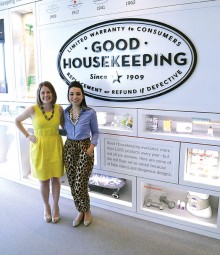 There is plenty to be said for being in the right place at the right time—and then being prepared when those two things occur. Abigail Matses '15 didn't leave any of this to chance last spring when she attended the Liberal Education And Professional Success (LEAPS) event sponsored by the Wheaton Institute for the Interdisciplinary Humanities (WIIH). Consequently, she landed an editorial internship at Good Housekeeping in New York City.
She listened when her advisor and WIIH co-founder Professor Touba Ghadessi recommended that she pay close attention to the alum speakers discussing their careers at the LEAPS event. Matses saw that one of the presenters would be Rachel Bowie '04, associate editor of digital editions at Good Housekeeping. So she did her homework.
"I spent the night researching her and the magazine so that I could speak with her after the event. It seemed too good to be true," said Matses, who is double majoring in art history and studio art with a concentration in graphic design. "When the presentation finished, I found Professor Ghadessi and told her that I was pretty sure Rachel Bowie had my dream job. She whisked across the room and brought Rachel back with her to talk to me. Rachel ended up passing my résumé along and writing me a great recommendation. I will be forever grateful for that."
Matses, a Trustee Scholar, interned at Good Housekeeping in the home editorial department last summer. Her work included curating blog posts from the online home décor community, shadowing staff members on set for the magazine's October cover shoot, attending press events and looking for new items that the magazine team might consider featuring in upcoming issues. She also pitched ideas for online content, including the piece she wrote on how to style a coffee table, which was featured on goodhousekeeping.com.
"What I loved best about the internship was that I found the perfect balance between learning and play. I've known my whole life that I have a knack for style, and this was a fabulous opportunity to showcase it," said Matses, whose personal style caught the eye of a writer and landed her in the "Looks of Summer" photo spread in the New York Times Fashion & Style section last July. (No dress-down-Fridays for her: The day she was spotted, her office attire was a full, hot pink midi skirt paired with glittery pointed-toe flats.)
"I also enjoyed being in an environment with such ambitious people. Everyone was always at the top of their game and it drove me to be better," she said.
Bowie noted that Matses's preparation and professionalism stood out when they met.
"Looking back to our initial conversation, I just remember her enthusiasm and clear interest in a magazine internship. She impressed me right off the bat."
On campus, Matses, a classically trained singer, is a member of the chorale and ARTHive, and the media director at Emerson Feminist Perspective House. Her love of art history comes from her mother, Robin Hannon Matses '88.
Matses credits Wheaton with preparing her well for internship experiences, including previous ones at the Isabella Stewart Gardner Museum in Boston, learning museum operations, and at Northshore magazine in Andover, Mass., doing graphic design work.
"Also, my experience with the WIIH has taught me to always be one step ahead. Interning at Good Housekeeping has underscored all aspects of professionalism I learned in WIIH classes and events.
"My internship will be instrumental in my finding a job right out of college, through the relationships that I've built. Networking is essential in the media industry, and something that differentiates you from other job applicants and helps you stand out," she said.