Praise for pursuit of peace
Adar Cohen '04 and Betty Reardon '51 to receive Alumni Achievement Awards
Their paths have never crossed but Adar Cohen '04 and Betty Reardon '51 have been traveling in the same direction for years as professional advocates for peace. Both will be recognized for their work with an Alumni Achievement Award on Saturday, May 18, during Commencement Reunion Weekend.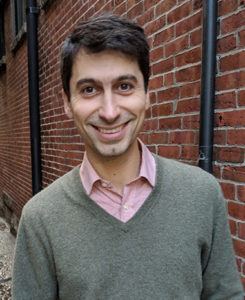 Cohen, co-founder of the Civic Leadership Foundation, is an educator and researcher in the areas of conflict resolution, youth empowerment and nonviolent social change. Reardon, founding director emeritus of the International Institute on Peace Education, is a pioneer who has been dedicated to creating and shaping peace education programs in the United States and abroad for more than 50 years.
The Alumni Achievement Awards, presented by the Alumni Board of Directors, recognize the hard work and dedication of individuals who have made significant contributions to their community, distinguished career accomplishments or volunteer service to Wheaton.
Both award recipients humbly expressed appreciation for the honor.
"I was stunned and joyful to learn of the award," Reardon said. "Having the graduates of an institution of the caliber of Wheaton recognize efforts to develop peace education as an 'outstanding achievement' is very meaningful to the future of the field and affirming of the efforts to establish and develop it."
"What an honor to be recognized by the Wheaton community in this way,'' said Cohen, "and alongside such inspiring people; Betty Reardon is one of my heroes."
Cohen
Adar Cohen has a doctorate in international peace studies from the University of Dublin's Trinity College. In addition to receiving a George J. Mitchell Scholarship in 2006 to study at Trinity College, he won a 2004 Watson Fellowship, a 2003 Truman Scholarship in public service and several other fellowships. He also co-wrote, with Steve Fiffer, Jimmie Lee & James: Two Lives, Two Deaths, and the Movement that Changed America (Regan Arts, 2015), which explores a pivotal event in American civil rights history.
While at Wheaton, Cohen created his own independent major in conflict resolution.
"I built an interdisciplinary course of study in conflict resolution because I had a sense that however my studies and career proceeded I felt certain I would always be drawn to helping people engage across differences and find their way forward together," he said.
"The major itself, and certainly the process of putting it together, for which I had unflagging support from Wheaton faculty, set me on a course of working for the peaceful resolution of conflicts in Belfast, in Chicago, and many points in between."
Professor of Religion Barbara Darling nominated him for the award. "Adar's big heart doesn't just motivate him to work for peace and justice; it makes him a warm and compassionate friend," she said. "My friendship with Adar since his time at Wheaton—and now including his wife and daughter—is one of the happiest things in my life."
He has worked with gang leaders and police officers in Chicago, with Protestants and Catholics in Northern Ireland, and with Jews and Muslims in the Middle East, leading change processes in settings defined by conflict and uncertainty.
Cohen also for seven years was an adjunct professor in peace, justice and conflict studies at DePaul University, where he was awarded the DePaul Engage teaching award for making a significant contribution to students' learning and development as socially responsible and engaged leaders.
This particular focus stems from his experiences at Wheaton, he noted. "I'm the first person in my family to attend college. At Wheaton I had people looking out for me, challenging me to think broadly about my future, encouraging me. Doing that for young people—helping them to expand their sense of what's possible for them—is important to me in my career and in my community life."
Reardon
Betty Reardon drew inspiration for her path from Wheaton. She became a history major because "I was interested in the world and how it became what it was," she said. "History gave me a kind of integrating framework for all that I was learning at Wheaton, and a discipline through which to look at the world and its problems that has served me well through the years. I especially remember as formative the senior seminar with Professor Knapton."
After Wheaton, she earned a master's degree in history from New York University and a doctorate in education from Columbia University. She taught for several years at all levels from elementary to graduate school and worked full-time at the Institute for World Order from 1963 to 1976. In 1982, she founded the International Institute on Peace Education, an intensive residential experience in peace education for practitioners of peace education in formal, non-formal and civil society settings that takes place biennially in association with partner host institutions in various parts of the world.
Reardon, who currently serves as advisor on programs and partners for the institute, said that her attraction to peace work has always been with her and has evolved over time. "From childhood I was appalled by what seemed to me to be the absurdity of war. It also seemed there were likely other ways to deal with the issues that led nations to take up arms," she said.
"There is at the moment an especially urgent need to develop, not only the skills of conflict resolution and transformation, but the desire and capacity to deal with profound social and political differences civilly and constructively, and to practice the reflective and ethical thinking that is essential to maintaining a democratic public order," Reardon pointed out. "Peace education is directed toward guiding learners in the development of such skills and habits of mind—the kinds of processes that I believe are integral to a Wheaton education."
She has received many awards for her work, including the 2009 Sean MacBride Peace Prize from the International Peace Bureau and the 2013 Peace Education Prize from the El Hibri Foundation. Her book Educating for Human Dignity has been a resource for human rights education from programs from kindergarten through high school.
Trustee Deborah Goddard '78 nominated Reardon for the award. "Betty has pursued a unique path toward bettering our global society," Goddard said. "She is a path breaker and her lifetime of work has been impactful in an arena that holds so much promise for humankind."
The Alumni Achievement Awards will be presented in the chapel on Saturday, May 18, by Joshua Bauchner '95, president of the Alumni Association and chair of the Alumni Board of Directors.
Both Adar and Reardon said they look forward to meeting each other: "Together we represent the present of our field where past meets future," Reardon said. "This acknowledgement of the past while keeping our sights set on the future and our efforts in the present makes a statement of what Wheaton is as a place of learning for living a responsible and rewarding life."
Want to share interesting news and stories about yourself?  Do you know someone who has made an impact in their community, received an award in their professional life or are dedicated to the Wheaton community? Nominate them!