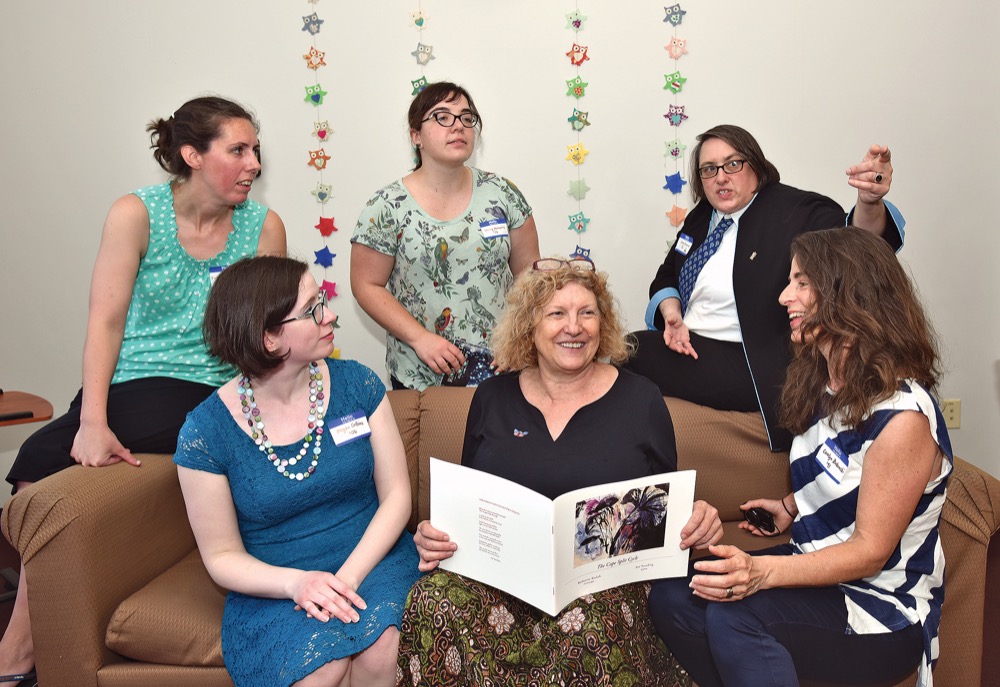 Former students of retiring Professor of English Sue Standing hosted the OUTStanding Poetry Reading event in the Madeline Clark Wallace Reading Room on May 19, during Reunion Weekend.
Celebrating Standing's 38 years of teaching at Wheaton, more than 40 alumnae/i gathered to share original poetry and moving tributes of the professor's impact on their lives. The program included readings by alums representing the four decades of Professor Standing's career: Lisa DePasquale Dennis '81, Heidi Peddell Hall '84, Sandra Yannone '86, Carolyn Harris Zukowski '91, Jessica Spissinger '99, Karen Mlyniec Haskell '01, Annie Belz '06, Megan Collins Hatfield '06, Isabel Tarshis '11, Dianne Holcomb '83, Amy Woolf Cay '83, Suzanne Lima Pickford '98, Gina Burd '02 and Emily Mercurio '16. After the formal program, other alums in the audience rose to offer their poignant testimonials.
Organizers Yannone and Zukowski met during their 30th and 25th Reunions in 2016 when Standing encouraged Yannone to crash the 25th Reunion cocktail party at the Presidents' House. Standing always had wanted the two poets to meet and didn't know when another opportunity would present itself since Zukowski lives in the Czech Republic. When the conversation turned to Standing's retirement in 2017, the professor said what she most wished for was a way for all her students across the years to meet. Yannone and Zukowski vowed to her that night to bring Wheaton writers together in 2017.
About their collaboration to honor Standing, Yannone said, "Carolyn and I became instant dear, dear friends. Our shared experience at Wheaton made that easy. We share a love of poetry and our love for Sue. We were so happy to manifest her dream as it was obvious to anyone hearing the poetry and stories in May that Sue has been the catalyst for so many of us to manifest ours."
Based on the response from alumnae/i, the three plan to bring alumnae/i together in the future for more creative writing endeavors.