James Baker '06 understands the importance of self-confidence. A baseball fan from a young age, he grew up eating, sleeping, drinking the sport. But during his sophomore year at Masconomet Regional High School in Topsfield, Mass., he was cut from the baseball team.
"I'll never forget the moment the coach put the roster up on the gym wall and my name wasn't on it," says Baker, who majored in history and is well aware of how the past can influence the future.
But he didn't let that curve ball stop him from pursuing his passion. Instead, he worked out harder and his coach gave him another shot. At the end of his senior year, Baker received the Coach's Award, and caught the attention of Wheaton Head Baseball Coach Eric Podbelski.
Baker learned that in order to succeed in his sport, he had to keep his confidence up and be mentally and physically tough. That is a lesson he now teaches young athletes as the founder and director of North Shore Performance Training in Danvers, Mass.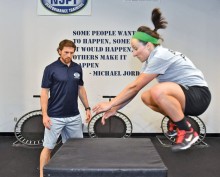 As a performance coach, he specializes in personal and group training, functional baseball training, and educating clients on proper movement patterns that reduce the chance of injury. He also has been a strength and conditioning consultant for the Wheaton baseball team, for which he played four years while a student.
At Wheaton, the high school outfielder was converted to a full-time pitcher and helped the team qualify for the NCAA Division III tournament three times in four years.
"Jamie was everything a coach could ask for in a player," says Podbelski. "In addition to being very talented, he was one of the hardest workers we've ever had in our program. He was a great example to his teammates as far as being a dedicated and talented player, a strong student, and making good choices off the field."
Baker has equal admiration for Podbelski, who taught him the art of pitching and the focus that goes with it. "Coach Podbelski was a strong mentor to me. I learned all about pitching fundamentals, mound presence and how to trust in my abilities. His guidance throughout my time at Wheaton was invaluable and I cannot thank him enough for all of his genuine tutelage and support," says Baker, who became team captain his senior year.
After Wheaton, Baker started his professional baseball career with the Nashua Pride of the Can-Am League and then signed a free-agent contract with the San Diego Padres minor league team. Even though he was living his dream, he always knew that the next chapter, after playing baseball, would be teaching, coaching and helping kids.
Everything comes full circle. He helps young athletes get bigger, stronger and faster—just as he had to do.
"It's more than just the physical. It's more than how much you can lift, or how quickly you can do an agility drill. It's about mindset and having a goal to work toward," says Baker, whose accomplishments were recently featured in a Boston Globe article.
And, for him, it's about being present for the kids as well as shaping athletes and fitness lovers to be the best that they can be.
When he takes on a new client, he asks the person to create a mission statement to repeat three times a day during his or her journey of intense sports training. In order to strengthen and build confidence, he requires the statement to begin with the words "I will."
Baker appears to be doing something right. Recently, one of his clients qualified for the United States Paralympic Swim Team, and another was selected by the Pittsburgh Pirates in the 22nd round of this year's Major League Baseball draft.
When asked if he wants his future children to play baseball, Baker laughs. "I hope we have a whole infield," he says.
Megan Countey Margulies '03