Playing an important role
Speaker series provides musicians opportunity to be heard on social justice, racism and equity
At a time when performance halls have grown quieter due to COVID-19 limitations, Wheaton College Associate Professor of Music Del Case is providing a virtual stage for classical music professionals to speak out about social justice, equality and racism.
Case, who is the director of the Great Woods Symphony Orchestra, created the "2020 Speakers Series: Classical Music and Social Justice" to show the important role that music—and those who create it—can play in the world.
It features guests who are using classical music to make a difference in their communities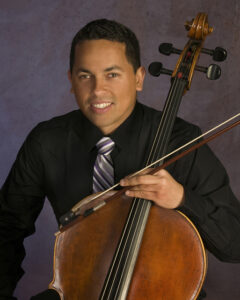 and beyond. The virtual presentations, which began September 21 and continue through November 23, are held on Monday evenings from 8 to 9 p.m, and are open to the Wheaton community.
In the orchestra course that he teaches, Case leads students in an hour of rehearsal online and then they listen to the guest speakers.
"At a liberal arts college like Wheaton, we have a broad mandate to connect the curriculum and the performance of music with the larger world beyond our campus," Case said. "We are preparing students to embrace a variety of career and life opportunities—from performance to leadership."
With that in mind, said Case, comes the responsibility to help students explore and better understand how classical music is relevant in society and connected to a bigger picture.
"Right now at a time when we have both conversations and action related to Black Lives Matter and greater awareness of injustice generally in society, there is also a much-needed push for racial and gender equality in classical music as well," he said. "There is also an increased interest in political engagement on the parts of arts organizations across the country."
Case said the classical music world has recently experienced a newfound sense of its own lack of diversity on many levels.
"Unfortunately, the classical music world represents an obvious example of structural racism in the United States and around the world," he said. "This is reflected both in the selection of music from composers, who are largely dead white men, to the makeup of the orchestras themselves."
The Wheaton speaker series, which is supported by an Andrew W. Mellon Foundation grant for integrated humanities, has brought a diversity of musicians who are working creatively for positive change.
That includes the upcoming presenters:
On October 26, Laura Colgate will be visiting virtually. She is the director of the Boulanger Initiative, which promotes the music of women composers.
Javier Caballero, a performer, educator and arts administrator, will speak on November 9. He is the artistic director of Project STEP. He will discuss how the project provides classical music instruction in Boston for students from under-served communities.
"This series is helping to prepare students to go out and work toward positive change in their communities after they graduate," Case said. "And the presenters have said that they have enjoyed the opportunity to discuss their work and share their experiences and accomplishments with a new generation at this very timely and profoundly relevant moment in our country."
Jackson Reed '21, a music and computer science double major, said he has enjoyed the speaker series because it has been an innovative way to bring in guests to rehearsals. "As a senior, the series has been especially pertinent for me, getting me thinking about ways I can continue to engage with music meaningfully after I graduate. It seems very much aligned with Wheaton's values that we should not only study music but also study how it is used to connect people, enrich lives and effect positive change," he said.
Learn more and find out how to attend the presentations.
—​Randell Kennedy​